In February 2019 it was announced that British Airways would be moving from Terminal 7 to Terminal 8 at JFK in 2022, allowing them to co-locate with their transatlantic joint venture partner, American Airlines. Well, construction on that project has now formally started.
What we should expect from Terminal 8 changes
Terminal 8 will be redesigned in a project that will cost $344 million. With these changes, we can expect an additional roughly 70,000 square feet to be added to Terminal 8. They're adding capacity for nine more wide body aircraft, which is significant.
New York to London is one of the most important aviation markets in the world, and American and British Airways have a joint venture. These changes will allow the two airlines to operate their 14 daily flights between the two cities out of the same terminal. It will also make connections more seamless between the two airlines.
With the terminal reconstruction we can expect better baggage systems, new lounges, premium check-in space, and upgraded concessions and retail options.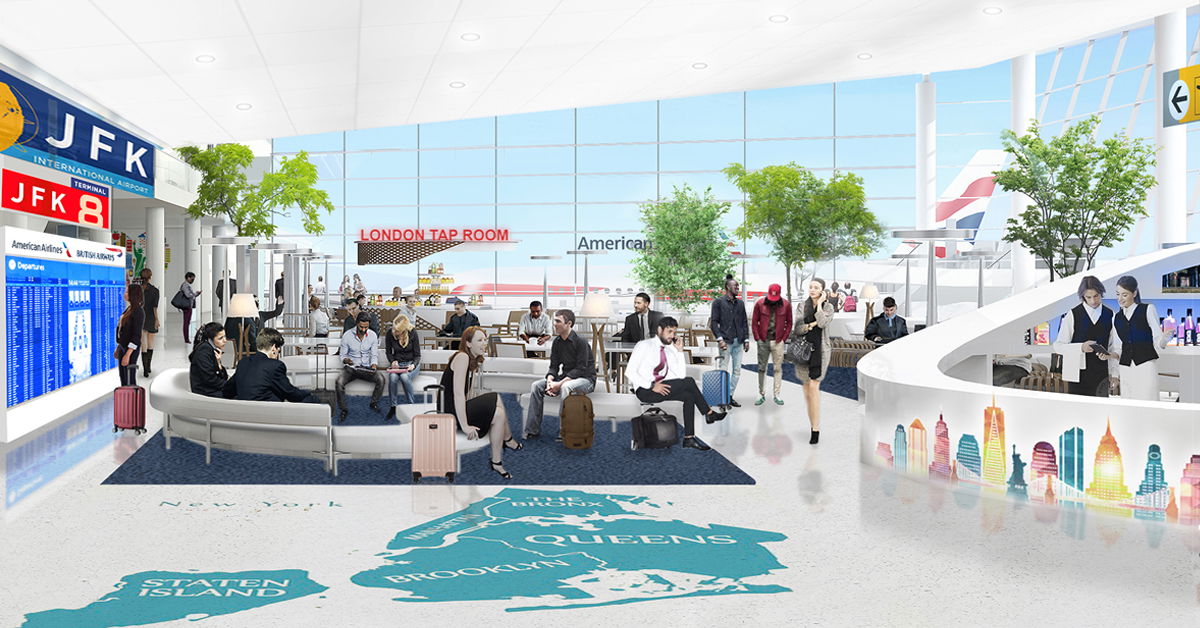 Rendering of new JFK Terminal 8
This all sounds like good news, though unfortunately I wouldn't get excited…
Why this is bad news
Nine more international gates sounds impressive, though how is that being made possible? Terminal 8 will be getting:
Five actual gates, some of which will have really, really long jet bridges (see the rendering below)
Four hard stands, meaning passengers will be driven to planes on buses (update: American tells me that this will be used to park planes, but American won't actually board or deplane flights from these stands)
The only other US airport that I can think of that consistently has remote stands for wide body planes is LAX, and that's a temporary measure as they work on rebuilding the airport, and not a permanent solution. It's crazy to think that part of JFK's plan to become a "world class" airport long term involves boarding wide body planes on hard stands.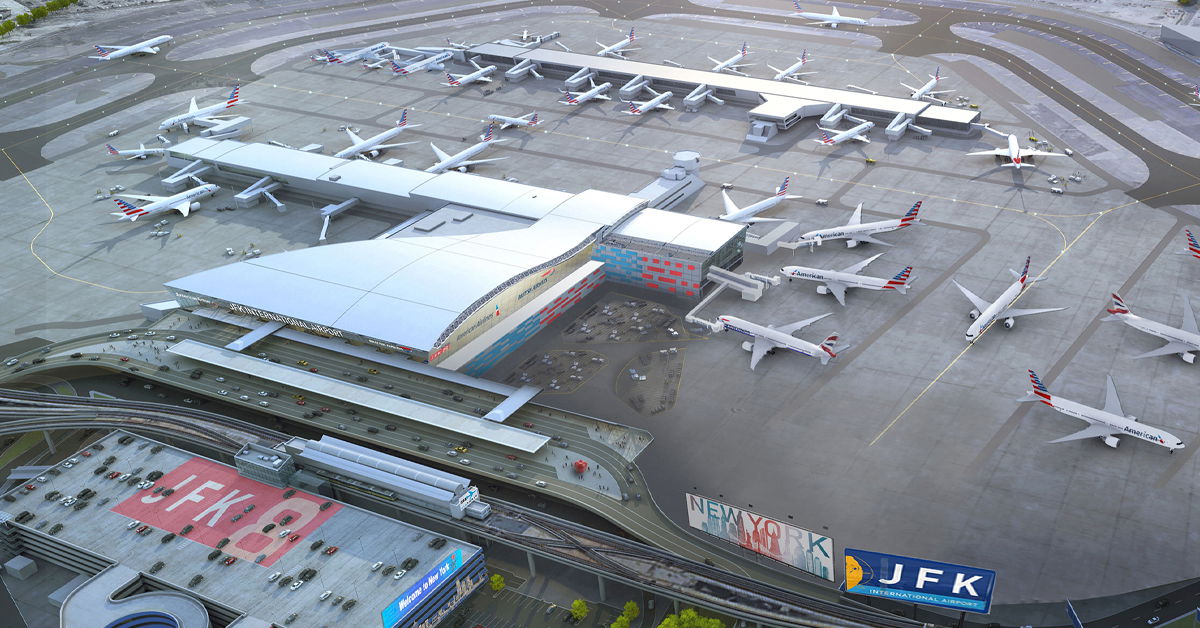 Rendering of new JFK Terminal 8
And that's just the tip of the iceberg. 70,000 square feet is the size of two very big airline lounges. That hardly accounts for the huge increase in traffic we'll see in the terminal. You can expect the lounges to be really crowded.
The timing is also strange, because British Airways has just wrapped up a $65 million investment in Terminal 7, including completely refreshing their lounges. And now they'll be moving in a couple of years…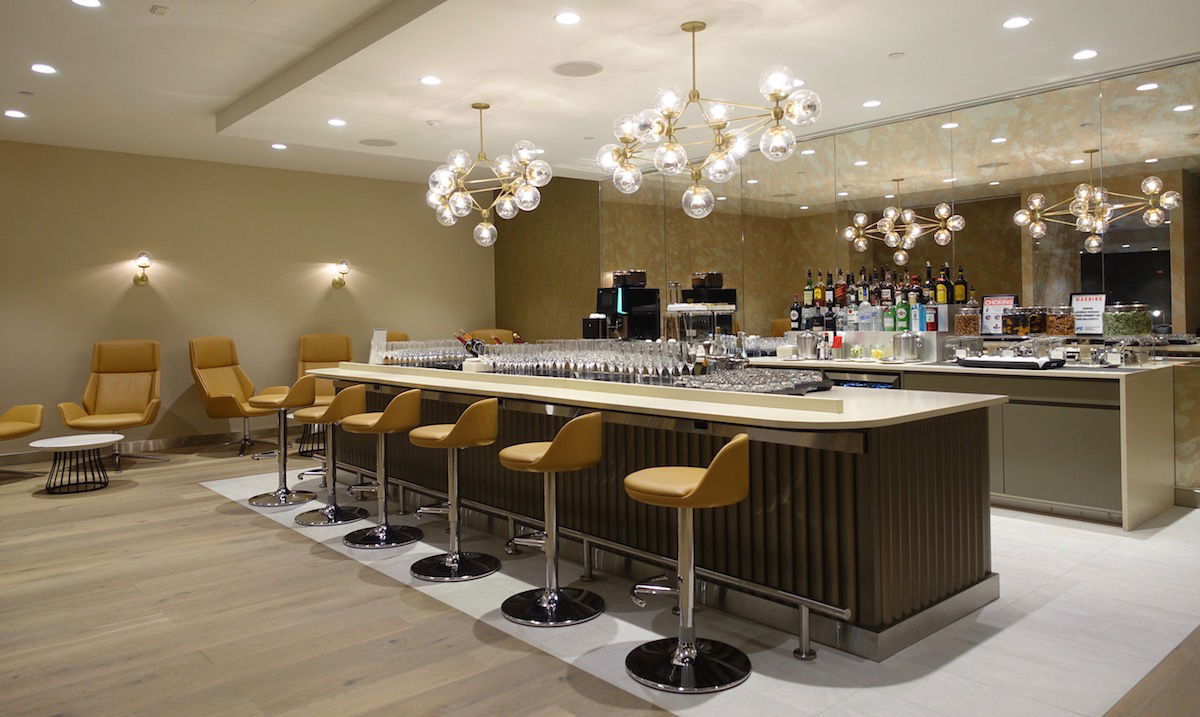 New British Airways First Lounge JFK
What happens to Terminal 7?
Terminal 8 construction is part of bigger changes coming to the airport, as terminals are reshuffled. Terminal 7 will cease to exist in its current form, and part of it will eventually join JetBlue's Terminal 5.
We don't yet know where other airlines currently using Terminal 7 will move to.
Bottom line
In fairness, currently Terminal 8 is underutilized, as American has significantly reduced capacity to JFK in recent years. In many ways that has made flying out of Terminal 8 a joy, as it has largely been eerily quiet. I don't think I've ever waited more than five minutes at security.
Now we're going to see exactly the opposite, at least when departing in the afternoons, as the terminal and lounges are going to be packed.
The fact that remote stands are part of a permanent plan for a brand new "world class" airport is just sad as well.
What do you make of British Airways' JFK move?