Historically Hyatt's IT hasn't been great (including both their website and app), though I know it's something they've been working on.
Well, this week Hyatt has unveiled the redesigned World of Hyatt app, which has new features that give members the ability to better customize their stays.
The new World of Hyatt app
The new app is available on both iOS and Android systems, and is exclusively for World of Hyatt members.
Hyatt notes that the new app has the following additional features:
Access and stream personal content directly to the in-room TV through Chromecast without the need to enter additional credentials
Unlock guestrooms and public spaces via Hyatt Mobile Entry
Quickly make requests directly to the hotel and receive feedback in real-time via a new chat option
Request items directly to guestrooms
Access the schedule of meetings and events happening at the hotel during the member's stay
All of this sounds great, though we'll have to see how the on-property features are executed. Often I can't even get the guest service request line at a hotel to answer the phone, let alone do I have faith in being able to make requests through an app.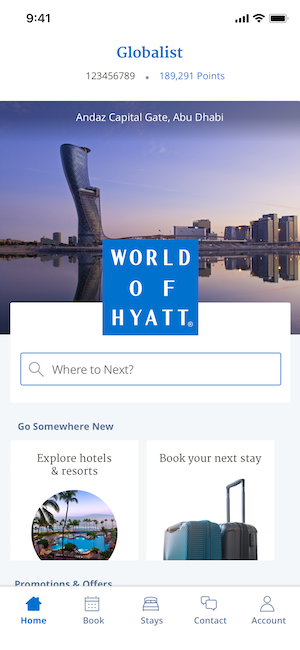 World of Hyatt app bonus offer
In order to encourage members to use the app, World of Hyatt is offering 500 bonus points per qualifying stay booked at hotels through the app between August 1 and September 30, 2019.
This applies to stays at Hyatt, M life, and Small Luxury Hotels of the World destinations. Qualifying stays must be booked and completed during the promotion period. Bonus points should post 3-4 weeks after the completion of a stay.
This is a very nice offer, and even applies to award stays.
So if you have any upcoming stays that can be rebooked without any penalty (and where the rate hasn't changed), then it could be worth doing so for 500 bonus points per booking.
My take on Hyatt's new app
First I have to admit that I'm someone who in general doesn't love using mobile apps. I guess I'm just resistant to change, but I'm not someone who books flights or hotels, or applies for credit cards, through an app. At least not unless I'm in a bind.
But I totally recognize that I'm becoming more of a minority. Nowadays so many people are using mobile devices, and it's a reality we have to deal with every day on the blog, as traffic is increasingly mobile.
All that being said, I think Hyatt's new app is really sleek. I've only played around with it for about 10 months, but I find the user experience to be super intuitive and responsive.
At least that's the case based on the ability to manage my account and make reservations. What I'll need to test out with my next Hyatt stay is how well the on-property features work, like requesting items for your room.
What do you make of Hyatt's new app?