Well, it has finally happened. If there's one good thing to come out of 2020, it's Berlin's long-awaited new airport opening. You can read my full review of the new airport here.
Berlin's new airport is finally operational
This past weekend the new Berlin Brandenburg Airport (which uses the code "BER") finally opened, nearly a decade behind schedule. While we've known for a few months that this was the plan, I'm sure I'm not alone in my skepticism of the timeline.
Until the first flights landed and took off, I wasn't convinced it was actually going to happen, given that the opening date had been postponed 10 different times.
On Saturday, October 31, 2020, the first two flights landed at Brandenburg Airport:
A Lufthansa A320neo arrived from Munich
An EasyJet A320neo arrived from London Gatwick
Initially the planes were supposed to do parallel landings, but that didn't end up happening due to weather. However, the planes did end up taxiing to the terminal around the same time, at which point there was a water salute.
As you can see, the Lufthansa A320neo that operated the first Lufthansa arrival even had a special livery. The plane had "Haupstadtflieger" (which means "capital city flyer" in German) written in place of Lufthansa. The plane also has the new airport code written towards the back of the plane.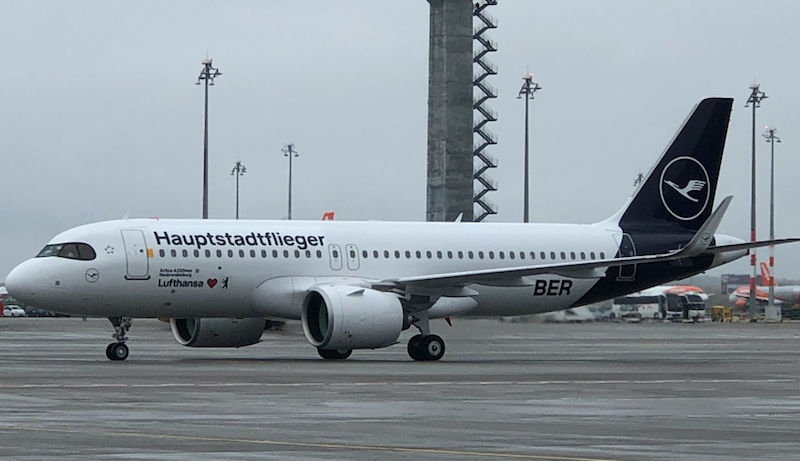 Lufthansa's special livery dedicated to BER
The CEOs of EasyJet and Lufthansa were on their respective planes. The entire ceremony surrounding this was kind of funny to watch, as the CEOs exited the jet bridges at the same time, and waved at one another.
The first flight out of Brandenburg Airport was at 6:45AM on Sunday, November 1, 2020. The first flight to take off was also the first flight to land the previous day — an EasyJet A320neo, returning to London Gatwick. Hopefully the takeoff wasn't too scary. 😉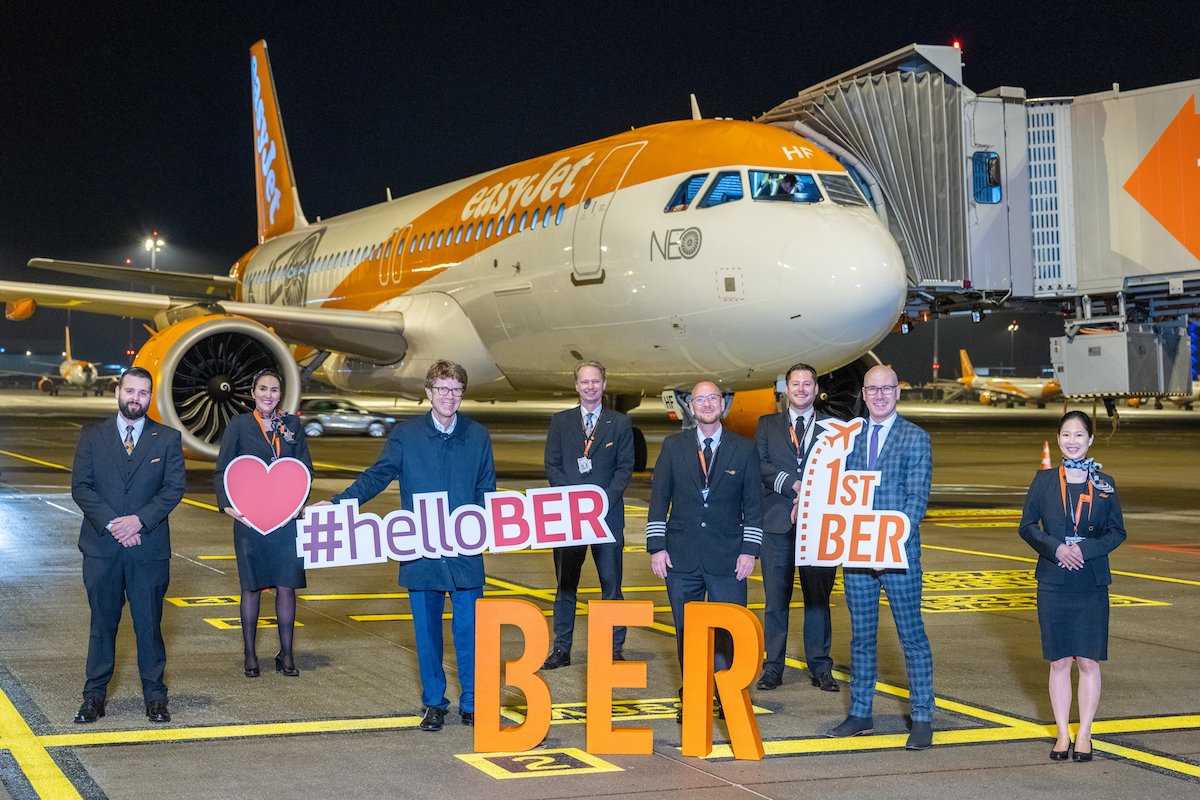 The first flight to depart Berlin Brandenburg
What happens to Berlin's other airports?
Prior to the opening of Brandenburg, Berlin had two airports — Tegel (TXL) and Schönefeld (SXF).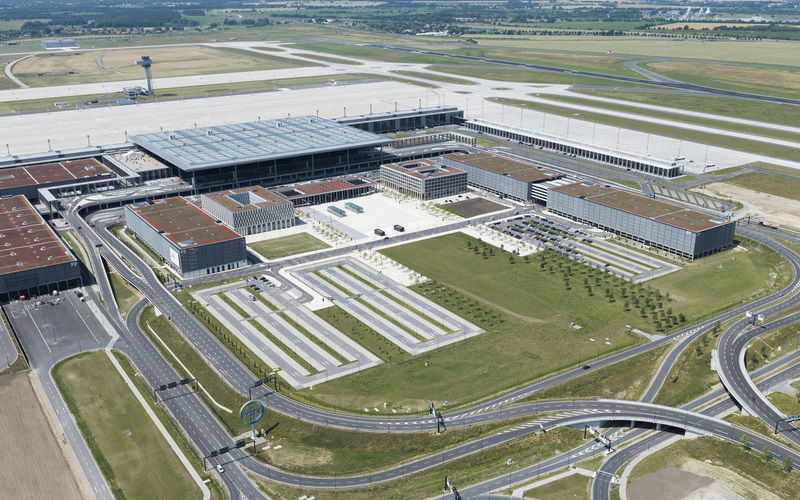 Berlin Brandenburg Airport
What happens to these two airports now that Brandenburg is open?
Tegel will close on November 8; not all airlines have switched operations yet, as Lufthansa is operating most of its flights out of Tegel until then
Schönefeld and Brandenburg are actually kind of the same airport, as Brandenburg is just a new runway and terminal for the existing Schönefeld Airport
Therefore Schönefeld Airport will continue to exist, but will just be renamed — the new Brandenburg Airport is now known as Brandenburg Terminal 1 & 2, while Schönefeld is now known as Brandenburg Terminal 5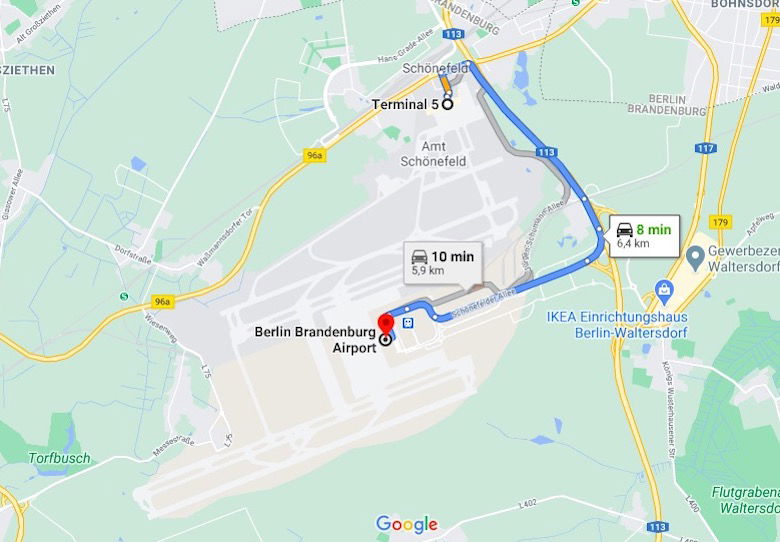 The distance between the terminals at Brandenburg Airport
Construction of Brandenburg Airport was a disaster
Some people may be wondering "why is it so surprising that the airport actually opened?" Well, I can't think of another airport in the world that has had as disastrous of a construction process as this new airport:
Construction on the airport started back in 2006
The airport was initially supposed to open in March 2011, but ended up opening in October 2020, so it was nearly 10 years behind schedule
The airport was supposed to cost €2.83 billion, but has cost around €7 billion in the end
What all went wrong? This post has a detailed rundown of everything that has happened, though to summarize:
In mid 2010 the construction company behind the airport went bankrupt, delaying the project
In mid 2012 huge issues were discovered with the smoke exhaust systems at the airport, delaying the opening (it was later discovered that bribes were involved here)
In early 2013 there were management changes at the airport, given the management's team inability to get things done
In mid 2016 they had issues getting the transport certification needed to open
In 2017 airberlin went out of business, raising concerns for the airport, as this was supposed to be the largest airline, making the owners rethink part of the design
Suffice to say that this isn't the shining example of German efficiency.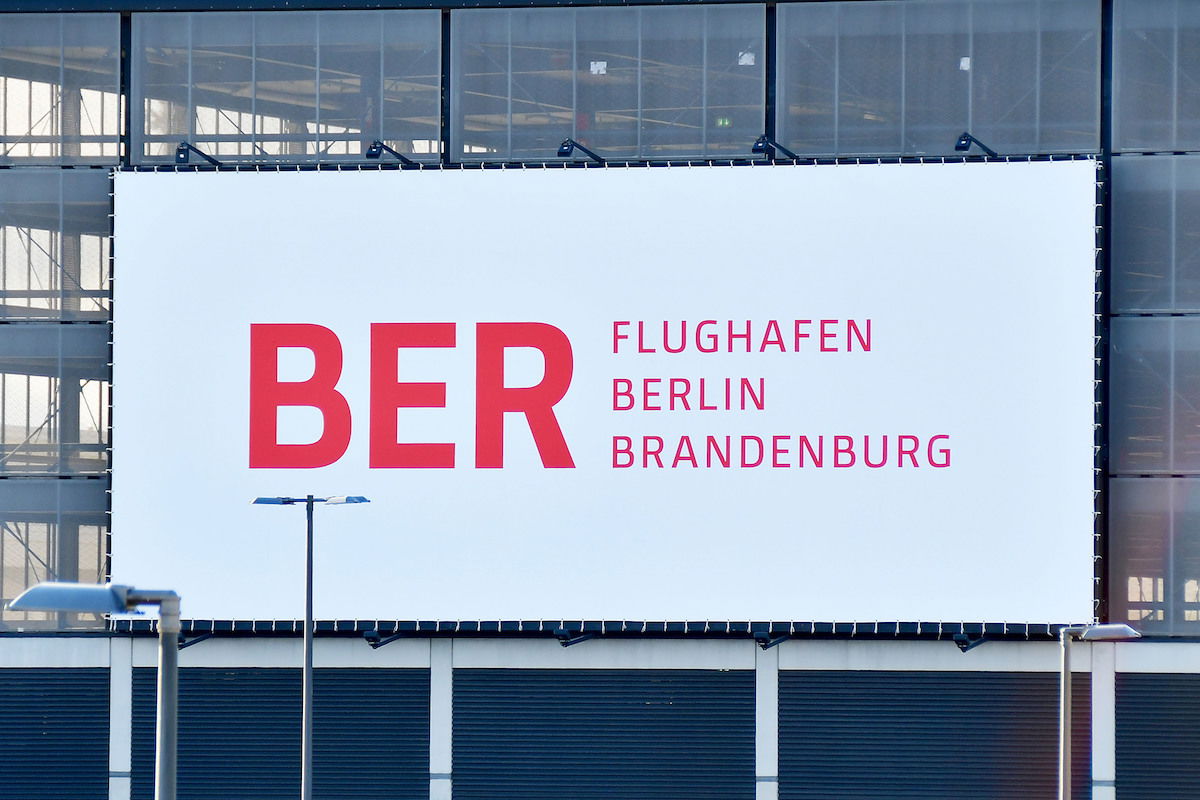 Berlin Brandenburg Airport
What's the lounge situation at Brandenburg Airport?
What's the lounge situation like at the new Brandenburg Airport?
Lounge Tempelhof is already open, and is located by the A Gates in Terminal 1; the 910 square meter lounge has a capacity of 200 guests, and is accessible with Priority Pass
Lounge Tegel is expected to open in spring 2021, and is located by the B Gates in Terminal 1; the 660 square meter lounge will have a capacity of 120 guests, and will be accessible with Priority Pass
The Lufthansa Business & Senator Lounge is expected to open soon, though I'm not positive if it's opening as of November 8, or a bit later
There's talk of more lounges way down the road, including the possibility of a oneworld lounge. However, nothing has been formally announced yet.
Is Brandenburg Airport underwhelming?
I look forward to checking out Brandenburg Airport soon, but in the meantime I've enjoyed following along with the coverage from others.
Even with the construction delays, it sure seems like some elements of the airport aren't well thought out.
Speaking of emergencies: There is no wall/door separating the regular staircase and the emergency exit further down. It looks terrible and can, due to a lack of signs, confuse people. pic.twitter.com/2xNicyeltX

— Jakob Wert (@SpieleWERT) October 31, 2020
There's also something funny about a brand new airport having an elevator that was built in 2010.
The elevators at BER were built in 2010. #HelloBER pic.twitter.com/68FFzx8IYE

— Jakob Wert (@SpieleWERT) November 1, 2020
But the comment I've heard the most is that Brandenburg Airport doesn't actually feel like a "big city" airport. An airport that took almost 15 years to construct and cost many billions of Euros is being described by some as an acceptable airport for a medium-size city.
I guess in general that gets at Berlin's challenge:
Berlin is by far Germany's most populous city
At the same time, Frankfurt and Munich are not only business hubs, but also hubs for air travel, despite having much smaller populations
Back in the day airberlin was going to expand long haul flying out of Berlin, but ended up going out of business
Even though Berlin is a major city, the airport has very few long haul flights, and I wouldn't expect that to change all that much
Pre-pandemic, Berlin's longest flights were a United flight to Newark, a Qatar Airways flight to Doha, a Hainan Airlines flight to Beijing, and a Scoot flight to Singapore. Even Emirates doesn't fly to Berlin, due to the bilateral aviation agreement between the two countries.
The point is, Berlin's airport will likely never live up to what you'd expect for what's not only Germany's capital, but also its most populous city.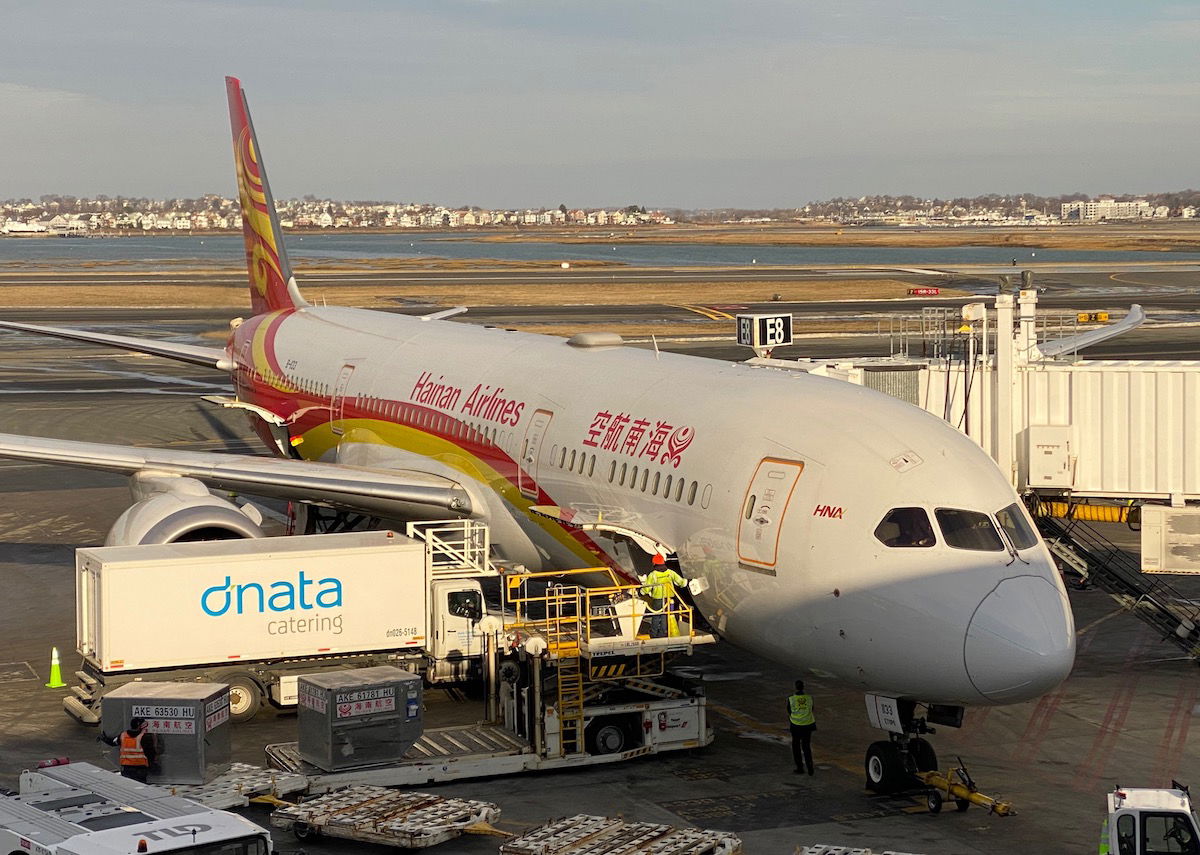 Hainan Airlines used to fly to Berlin
Bottom line
After a nearly decade-long delay, Berlin Brandenburg Airport finally opened this past weekend. With this, we'll see the closure of Tegel and the rebranding of Schönefeld, which will now be known as Brandenburg Terminal 5.
This is definitely a step in the right direction for aviation in Berlin, and I look forward to checking out Brandenburg myself. I'm not coming in with very high expectations, though, based on what I've seen and heard so far.
Are you as surprised as I am that Brandenburg Airport actually finally really opened?!