While Starbucks most definitely doesn't have my favorite coffee, I do appreciate them when traveling. They're consistent, and a cold brew or iced americano does the trick for me just about anywhere in the world.
Starbucks' airport locations are always a mixed bag, though it looks like we're about to see some changes when it comes to the experience they offer.
Starbucks & HMSHost end exclusive agreement
US airport Starbucks locations aren't run directly by Starbucks, but rather are in partnership with HMSHost, which is essentially an airport dining and retail company. This is because of the added complexity of operating out of airports, including being able to find space to rent. It's just easier to work with the expert in the field.
Since 1991, Starbucks and HMSHost have had an exclusive agreement:
All US airport Starbucks locations have been run by HMSHost
HMSHost hasn't been allowed to work with any other coffee brands
Going forward, Starbucks and HMSHost will no longer have an exclusive agreement. Some Starbucks airport locations will still be run by HMSHost, but Starbucks can also work with other brands.
As HMSHost describes this move:
"On Monday, HMSHost informed Starbucks of the plan to move away from exclusivity in an effort to broaden our portfolio of coffee brands based on what consumers and airport partners are demanding. HMSHost will continue to be a Starbucks partner and look forward to our new relationship as we serve our travellers."
On the surface this is a positive development, as I'm happy to hear that HMSHost plans to work with more local coffee brands at airport locations.
Starbucks & OTG promise innovation with new partnership
Just shortly after it was announced that Starbucks & HMSHost are ending their exclusive agreement, it has been announced that Starbucks & OTG are launching a new partnership, though it won't be exclusive.
OTG is probably the most premium company when it comes to airport dining concepts. They're only at a limited number of airports, including the three NYC-area airports, Houston, Toronto, etc.
You may recognize their locations based on them having tablets at many of the tables in gate areas so that you can sit and order directly through them, which is pretty cool.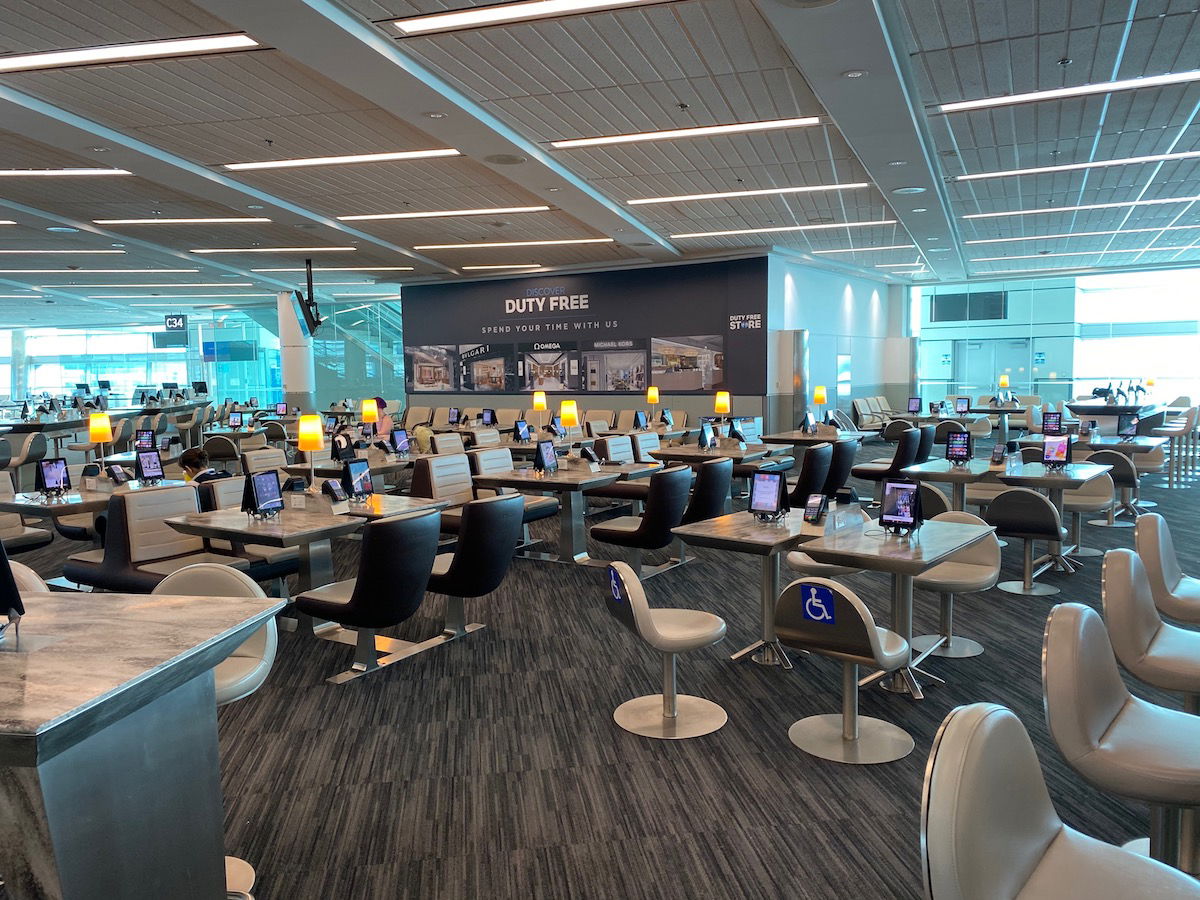 OTG gate area in Toronto
Now Starbucks & OTG are promising to introduce both traditional and experiential airport locations, while adding new technology to serve customers anywhere in the airport.
Per a joint statement from the two companies:
"Locations will be thoughtfully placed and move throughout the airport depending on time of day, providing travellers a Starbucks experience at their gate upon departure or arrival.

With a shared emphasis on providing a quality customer experience, this new partnership with OTG looks to usher in a new dynamic approach to how travellers get their Starbucks in the airport environment.

This collaboration will allow us to introduce a fully re-imagined Starbucks customer experience, ensuring guests access to their preferred cup anywhere in the airport."
One example they give is the possibility of pop-up stores in airports that could move depending on the day and where gate arrivals and departures are taking place.
How about we just get mobile ordering?
The description of what Starbucks and OTG want to do of course sounds great, though in my opinion this is the same problem so many companies have — they're promising the moon rather than making obvious improvements that create a consistent experience.
Starbucks lines at airports are consistently outrageously long, so you'd think these would be prime locations for mobile ordering. Yet many (most?) airport locations don't allow mobile ordering.
There literally aren't locations more in need of mobile ordering than airports.
Starbucks' long term plan is to somehow give you access to their coffee anywhere in an airport, yet in 2020 they can't even consistently offer mobile ordering, so that you don't have to wait 20 minutes for your coffee? I'm skeptical…
Let me just note that I of course get the challenges associated with these locations, the licensing, etc. But as consumers that seems like a reasonable expectation for us to have, and they should find a way to deliver on that, no?
Bottom line
Starbucks and HMSHost will no longer have an exclusive agreement for US airport locations, and by all accounts that's good news. HMSHost can introduce more local coffee options at airports (yay), and Starbucks seems to be exploring some innovations for airport locations.
In the meantime, could we please just consistently see mobile ordering at airport locations already?
What would you like to see change at Starbucks airport locations?