If you logged onto aa.com in the past few hours, you may have noticed some changes.
American AAdvantage cosmetic account changes
American has updated how AAdvantage accounts display, and they say that they hope these changes make the program more engaging.
Their new platform makes it easier for members to view their account information. When logging in, members will now see a redesigned account page with all their important AAdvantage account details, a new promotion center, and a new wallet feature, where they'll find their mileage balance, upgrade balance, and links to activity.
While the new page will definitely take some getting used to, I think I like it, since it displays more information on the main page and requires less clicking.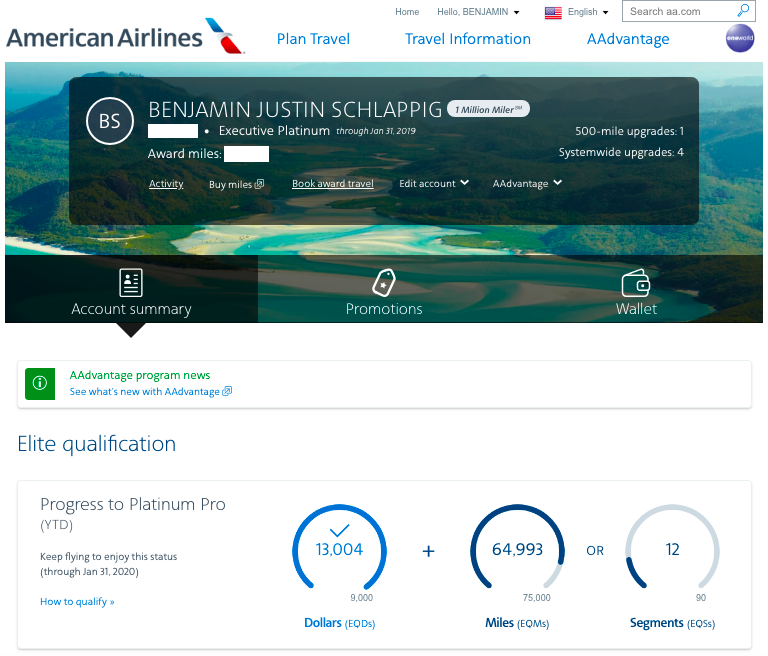 I'm probably most excited about the promotions tab being integrated into AAdvantage accounts. The reason isn't because of the page as such, but because it sounds like American is adding this with the intent of offering more promotions and challenges than in the past. American says that they're introducing "new promotions specific to customers," and in some cases "giving them the ability to choose their own reward, one that matches their wants and needs."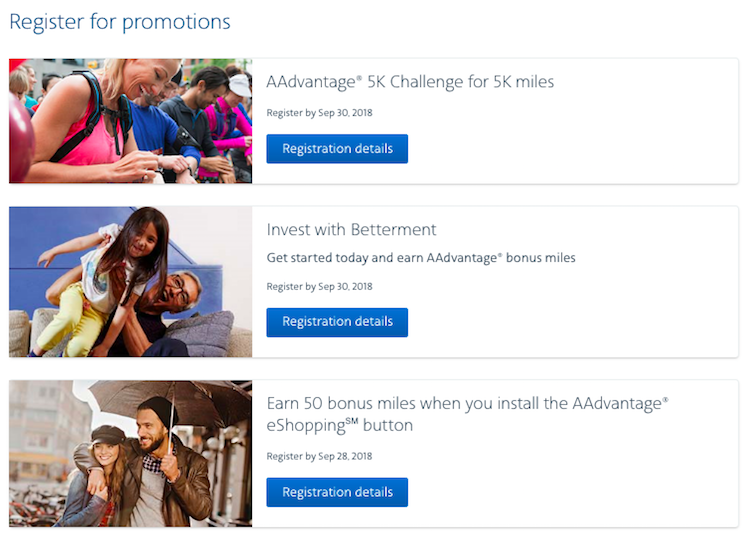 New AAdvantage promotion: up to 5,000 bonus miles
As part of this launch, American is offering a promotion to all AAdvantage members where they can earn up to 5,000 AAdvantage miles by completing up to five different activities by September 30, 2018.
The following five activities can earn you AAdvantage bonus miles:
Make any purchase with AAdvantage® eShopping
Dine-in or carry out with AAdvantage® Dining
Book and stay at a hotel at bookaahotels.com
Rent and drive a car at aa.com/cars
Fly on an American Airlines marketed and operated flight
And here are the number of bonus miles you can earn for these activities:
1 activity = 50 bonus miles
2 activities = 250 bonus miles
3 activities = 1,000 bonus miles
4 activities = 2,500 bonus miles
5 activities = 5,000 bonus miles
Registration is required, and any activity that occurs before promotion registration doesn't qualify. Furthermore, car rentals have to be picked up and dropped in the promotion period and the hotel stays have to be booked and stayed during the promotion period. The posting date of the promotion doesn't matter, but rather only the activity date.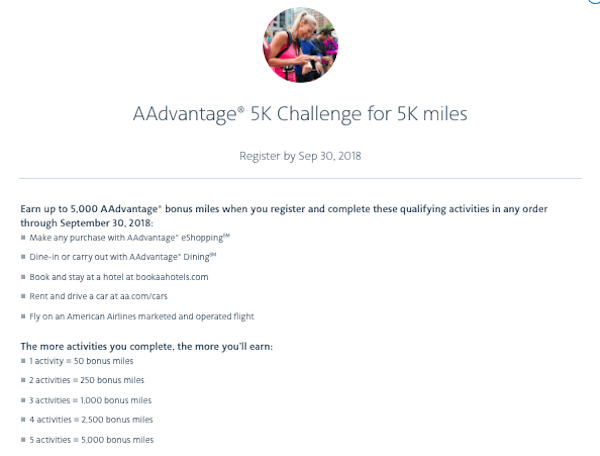 American has offered similar promotions in the past, and this one is actually less generous than some past renditions. And 50 bonus miles for completing one activity? Seriously?
A further promotion for super frequent flyers
American is also offering a special promotion this year for members who qualify for Executive Platinum status in 2018. Those who earn 300,000 elite qualifying miles in 2018 will be able to choose one of three rewards:
Gift Platinum status to a friend
Two additional systemwide upgrades
40,000 bonus miles
This is in addition to the two systemwide upgrades Executive Platinum members currently receive at 150,000 and 200,000 elite qualifying miles. Members who achieve 200,000 elite qualifying miles should see that promotion listed in their account.
Bottom line
As a creature of habit, the cosmetic changes to aa.com will take some getting used to, though overall I appreciate that more information is now displayed on the main account summary page. That doesn't materially alter my experience, though I feel like aa.com needed a refresh for a long time, and perhaps this is part of that.
What I'm more excited about is the potential for AAdvantage to offer more promotions. I recently wrote about the sad state of airline and hotel loyalty program promotions, and how I think many loyalty programs are being lazy by not engaging with members better.
The key here is that American actually needs to create compelling and engaging promotions, and having a new promotion portal as such doesn't do that. I'm also not terribly confident anything will change based on the promotions they just rolled out, which aren't exactly generous.
What do you make of the new AAdvantage account page?