Italian airline Neos will launch passenger flights to the United States in a matter of weeks…
Neos' Milan to New York route
In March I wrote about how Neos applied with the Department of Transportation to add passenger flights to the United States, though at the time the airline didn't state which routes it intended to operate. Now we know, as flights are already bookable on Neos' website.
As of June 27, 2021, Neos will be operating a twice weekly flight between Milan (MXP) and New York (JFK). The flight will operate with the following schedule on Thursdays and Sundays:
NO787 Milan to New York departing 12:20PM arriving 2:50PM
NO789 New York to Milan departing 5:50PM arriving 7:20AM (+1 day)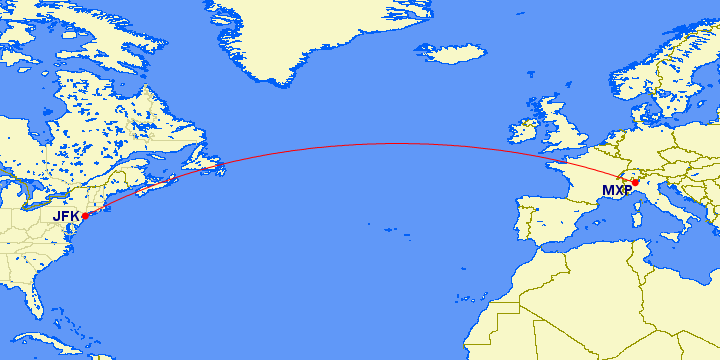 Neos is launching New York to Milan flights
The 3,995 mile flight is blocked at 8hr30min westbound and 7hr30min eastbound. Neos will use a Boeing 787-9 for this flight, featuring both premium economy and economy.
By the way, as an avgeek can I stop for a moment and recognize Neos' flight numbers for this route? The flight numbers are 787 and 789 — surely that's not a coincidence, because if it were, the return flight would be 788, no? It seems to me like the airline chose 789 to represent the 787-9 the airline will operate on the route.
Interestingly Neos has already been operating flights to the USA, but only with cargo up until now. This will be the carrier's first service to the country with passengers.
Neos flies Boeing 787-9s
Neos' fares & passenger experience
Neos has a total of six Boeing 787-9s — four were delivered "fresh" to the airline, while two used to fly for Norwegian (the airline got rid of its 787 fleet). Neos has 359 seats on its 787-9s, in a two cabin layout.
There are 28 premium economy seats, in a 2-3-2 configuration.
Neos' Boeing 787-9 premium economy
Then there are 331 economy seats, in a 3-3-3 configuration.

Neos' Boeing 787-9 economy
Looking at Neos' fares, all fares between Milan and New York include 5kg of hand baggage, at least one checked bag of 23kg, meals, and free changes, so the airline will try to compete with the other airlines in the market in terms of experience.
That being said, I'd say the fares could use a bit of refinement. For example, look at the "Economy Promo" fares vs. the "Economy Relax" fares. The only difference between the two fares is that the more expensive one is refundable for up to 25% of the value of the ticket, so that's probably not worth paying an extra 85% for. 😉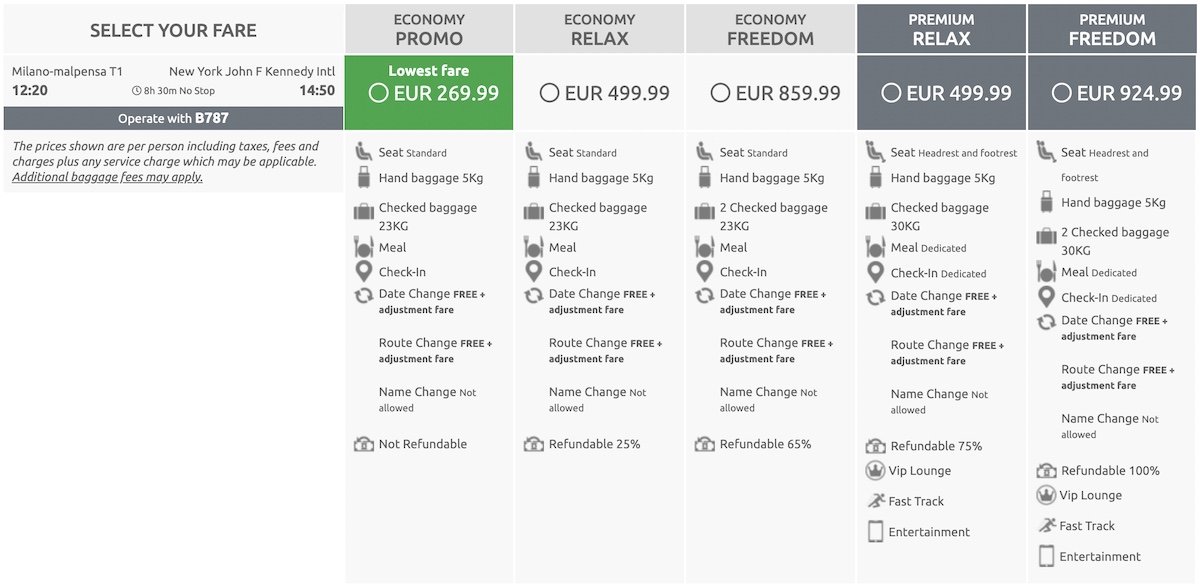 Neos' fare options
Milan to New York is a crowded market…
Presumably Neos is banking on strong leisure demand this summer across the Atlantic, with Italy planning on opening to Americans sooner rather than later. Nonetheless it sure seems to me like Neos will struggle in the market:
New York to Milan is an extremely competitive market, with flights from American, Delta, Emirates, and United; finding a flight between the cities is about as hard as finding a real estate agent
It's normal to see ~$450 roundtrip fares for most of the year in the market, and even during peak summer dates, ~$700 roundtrip is about as high as it gets
Neos doesn't offer as many frequencies as competitors, and also doesn't have as good of an onboard product (these 787s are tight)
So I'm not sure what exactly Neos' plan is here? Right now Neos' lowest roundtrip fares are ~$650, so the airline isn't undercutting competitors on price, certainly isn't offering a better inflight experience, and also isn't offering as many frequencies. Something's gotta give…

Neos' current lowest roundtrip fares
The only explanation I can come up with is that maybe the airline is already doing very well with cargo on the route, and passengers will just supplement that? After all, the airline already flies to New York without passengers.
Bottom line
Italian airline Neos will be launching nonstop passenger flights between Milan and New York as of June 2021. The airline will fly twice weekly using Boeing 787-9s, which feature premium economy and economy.
While I suppose competition is always a good thing, the carrier is choosing to enter one of the busiest transatlantic markets, and it's not entirely clear how the airline plans to differentiate itself. Fares in this market are already rather cheap, so Neos has some work to do…
What do you make of Neos' new Milan to New York flight?