A magnitude 5.9 earthquake struck near Mt. Kinabalu on the island of Borneo on Friday. At least 16 people died, and 2 more are missing, mostly people who were climbing to the summit. As a mountaineer who has been through a life-threatening situation on the side of a mountain, I can empathize with those involved. My thoughts go out to the families of those who died as well as the brave rescuers who saved many more.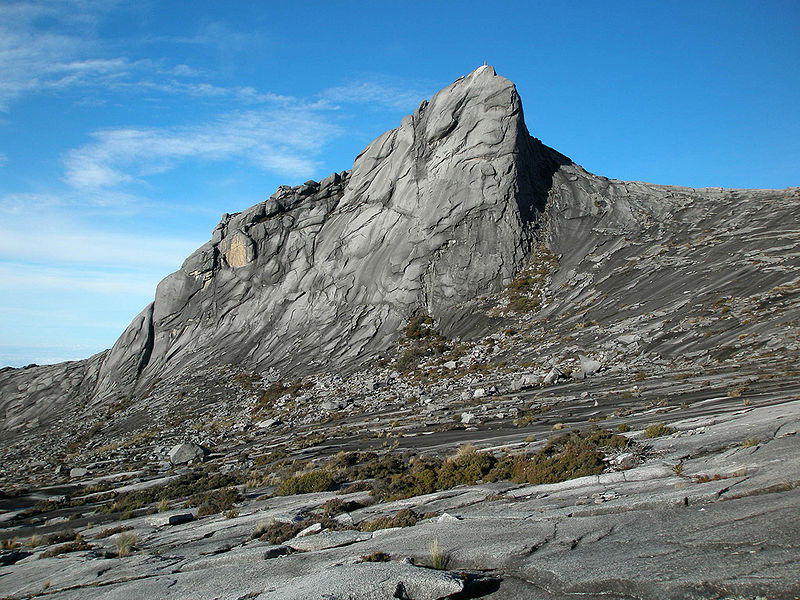 Mt. Kinabalu
Now it turns out that the Malaysian government is blaming the quake on a group of tourists who stripped naked while climbing the sacred mountain, thus angering the gods. You can see the offensive picture that was posted to social media here.
A few weeks ago, the ten foreign holidaymakers stripped naked, posed for a series of photographs and were accused of urinating as the scaled the mountain in the Malaysian state of Sabah. The photos didn't appear on social media until days before the earthquake. Deputy Chief Minister of Sabah Tan Sri Joseph Pairin Kitingan said on Saturday that he believes the tourists caused the earthquake, according to Buzzfeed. Pairin said that the earthquake was 'confirmation' that Mount Kinabalu was sacred and that people 'cannot take it lightly', the Malay Mail Online reported….'There is almost certainly a connection. We have to take this as a reminder that local beliefs and customs are not to be disrespected.'
Apparently they now want to charge the five tourists in a native court. The tourists aren't allowed to leave the country until the case is resolved.
I'm sure there are some wondering why in the world a mountaineer would go full monty on the side of a mountain. Well, as someone with a lot of mountaineering friends, let's just say that this stuff does happen. Now I've never witnessed it first hand (thank goodness!) but I have seen summit photos with friends that were stripped down to their skivvies, or at least close to it. In the winter. On top of Mt. Washington.
Like this one for example. Yes, I know some of these guys….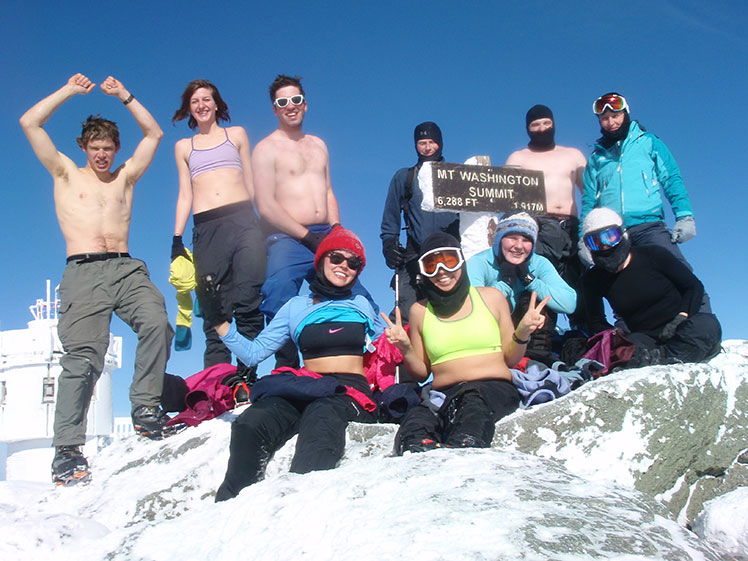 MITOC group on the summit of Mt. Washington, highest peak in New Hampshire. (Photo courtesy of Matthew Gilbertson)
Perhaps the thin air at altitude causes folks to do crazy stuff?
That said, I'm not excusing the act in the least. I try to be a culturally sensitive traveler and go out of my way to show a lot of respect for the local customs, especially when I'm in a land that I barely understand.
I was actually on Borneo last December as part of our Southeast Asian Adventure and would have loved to add the Mt. Kinabalu, the highest peak in Malaysia, to my list of country summits. (It's still a short list.) But I wasn't in any shape to be climbing a mountain, unfortunately, so we stayed in Brunei. And I definitely kept my clothes on.
What do you think? Should the tourists be charged with…. something?