I've gotta say, my quest towards Executive Platinum has been rather painless thus far. I flew up to New York on American through Chicago in first class last Friday, which I reviewed here.
Then next month I'll be flying to London and Paris on a discounted business class ticket, which is upgraded to first class, finishing up my Executive Platinum challenge. Certainly not too painful of a ride to top tier status!
I know I was overly-thorough reviewing my outbound journey, so figured I'd just note a few things that stood out to me for my return journey from New York to Tampa via Chicago on Monday. I once again purchased "stickers" for $120 (they're $30 each, and four are required for New York to Chicago and Chicago to Tampa). The upgrades confirmed immediately, which was surprising, which makes me even more excited about becoming an Executive Platinum member.
My flight from New York to Chicago was to be operated by an MD-80. I briefly stopped in the Admirals Club, where I overheard one of the agents tell a passenger that their flight was oversold by six people. Hmm, maybe it's my flight? I hopped on ExpertFlyer and my flight was indeed sold out, so I asked the agent if she could add me to the list. She did, and said I should check again at the gate.
Once at the gate I got in line just to let the agent know I was on the list, and she indicated they wouldn't need volunteers. Oh well. What I found interesting was that they were undersold in first class and oversold in coach, so instead of operationally upgrading passengers, she called up some elite members and asked if they wanted to use their miles or stickers to upgrade.
I used to love the days at United when they still had "500 mile upgrade certificates," since most elites seemed to have no clue how to use them. The same still seems to be true at American. The agent called up a Platinum member who was in a middle seat in coach, and asked him if he wanted to upgrade. She explained that he had 129 (!!!!) stickers. Confused, he said "I have more than 129 miles, don't I?" It took her at least two minutes to explain to him what stickers were, as he had never heard of him. He just kept asking her "so you're sure this won't deduct miles from my mileage balance?"
She then called up another elite who had about two dozen stickers in his account. Yow!
The flight from New York to Chicago was a "snack" flight. The choices were a chicken salad or cheeseburger (only in the US is a cheeseburger considered a snack, eh?). I went with the salad.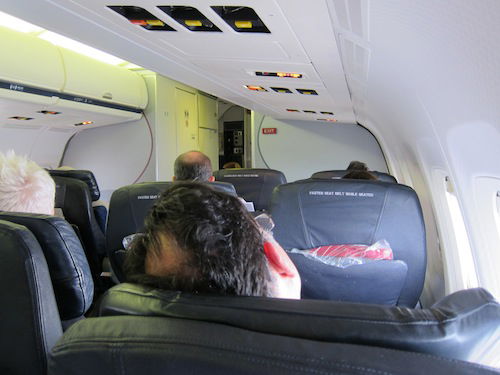 MD-80 first class
Service started with hot nuts.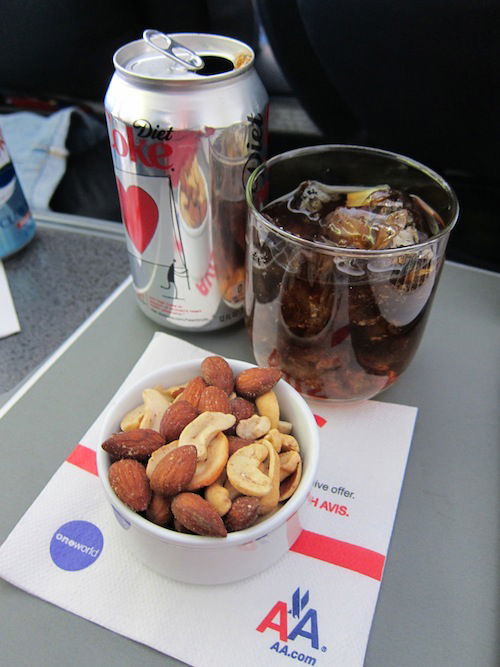 Hot nuts and Diet Coke with lime
The salad itself was delicious, though I do wish American would sometimes serve a dressing healthier than ranch/ceasar/creamy something-or-another. While I like Stacy's Pita Chips, American seems to serve them on every lunch flight. Bleh.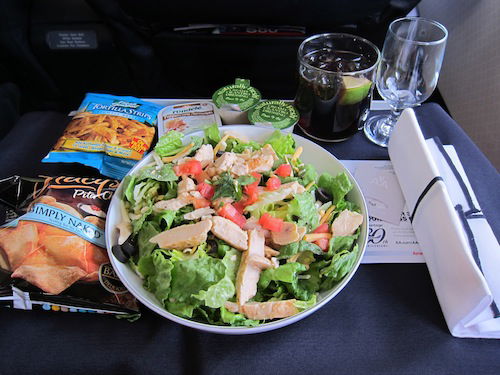 Lunch
For dessert was a chocolate chip cookie. At United they used to proactively serve milk with cookies, and I always found it entertaining to watch middle aged business travelers dunk their cookies in milk. When I asked for a glass of milk the flight attendant looked at me as if I was from another planet.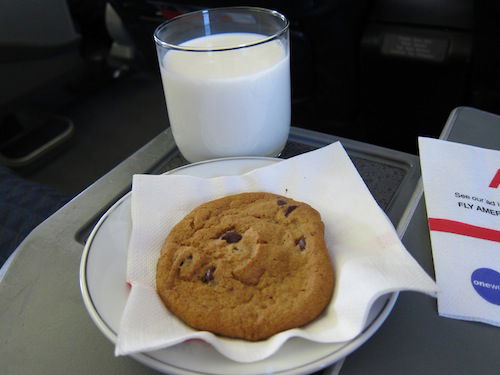 Chocolate chip cookie and milk
The flight from Chicago to Tampa was operated once again by a 737-800, which is a great plane. There were about five open seats in first class, including the seat next to me, which was nice. What I found interesting is that I saw commuting flight attendants and pilots head back to coach while there were empty first class seats. Does American charge their flight attendants and pilots for domestic first class? That surprised me a bit.
Dinner service started with hot nuts.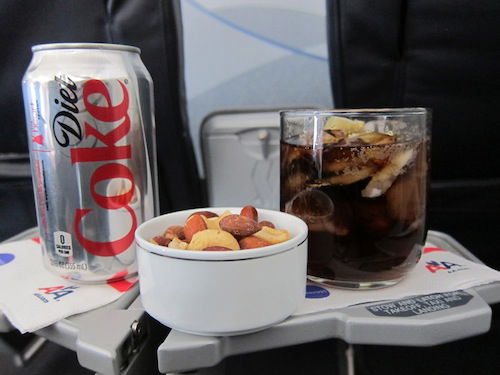 You guessed it…
For dinner was the option between chipotle chicken and pasta. I was going to go with the chicken, though after seeing it asked for the pasta instead. The pasta was surprisingly good, and served with a side salad, dinner roll, and slice of cheesecake.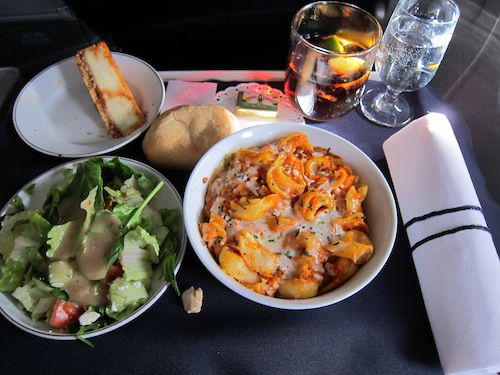 Dinner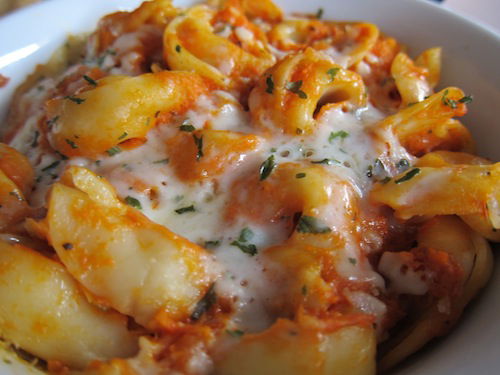 Pasta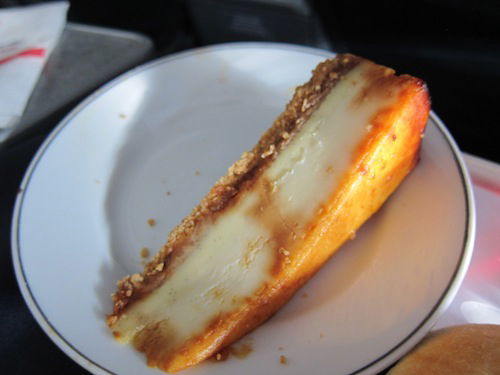 Cheesecake
Service on both flights wasn't quite as spectacular as on the outbound (where I thought I was flying an Asian carrier), though still quite good. Certainly by US standards they were both above average crews.
American has a solid domestic first class product, plain and simple.