Usually I don't write trip reports about my domestic first class experiences, but I did fly American today from Tampa to Chicago to New York in order to work towards my Exectuive Platinum challenge, so figured I'd report back, since I realize my blog is at times United-centric.
I booked my ticket on fairly short notice and was pleasantly surprised that my upgrade cleared for both segments as a Platinum, from Tampa to Chicago to New York, given that I'm traveling on a Friday. Now, American is the only US airline that still uses a 500 mile upgrade system. While Executive Platinum (top tier) members get unlimited complimentary domestic upgrades, Gold and Platinum members still have to support their upgrades with "stickers." I'm new to American so didn't have any to begin with, though Gold and Platinum members usually earn four for every 10,000 miles they fly on American. Since I didn't have any, I purchased them at check-in via a kiosk for $30 per 500 mile upgrade.
As a result the upgrades cost me $60 per segment, or $120 total. While I wouldn't usually actually pay for an upgrade, $60 per segment seemed reasonable to me.
My first segment from Tampa to Chicago was a breakfast flight operated by a 737-800. I checked American's website the night before and noted that my flight from Tampa to Chicago would have Wi-Fi, while my flight from Chicago to New York (which was operated by an MD-80) would not.
Boarding started 30 minutes before departure, and I was pleasantly surprised by the 737-800. This plane features the new "slimline" first class seats, which has a few advantages and a few disadvantages.
One of the advantages is that the seats are incredibly well designed in terms of storage space. On the left side of the seat is a "pocket" which can hold magazines, a book, a laptop, etc. The center console is fairly small in terms of width, which means the seats are a bit wider. The drink tray sticks out from the center console, and there's actually another drink tray in the center console in the seat in front, which means there's plenty of place to put drinks, nuts, etc.
The other good thing is that the legroom is phenomenal. Because the seats are thin, there's more legroom without all that much more pitch (technically). The other thing is that when you recline your seat, the seat actually moves forwards to create a shell of sorts, instead of reclining into the person behind you.
That's both a plus and a minus. On the plus side, your legroom will always be excellent, even if the person in front of you is reclined all the way. Unfortunately that comes at the expense of recline. The recline isn't good at all, and while the seats are great for daytime flights, I can't imagine they'd be especially comfortable for a redeye.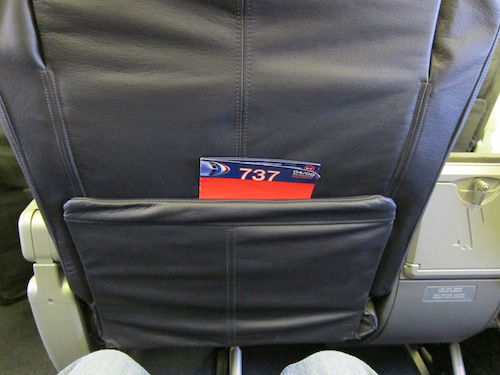 Legroom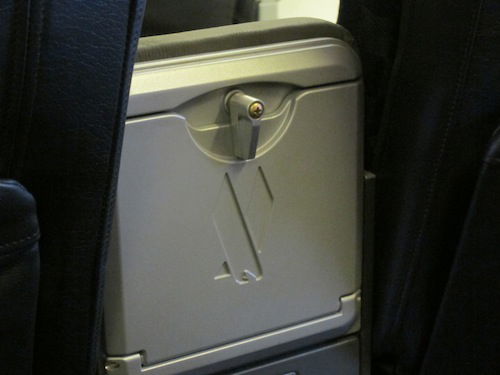 Center console tray table
The service on this flight was top notch. For one, the crew to passenger ratio is great in first class. There are 16 seats and two flight attendants, so service is fairly attentive. In this case, though, I had two of the best flight attendants I've had at a US airline in a very long time. I realize it's totally luck of the draw, and hell, might even have something to do with the fact that they were in a good mood because of the Royal Wedding. On the ground pre-departure beverages of choice were offered.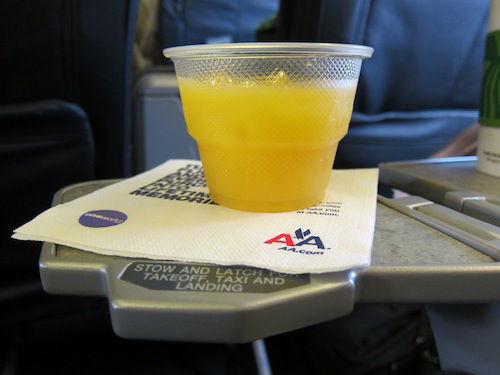 Pre-departure orange juice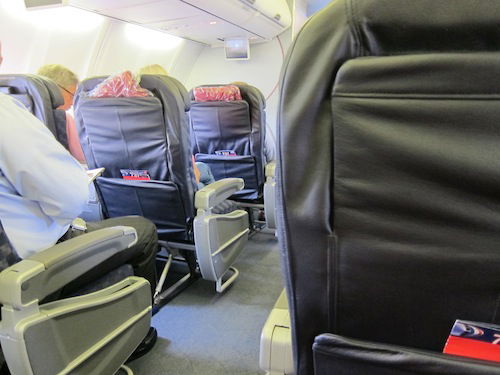 First class cabin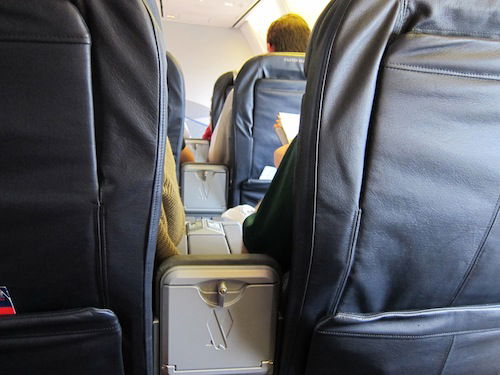 Seatbacks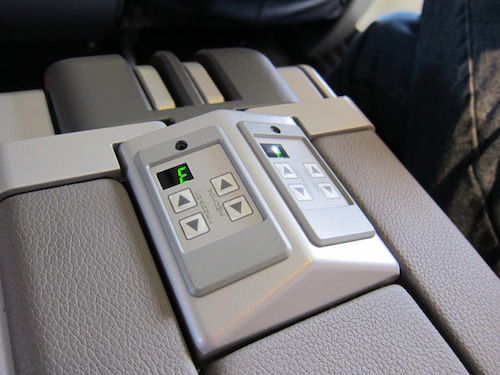 Center console
American uses a FEBO system for taking meal orders, whereby they take meal orders starting in the front of the cabin on even numbered flights and starting in the back of the cabin on odd numbered flights. I was seated in the last row of first class, so shortly after takeoff meal orders were taken starting in my row. The choices were an egg quesadilla or cereal, and I went with the former. It's worth noting that the flight attendant addressed each passenger by name.
Service started with hot towels, followed by a beverage of choice. I went with OJ.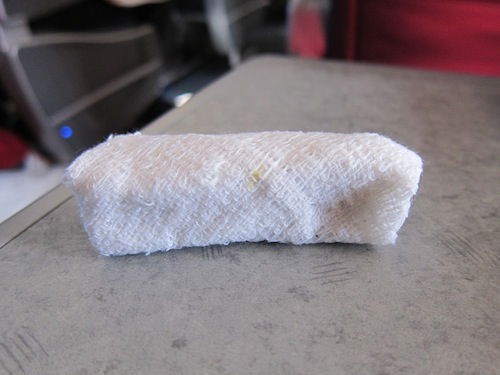 Hot towel
Shortly thereafter meals were served. My egg quesadilla was served with onions, pineapple, sausage, and a side of fruit. The flight attendant also came around with the bread basket, consisting of biscuits and bagels.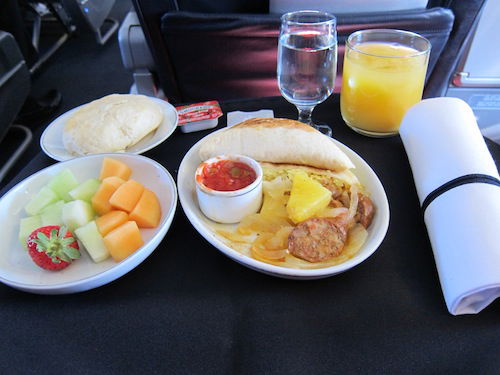 Breakfast
What impressed me most about the flight attendants was the small touches as far as their demeanor goes. They didn't say "what do ya wanna drink?" but instead "may I offer you a beverage?" Whenever they reached over my laptop they would say "pardon my reach." Whenever I said "thank you" they said "you're very welcome." Again, that's just luck of the draw, because there are good and bad apples at every airline. I definitely got the "good apples," though.
Shortly before landing one of the flight attendants came around with mints for all first class passengers, thanking everyone individually for flying with American.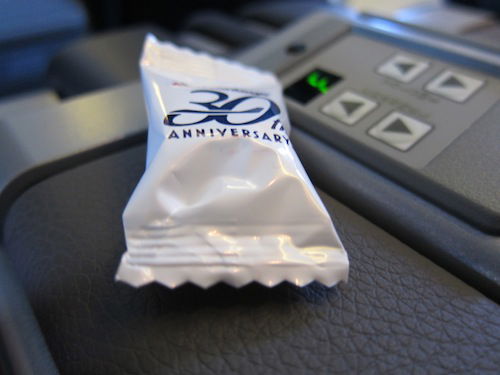 Mint
I had a two hour layover at O'Hare, and it really made me miss United. American's terminal at O'Hare isn't even nearly as nice as United's (and United's isn't nice by any stretch). I visited the Admirals Club for about an hour, which was fine, though not as nice as the United Red Carpet Clubs, in my opinion.
The Admirals Club was crowded and seemed a bit like an airport bar in terms of the amount of stuff that was for sale. Even bagged chips have to be purchased. The only thing that's free is stale cookies and an awful snack mix. In that sense, United is much better, in my opinion. The other frustrating thing is that internet isn't free. It's my understanding that Admirals Clubs only provide free internet to members and those with day passes. Those accessing with the American Express Platinum card, elites traveling internationally, or even international business class passengers, have to pay for Wi-Fi… at least that's my understanding. Now, they do have free PCs, but this is just ridiculous. Compare that to United, where Wi-Fi is now free for everyone. Hopefully American follows suit. The one other thing worth mentioning about Admirals Clubs is that the agents are just top notch. They address each person by name, are actually friendly, and seem to generally be eager to help. Of course that only goes so far if you don't have free Wi-Fi in your lounge.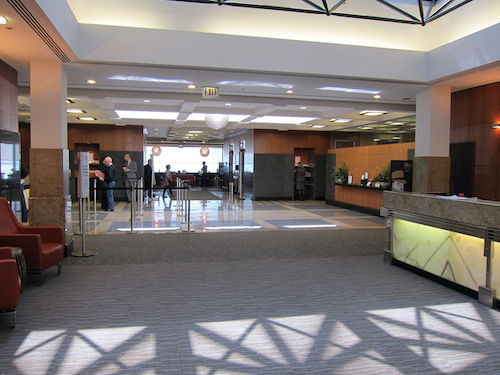 Admirals Club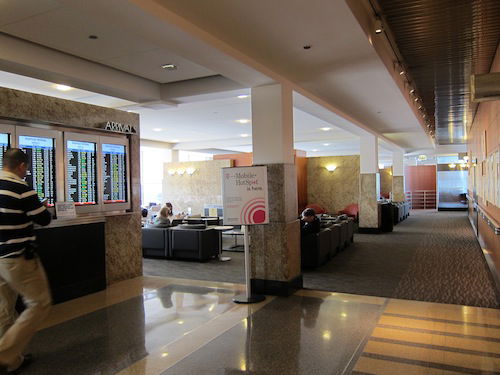 Admirals Club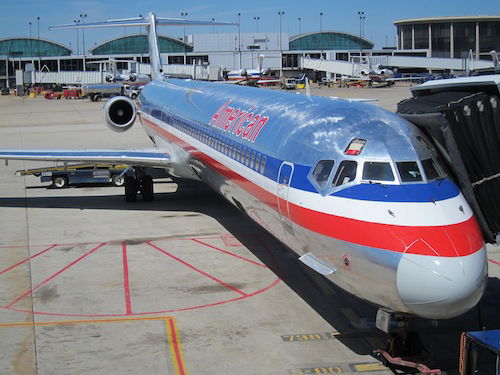 "Super" 80
The flight from Chicago to New York was operated by an MD-80, and I was in the bulkhead. Despite a seatmate in desperate need of an airplane etiquette class (see my Twitter for more on the rants about that), the flight was pretty good.
On the ground we were offered OJ or water, and shortly after takeoff meal and drink orders were taken. The purser, Wade, introduced himself to each passenger and addressed everyone by name, offering a shrimp salad or chicken parmesan. I've had the chicken parmesan before and it was good, though I wasn't all that hungry, so went with the shrimp salad.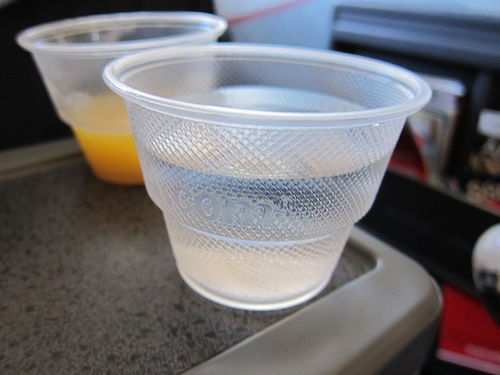 Pre-departure beverages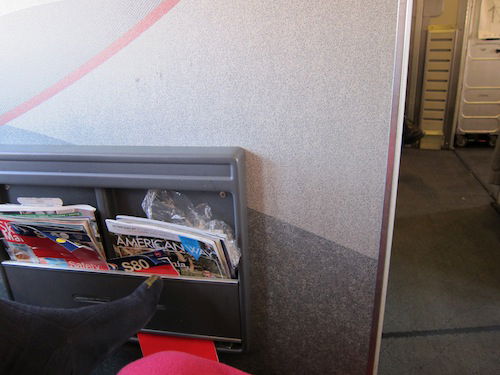 Bulkhead
Once meal orders were taken drinks were served. I went with a Diet Coke with lime, which was served with hot nuts. The nice thing about American is that they almost always offer nut refills. They have a huge aluminum dish with extras, so each passenger was proactively offered a refill.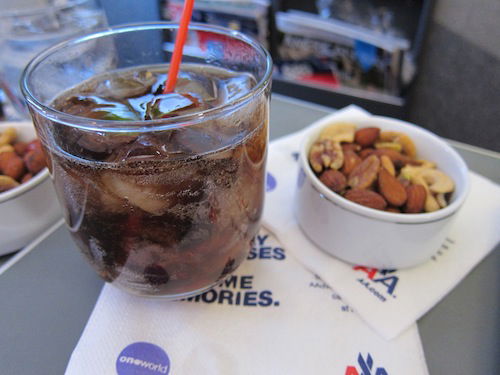 Diet Coke with lime and hot nuts
The lunch itself was quite good. It was a shrimp salad with olive oil and balsamic vinaigrette dressing. It was served with a side of pita chips and hummus. The chicken parmesan is a much larger meal, with the main dish, a side salad, and also the pita chips and hummus. While United serves soup with lunch, it's probably a tradeoff, given that American offers a warm entree option for lunch.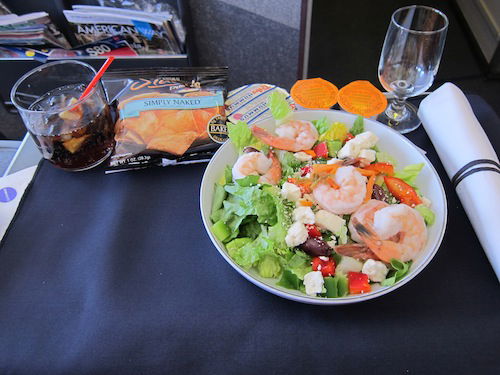 Shrimp salad
Once the main course was finished, cranberry walnut oatmeal cookies were offered, served on separate plates.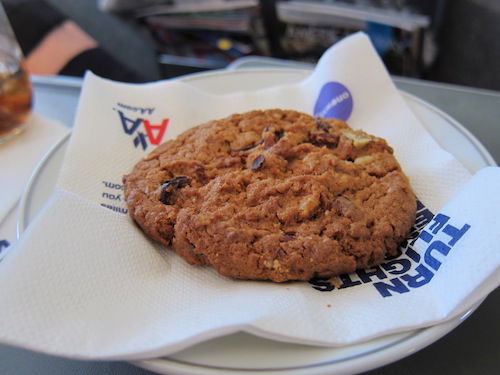 Cookie
Once again before landing, mints were offered.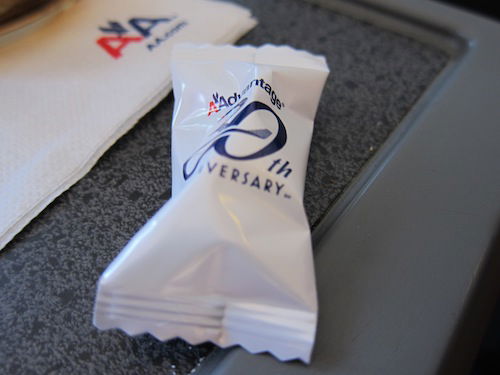 Mint
I know this is incredibly detailed for a simple domestic trip, which, frankly, wasn't all that interesting. However, as someone that has almost exclusively flown United domestically for the past six years, it's interesting to observe how other airlines do things, hence all the details.
Overall the two flights exceeded my expectations. The food was good on both flights, but more importantly, the flight attendants were exceptional. I realize it's luck of the draw, but both of my crews were truly exceptional.
I feel like American has the little touches down very well, while United is a more "big picture" airline, missing some of the more minor touches. For example, the fact that American serves mints before landing is a nice touch, and it's great that the Admirals Club agents are so friendly. However, the fact that there's no free internet at the same time is mystifying to me (I can kind of see where they're coming from – they probably want people to purchase memberships – but still, it renders them uncompetitive in that respect).
Lastly, I'm leaving out what I like most about American, what really makes them stand out among the competition: they have liquid soap that turns into foam when you pump it in the lavs!