I've received a few questions lately about what my next "big" international trip will be, given that I'm more or less caught up on trip reports. I'm in the process of moving over the coming week, so for the most part I'm taking it slow on travel as I try to furnish my new place and explore the Seattle area (of course with me luck the record good weather streak will end the day I move).
That being said, a couple of weeks ago there was a mistake fare between Yangon and Montreal in first class, for roughly $500-800 one-way. I couldn't resist booking a few of them, and my first one is coming up very soo. While Swiss apparently isn't honoring the tickets issued on their ticket stock, none of my tickets are with them, as I've flown Swiss first class many times and wanted to fly a different airline. Instead one of the trips I booked is as follows:
ANA 914 Yangon to Tokyo departing at 9:30PM and arriving at 6:15AM (+1 day) [Business Class]
British Airways 6 Tokyo to London departing at 10:55AM and arriving at 3:10PM [First Class]
British Airways 95 London to Montreal departing at 6:20PM and arriving at 8:15PM [Business Class]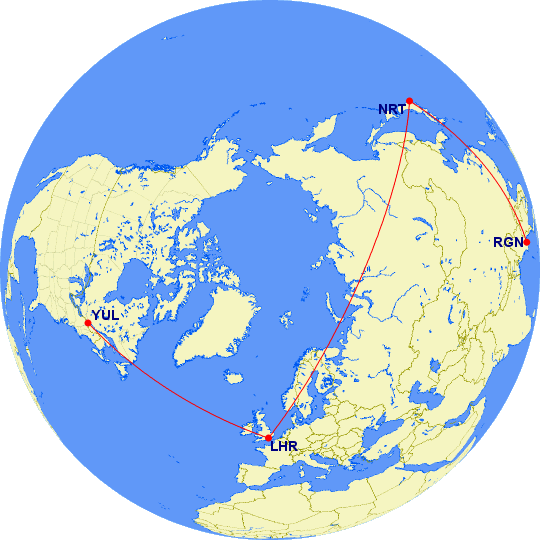 The flight from Yangon to Tokyo is operated by a 737 in an all business class configuration. Tokyo to London is operated by a 777-300, meaning it's guaranteed to have British Airways' new first class, which I've been wanting to try. And since I'm continuing to Montreal and making a same day connection from international first class, I'll have access to the Concorde Room. That flight is operated by a 777 with no first class cabin, and I'll be in business class.
I'll be crediting the miles for the British Airways segments to American which will help me cross 125,000 elite qualifying points with them, the threshold for the 2012 Elite Rewards. So while the timing may be inconvenient, I have a hard time saying no to this ticket since it was just ~$500.
This is just a few days after I'm set to move in so I'm really not in a position to spend much time over there, and as a result hope I can do the whole trip in about four days. If nothing else it'll be a good chance to try some new airlines and view them for you guys.
I still have to figure out how I'll get to Yangon. The goal is to be there for less than 24 hours so I don't have to get a visa. I don't see any good options for the outbound just yet, though will likely wait till within a few days of departure, and then snag a seat on one of the top 10 products I've been meaning to try. The most practical options seem to be Cathay Pacific as far as Bangkok using American miles, Korean Air all the way using miles in their program transferred from Ultimate Rewards, or a Star Alliance award all the way to Yangon on Thai Airways.
But here's the 16 trillion dollar question (and I'm legitimately curious about the answer to this): can anyone explain why on earth ANA flies an aircraft configured in an all business class configured to Yangon? That seems like the last market in the world that would warrant an all business class product. Best I can tell Yangon doesn't even have a three star hotel, let alone the demand for an all business class flight from Tokyo.