Yesterday I flew Cathay Pacific first class with my mom from Chicago to Hong Kong. This is a birthday trip for her, as the last major trip I took with her was to New Zealand right after I graduated high school. She's been working hard and hasn't had time to travel since, so I figured it's only fair I take her to Hong Kong and Bali for her big "round" birthday.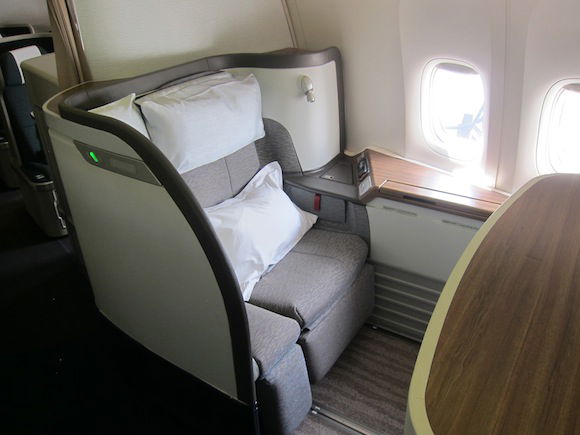 All I can say is that Cathay Pacific is a damn consistent airline. Along with Lufthansa it's probably why they're among my favorite airlines — there's so little variance in the onboard experience from flight-to-flight, so I always know exactly what to expect.
I, for one, had a phenomenal flight. There was only one other person in the cabin and I polished off a bottle of Krug on the ground, so after a nice meal I slept for 11 hours. I think it's safe to say that's the best "night" of sleep I've ever gotten on a plane.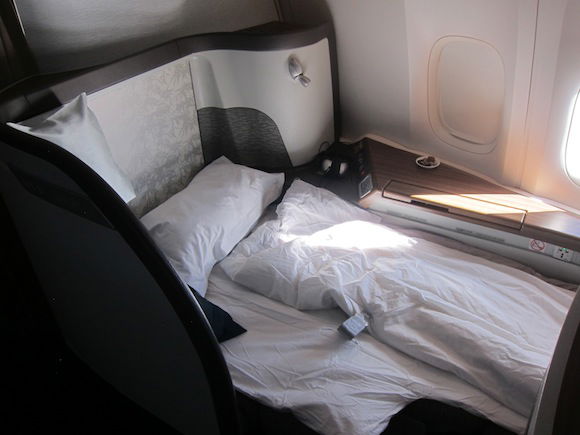 My mom was even more delighted, and borderline blown away by the experience. The only airline on which she's flown first class is Lufthansa, and it has always been the old product. She loved the privacy of the seats, and really loved the service. She thought the food was quite good, though preferred what Lufthansa has on offer in that regard.
The two flight attendants working first class, Grace and Rainy, were phenomenal. My mom had a hard time deciding which red wine she wanted, so Grace encouraged her to do a wine tasting — "Mrs. S, may I suggest a wine tasting so you can decide which one you like more, and then we can serve you that one for the rest of the flight?" During the meal service my mom really liked the handwritten note they presented her (as is the standard in first class), and she commented to the flight attendant about what a nice touch it was. The flight attendant responded with "it's our pleasure, most of our frequent travelers seem to not even notice it," while jokingly pointing at me.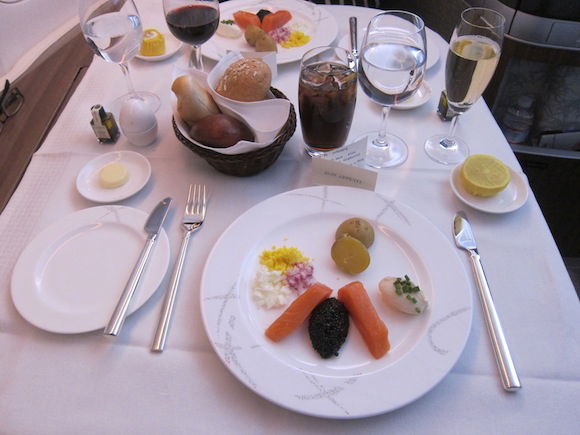 My mom loved that we were able to eat together, and seemed to sleep well for half the flight as well.
I still think Cathay Pacific has one of the most solid products out there. The bedding is amazing, seats are extremely private without being claustrophobic, and service is consistently very good, in a Cathay Pacific style way. The reason I find there to be a bigger variation in service on Singapore is that they have some really stellar crews and some "only" good crews. The same is true for Cathay Pacific, though the difference is their approach to service. Singapore is very proactive, meaning a stellar crew is through the cabin every five minutes to see if you want anything. If you only get a "good" crew you notice their absence in the cabin. Cathay Pacific, on the other hand, is very reactive, and the flight attendants typically won't appear once in the cabin between meals, though if you push the call button they will be there within five seconds to take your order with a smile. And really that's intentional on their part, since they figure you want to be left alone rather than spied on every five minutes while sleeping.
It took me a few hours to "train" my mom on that. When I explained how Cathay Pacific service works she looked at my confused and said "but isn't the call button just for emergencies?" By the end of the flight she was pushing the call button twice an hour. 😉