I've spent the past couple of days in Cuba, and yesterday morning I was scheduled to fly from Havana to Fort Lauderdale on Southwest Airlines. I'll have a lot more about my thoughts on visiting Cuba and our overall experience at the airport on arrival and departure in future posts, but first wanted to highlight the unfortunately travel day I had yesterday.
Like many frequent flyers, I'm accustomed enough to delays so that I'm not shocked when they happen. Just in the past couple of months I've had a four hour delay on Ukraine International Airlines and a three hour delay on Garuda Indonesia. While delays are never fun, ultimately I can work from anywhere with an internet connection. So my feeling towards delays come down to how good of a job the airline does communicating with passengers.
Well, yesterday I had what I can only describe as the worst delay of my life. That's not to say that it was the longest, but rather that it was the mostly poorly communicated and handled from start to finish, with the least pleasant circumstances.
We were scheduled to fly from Havana to Fort Lauderdale at 8:30AM, and showed up at the airport at 6:15AM, over two hours before departure.
The line to check-in was insane, though on the plus side everyone was on the same flight as us, so I figured they'd wait for everyone. Besides, there ended up being over 50 more people behind us in line.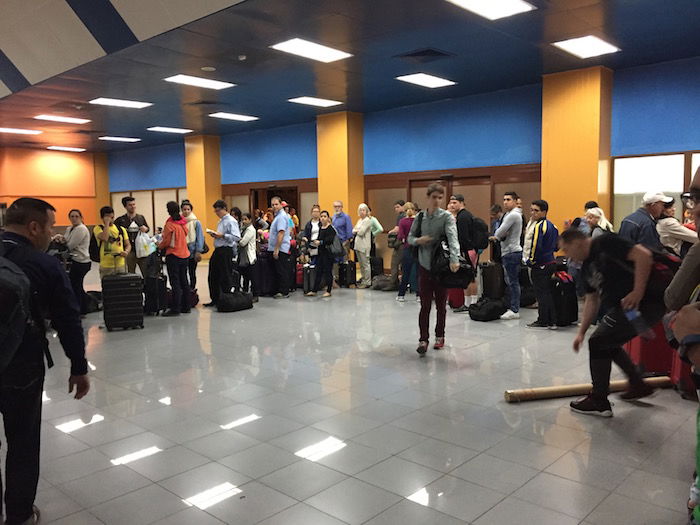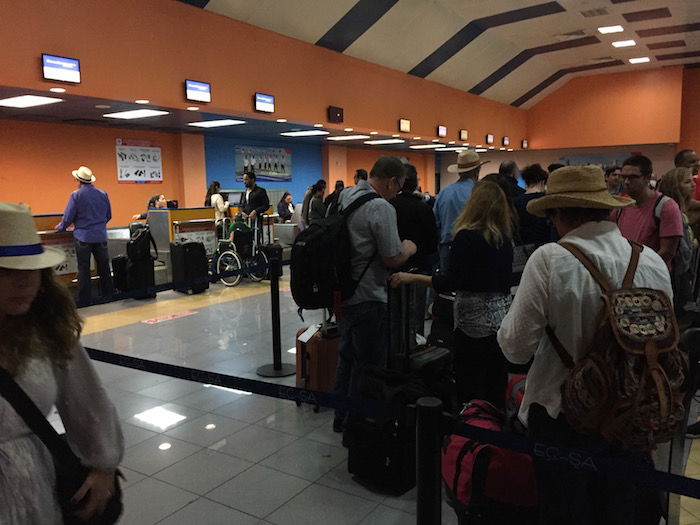 I figured that the line would at least move quickly, but it didn't. We waited in line for over 90 minutes to check in. That's not an exaggerated number, but actually 90 minutes — we had our boarding passes after 7:45AM.
Then we had to wait in the immigration line. The line wasn't too long. About 20 minutes later we were second in line, and suddenly the immigration officer left the station and shut down the lane. Another officer came to our line and said to find another line, so we had to get to the back of another one.
Seriously?!?
We got in another line, and this time about 10 minutes later the officer left and the line was closed as well. I've never seen anything like this before.
Then we got in another line and had to wait another 30 minutes.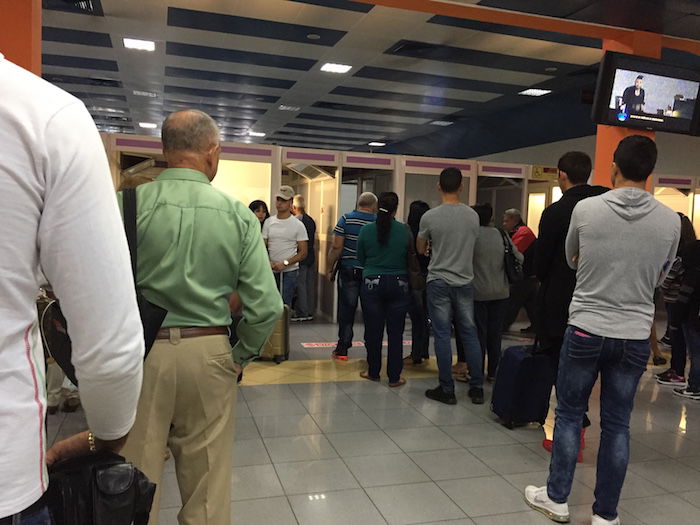 Sure enough, we arrived in the gate area at 8:45AM, at which point we found our flight was delayed — thank goodness, or else most passengers would have missed it.
However, the ground staff didn't tell us how late the flight would be, but rather just that it would be late. They did a horrible job communicating, so we really had no clue how late our flight would be.
Terminal 2 at Havana Airport consists of one large room. There are no outlets, and in order to use the Wi-Fi you need to buy a Wi-Fi card, which the airside store sells. However, they were sold out.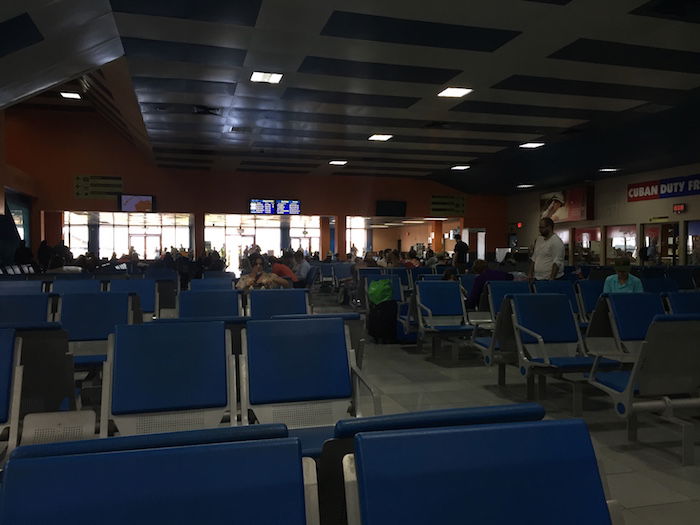 While a few people had data on their phones, a vast majority of passengers didn't, so we were completely in the dark. The airline wasn't providing any updates, we had no way to connect to the outside world, and the ground staff didn't provide any explanation or updates on when our flight would depart.
We had a rolling delay, so the departure time kept getting pushed back further and further, and eventually we had a 12:30PM departure.
There was no option to leave the terminal, since we had already cleared immigration.
The waiting area was nasty. We moved seats three times as cockroaches were crawling around our seats.
At around 11:15AM they told passengers booked on Southwest to come to the counter. I figured they were about to cancel the flight, but as it turns out they were handing out meal vouchers. Kudos to Southwest for at least handing those out, though we didn't take advantage of it, as the food looked pretty bad.

Sure enough our plane arrived a bit before noon, and shortly after that we boarded. As it turns out, our flight had a mechanical problem in Tampa, so they had to swap planes, which explained the four hour delay.
By the time we boarded there was a near riot. One "Business Select" passenger flipped out because they weren't boarding in the typical fashion, and then another lady started chewing out the flight attendant during boarding, to the point that the flight attendant said to the other one "I'm retiring after this."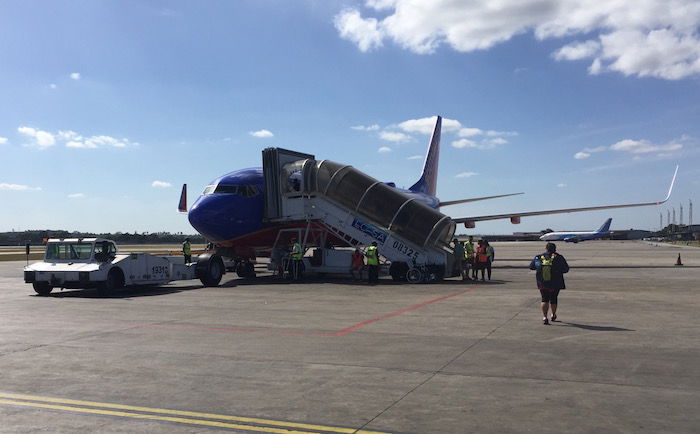 The flight to Fort Lauderdale was quick, though on arrival we had to wait another 20 minutes (or so) for a gate, but that's not Southwest's fault, as the international terminal at Fort Lauderdale doesn't have enough capacity.
What is Southwest's fault, however, is their absolutely pitiful performance start to finish in Havana. Here are Southwest's two flights yesterday from Havana to Fort Lauderdale: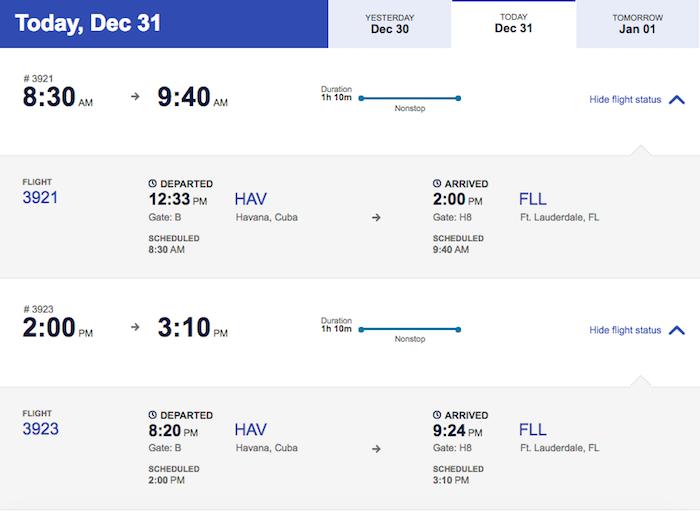 As you can see, one was delayed by 4hr20min, while the other was delayed by 6hr14min. This is completely unacceptable. Delays can happen anytime, but I think the airline needs to understand that conditions are slightly different at Havana Airport than another airport in the US. If a flight is otherwise delayed, passengers can easily call the airline to rebook, get updated departure information, etc.
In Havana we were stuck in a disgusting room that we couldn't leave, and there was no updated information about our flight, so we didn't know if our delay would be 30 minutes or 30 hours.
Thank goodness we were on the earlier flight, because I can't even imagine what it was like to have a delay of over six hours. I also don't know what excuse Southwest possibly has for such a delay. Did both flights go mechanical?
Like I said, mechanical problems happen, but it's the way that airlines handle them that count. The complete lack of communication and the fact that passengers were quite literally "trapped" in Havana Airport didn't help.
There were a lot of passengers onboard who were Southwest advocates, though virtually everyone was very unhappy — "I usually love Southwest, but this was the worst flight of my life."
Here's to hoping flights in 2017 go more smoothly! 😉