Last week I answered a reader question on the blog about whether it's worth maintaining airline elite status when there are so many great credit card offers, making it easy to earn enough miles to cover any reasonable person's travel needs.
In passing I mentioned that it should be possible to earn top tier status for roughly $4,000 per year, and a lot of people asked how.
If this were 2008 I'd say "well just book a ticket to anywhere, dummy!" Those were the day of $200 transcon fares with a handful of transfers permitted in each direction of travel. Not only have the airlines gotten more strict on routing rules, but the capacity cuts they've implemented have contributed to huge price increases.
Nowadays I'm lucky to find a transcon flight to where I need to go for $400 roundtrip, which just doesn't work as a mileage run.
Nonetheless out of some coastal cities mileage running can still work without too much effort thanks to lots of competition and the ability to route itineraries circuitously. But not everyone has the luxury of living in one of those cities, so there are three things I'd focus on in trying to maintain top tier status (and I know individually they all sound obvious, but I don't think enough people consider them as part of their elite qualification strategy).
Promotions
Earlier in the year American made it possible for residents of California and Illinois to earn top tier status for $2,000, thanks to the fact that they were offering triple elite qualifying miles between Chicago and Los Angeles/San Francisco. These kinds of promotions aren't uncommon, so it's just a function of waiting for them to come around.
While I doubt American will offer another big mileage promotion this year, I wouldn't be surprised to see them offer another promotion early next year. In the past they seemed to offer double elite qualifying miles whenever they had a major issue — when they filed for bankruptcy, when their MD-80 fleet was grounded, etc. You'd think with the pilot issues and seats going loose on the 757 they would've offered another "round," though perhaps the elite ranks are sufficiently inflated for the year.
But there's no reason you shouldn't make promotions part of your strategy, whatever they may be. Also keep in mind in the above case even if you didn't live in Chicago, Los Angeles, or San Francisco, you could always book a positioning flight and knock out all the flying over a long weekend.
Fares wars/sales
I think people completely underestimate the value of this as part of their mileage run strategy. Fare wares and real fare sales happen all the time… and these aren't the ones that are usually advertised. I'm not talking about those emails you get from the airlines offering "amazing fall savings," but rather when one airline initiates a fare sale, and an outright "war" ensues.
For example, a little over a week ago Southwest launched a 40% off sale, and we saw prices drop 40% across the board domestically on almost all routes. Seattle to Orlando was pricing out at $164 all-in roundtrip on American, for example.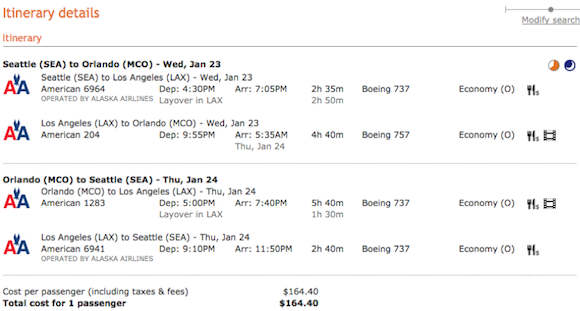 And that wasn't even the cheapest fares, but rather just one that was convenient for me. That would be ~6,350 elite qualifying miles roundtrip, meaning it was roughly 2.5 cents per elite qualifying mile (at that rate that's $2,500 for top tier status). The key to planning for top tier status is to be able to make a decision at a moment's notice, and being willing to book a dozen at a time. The fare will be gone before you have time to think about it.
Similarly we'll often see fare wars in specific markets. American will launch a fare sale out of Charlotte (US Airway's hub), US Airways will launch a fare sale out of Chicago (American and United's hubs), United will launch a fare sale out of Atlanta (Delta's hub), etc. Now, I don't know why the airlines bother to get into fare wars, but I'm not complaining, since it's only the consumers that win.
Similarly there are sometimes also mistake fares, though those are even tougher to predict than fare sales/wars.
To keep up with mistake fares and fare wars I suggest monitoring the Mileage Run forum on FlyerTalk. What I also do to just generally keep track of fares is to do a fare search out of my home airport for most transcon destinations once a day, just to see if there's anything out of the ordinary. Farecompare.com used to have a handy tool that listed the cheapest fares out of each city on a cent per mile basis, though they got rid of that last year.
Instead I use ITA Matrix and enter my home airport and all the destinations I can think of on the opposite coast. Then search fares over a month, and enter the length of time you're willing to stay at your destination. Lastly, be sure to uncheck the "Allow airport changes" box, or else you'll end up with an itinerary flying you into one airport and out of another.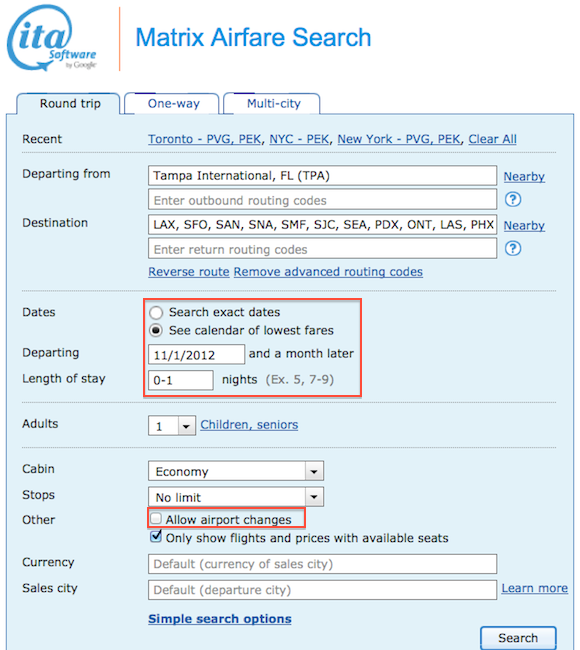 Then on the next page there's a calendar with a range of fares. If I notice anything interesting I'll click on the date and research a specific fare more. It's a great way to keep track of any fare changes.
Off peak international travel
My favorite way to requalify for status with American is by traveling to China. In the winter months American consistently has cheap fares to China, and it's a great opportunity to knock out a lot of miles at once… especially since the routing rules tend to be quite generous. Best of all if you're an Executive Platinum member with American you get eight systemwide upgrades you can use on any fare, so it's great to be able to confirm those flights in business class.
You can typically get these routings close to four cents per mile. The main challenge is that there are usually minimum stays involved for Asia trips, so that can be tough for people that have to be in the office Monday through Friday.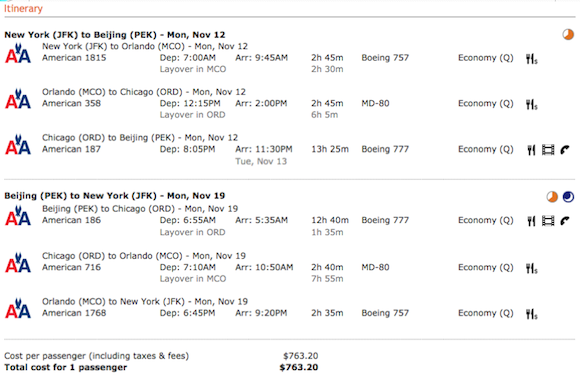 So while none of the above strategies individually will guarantee you elite status for cheap, it's a function of taking advantage of the right promotions when they are released, and being mentally prepared to go "all-in." If you're new to the game keep in mind that elite status is typically based on calendar years, so you'll want to wait till January 1 before starting to mileage run. I'll also continue to make my best effort to share the best fares out there, and most importantly point out the "big picture" implications of taking advantage of a specific fare.