I was chatting with Zach Honig the other night regarding a two-segment Etihad routing he was trying to book with American miles. While there was availability on both segments, the agents couldn't see the full itinerary, and could only see the shorter segment when searching a new reservation.
The reason? Each segment was in a different class of service. (Well, that's not the reason American agents were giving, but it's the correct answer all the same). 😉
Etihad doesn't organically display mixed-cabin itineraries in their web interface, and I don't think the back-end systems are particularly transparent either.
I realized that while we have a robust thread on Ask Lucky discussing the various pitfalls of booking Etihad awards with American miles, we haven't written about the mixed-cabin situation on the main page of the blog for a few years.
And fortunately there's a super easy solution.
What's up with mixed-cabins?
Basically, if you're trying to combine Etihad flights in multiple classes to a single award, sometimes American's system will give a false negative, and tell agents space on one of the segments isn't available even when it is.
This is rooted in how Etihad structures their award search, I believe, as the Etihad Guest web interface is similarly limited.
For example, let's say you want to go from Sydney to Mumbai. If you search for Sydney to Mumbai in first, you will often see a "Sold Out" message.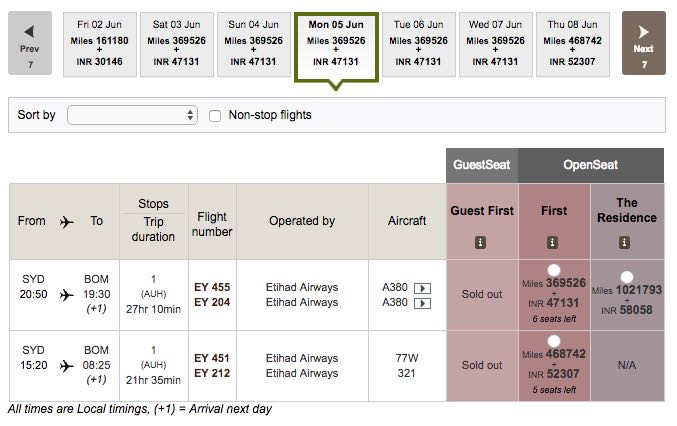 Long-time readers of OMAAT know to search segment-by-segment in order to see true availability, and if you search for just Sydney to Abu Dhabi, you'll see there is indeed one seat in Guest First: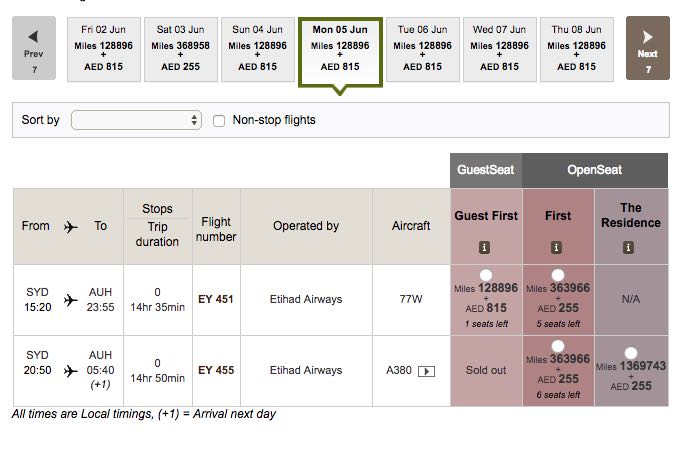 Now, there are three daily flights from Abu Dhabi and Mumbai, two of which have first class cabins:

For those who aren't familiar with Etihad fare codes, P = The Residence, F = First, and J = Business.
So if you then search for just Abu Dhabi to Mumbai, there of course isn't going to be and first class space on the A321 flight. But there is space on the late-night 77L flight: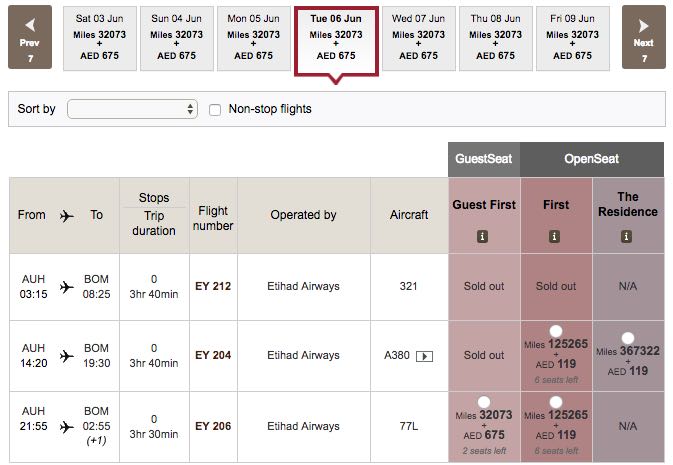 That connection is too long for Etihad to display on their webpage, but it shouldn't be a problem to add the segment using American miles.
For a short flight, most people would be fine with a connection in business class, so if you search for that option separately, there's space on every flight: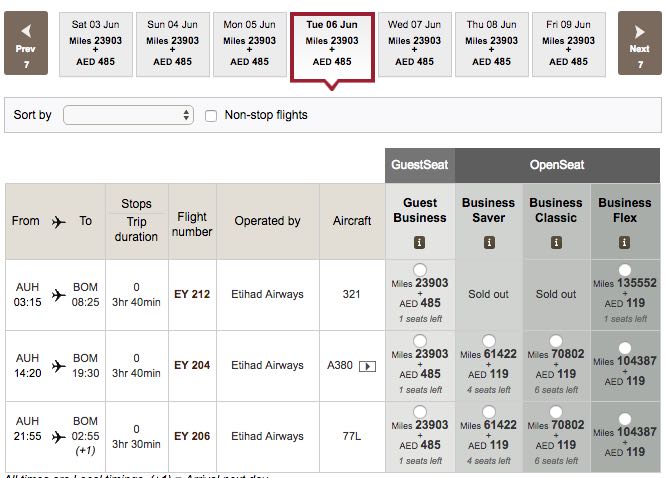 The challenge, however, is that the AAdvantage agent won't be able to see this business class space in their system if they're looking in conjunction with the first class segment.
Fortunately, the workaround is pretty simple
As long as there's Guest availability on Etihad.com, American should have access to the space. So if you need a mixed-cabin award, you'll want to ask the agent to try building the itinerary you're after in a new reservation.
I can almost guarantee that they'll be able to see the space on the lower cabin award, or on the upper cabin award, but not the two combined. It's tempting to put the "difficult" longhaul segment on hold, but it wouldn't be my recommended strategy.
If you've already held the first class segment, you have a couple of options. You could open a bottle of wine and prepare to spend hours if not days getting the agent to work with the help desk and the liaison office to contact Etihad and hopefully have the space manually inserted into your reservation. If you're nostalgic for US Airways, this is a valid strategy.
For the rest of us though, the fastest way out is to just start over.
Inexplicably, if you build the itinerary starting with the lower class of service, American agents have no problem seeing the space. I generally hold the problematic business or economy segment, then add the first class segment.
It's bonkers, but it works.
Does this work with Etihad Guest awards?
AAdvantage has no problems booking mixed-cabin awards on any other partner carrier, so my suspicion is that this stems from system limitations on Etihad's side. Etihad Guest doesn't like to mix cabins on some partner awards — and of course, the Etihad website doesn't display mixed-cabin itineraries in the search results.
The challenge here is that the Etihad call center is so inconsistent, that even a simple booking can take a painfully long amount of time.
Etihad doesn't technically allow holds, so if you do encounter this glitch, you'd have to find an agent who was competent enough to create a record with the lower class segment, and then add the higher segment, all in a single call.
Bottom line
I have no idea why this functions this way, but Etihad imposes some weird logic on their systems in general, and the needed workarounds don't really surprise me anymore.
Fortunately, this one isn't all that complicated. If you need to book a mixed-cabin award on Etihad using American miles, make sure to start with the segments in the lower cabin, and then add the higher cabin flights.
Have you run into any other issues booking mixed-cabin awards on Etihad?