Well, we almost made it through the week without another hit from Marriott Bonvoy (ugh, I'm still not used to typing that word). In the latest round of "What did Marriott do now?" it looks like certain properties are starting to charge massive credit card holding fees for award bookings.
A couple of days ago, I was looking to use some Marriott points for an upcoming trip to Hawaii, before the March 5th category changes.
I was specifically looking at the Ritz-Carlton Kapalua, since that seemed to be a pretty aspirational property and a great points-to-cash ratio, at 60,000 points for an upwards of $800/night room.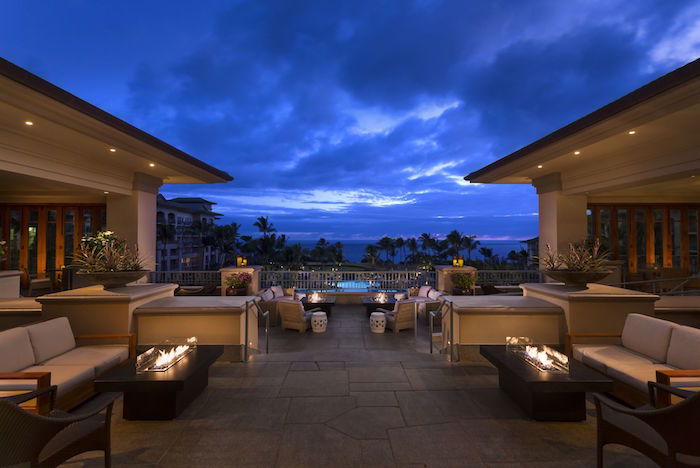 Now, Marriott has done its part recently to incite a string of trust issues with its loyal customer base, so I've reflexively gotten into the habit of clicking on the "rate details" link before making any award booking through Marriott Bonvoy:

And boy oh boy, am I glad that I double-checked this one before booking. Because while the booking screen doesn't give any warning of additional deposit charges, the "rate details" link for this property looks something like this: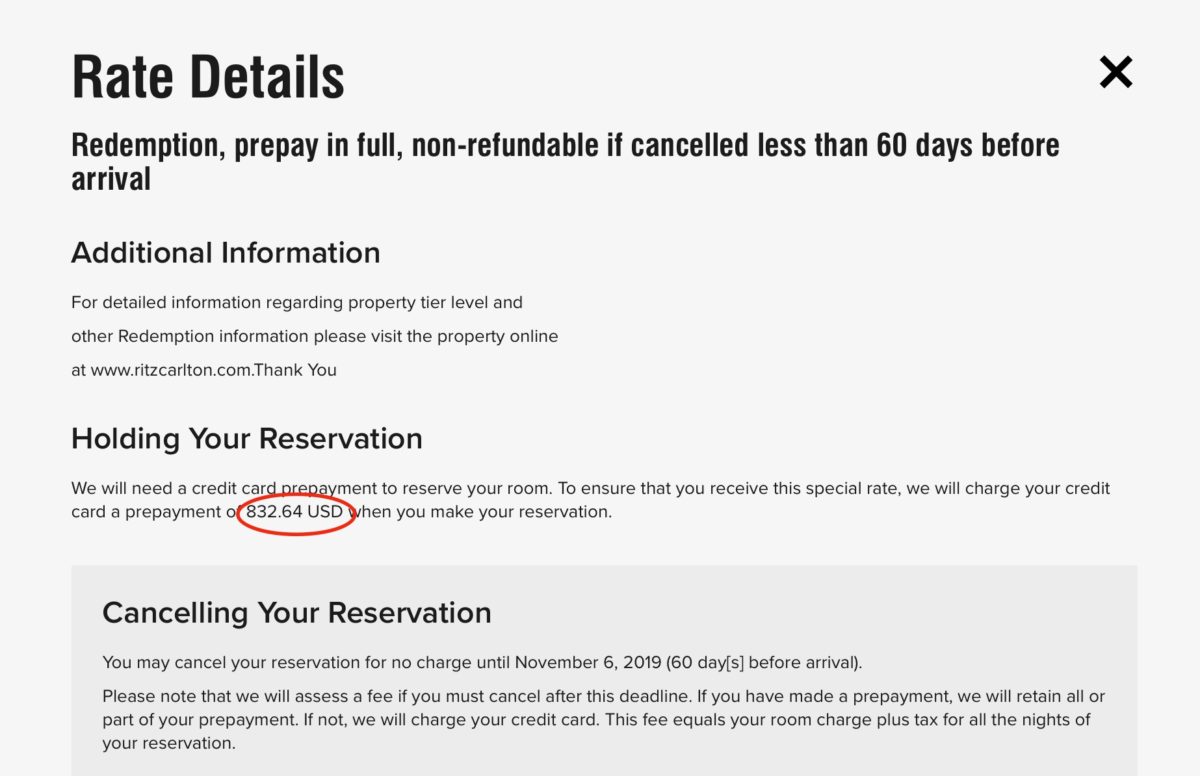 That's right – the hotel wants to charge the credit card on file $832.64 to hold the reservation.
Naturally, I called the Marriott Bonvoy line to make sure that I was reading this right. The rep was a bit confused at first – I think this was the first she had ever seen this – but after some time on hold, she confirmed that they would indeed charge my card for the posted amount.
Now, the amount is refundable upon checkout, or if you cancel before the deadline (60 days out, in the case above), but I don't think I'm speaking out of turn in saying that this is an insane amount of money to essentially have to "loan" to Marriott, for the privilege of using existing points.
This isn't a one-off
Naturally, my first gut reaction was to check other properties to see if this is unique to this hotel, and this string of dates. Unfortunately, this seems to be happening at a number of legacy SPG and Ritz-Carlton properties across the globe.
Here's another example, at the Westin Rusutsu in Niseko, Japan: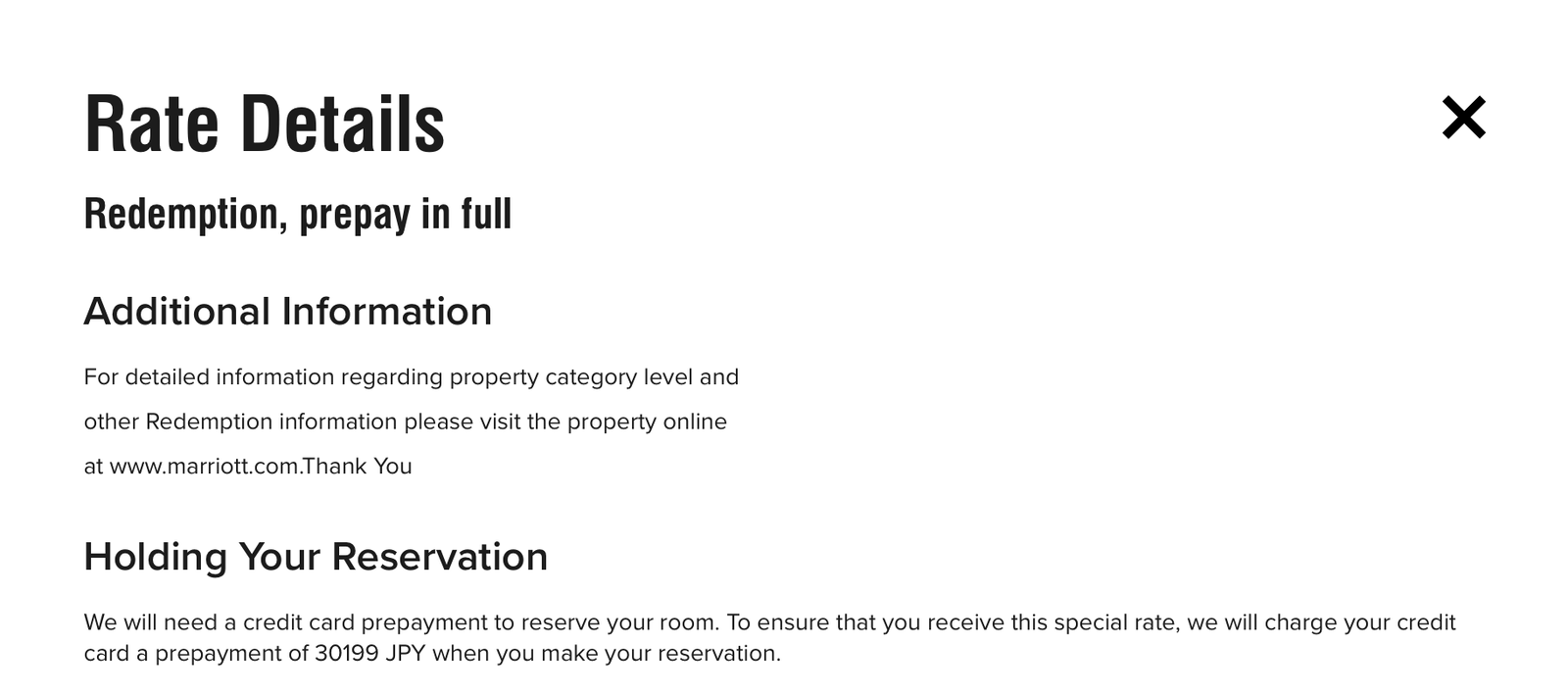 In the above example, the fee to hold the room is for 30,100 JPY, the equivalent of about $273 USD. While the cash amount isn't necessarily as egregious as the Ritz Kapalua, it's still a huge out-of-pocket expenditure for what is meant to essentially be a "free" night.
But to me, the biggest frustration isn't even the hold, so much as the fact that they sneakily disclose this in an embedded link that most people are likely to skip over. There is absolutely nothing in the final booking screen to indicate that there is a deposit required: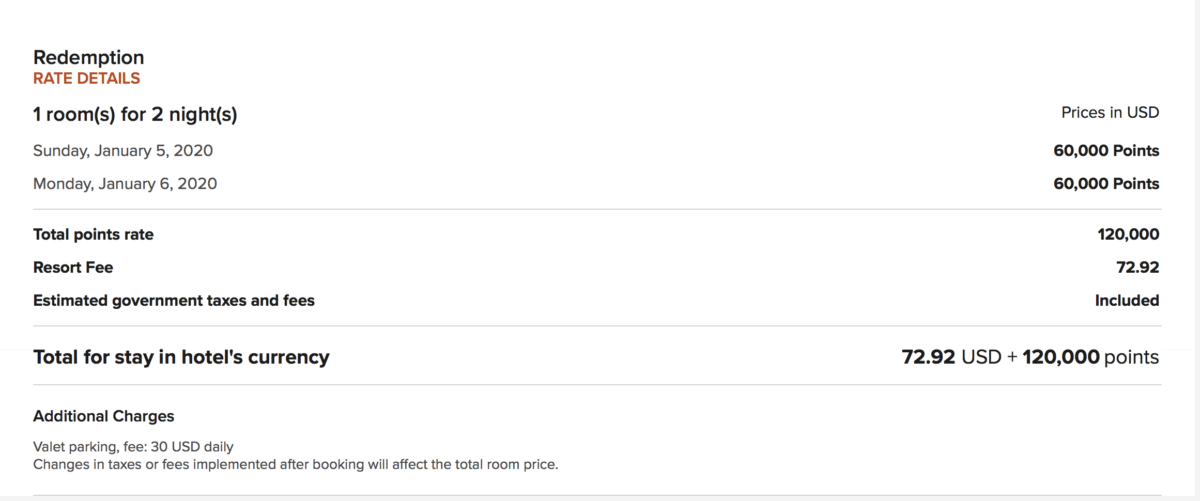 So this could be really easy for an average customer to miss.
In related news, now may be a great time to remind you how easy it is to redeem Chase Ultimate Rewards points for Hyatt properties.
Bottom line
While I'm not quite sure how long this has been going on, to me, there really are two separate issues here:
These rates are obviously astronomical, and carry a huge risk if you have any chance whatsoever of canceling your reservation
The disclosure policy is absolutely abysmal
So in the meantime, if you're redeeming Marriott Bonvoy points, it's probably good practice to get in the habit of clicking that "Rate Details" link as you look through the reservations page. Here it is for you, one more time:

Oh, and in case you're curious, we're splitting our time between the Hyatt Regency and the Waldorf Astoria Grand Wailea. 😉 Thanks but no thanks, Marriott.
Has anyone else been burned by this sneaky hold fee? Is there a workaround that we just don't know about?