While I'm generally about as pro-tip as they come (I'll explain that in more detail below), Marriott has crossed the line with their new initiative, in my opinion.
Marriott has started putting tip envelopes in rooms, to encourage guests to leave tips for the housekeepers.
The envelope reads as follows:
THE ENVELOPE PLEASE

Thanks for staying at Marriott Hotels. Our caring room attendants enjoyed making your stay warm and comfortable. Please feel free to leave a gratuity to express your appreciation for their efforts.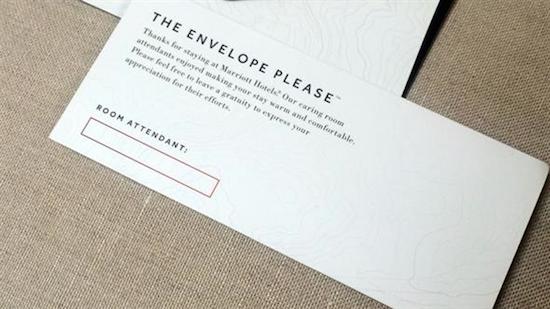 Via The Washington Post, this is actually in partnership with "A Woman's Nation:"
Beginning this week, a number of the company's hotels will begin providing envelopes in guest rooms to encourage visitors to tip workers. The initiative, called "The Envelope Please," is a partnership with A Woman's Nation, a nonprofit organization founded by journalist and former California first lady Maria Shriver.

"In conversation with Maria, she said it had struck her that too often women are in positions that we forget to acknowledge," Arne Sorenson, chief executive and president of Bethesda, Md.-based Marriott, said in an interview. "In a hotel, obviously we tip the bellman or wait staff. But often we don't see our housekeepers. We don't have that personal interaction, so we just don't think about it."
My philosophy on tipping
A couple of months ago I wrote a post about tipping complimentary airline chauffeur service. Many airlines offer a complimentary chauffeur for first and business class passengers, so I was sharing my thoughts on whether or not the drivers should be tipped.
Per that post, my tipping philosophy as it relates to a complimentary chauffeur service is as follows:
I like to "live and let live." I try to understand how people make a living, and do what I can to be "fair" towards them. For example, if someone works in retail and on a commission, I don't want to waste an hour of their time if I'm not serious about buying shoes.
You don't have to tip, because at the end of the day the airlines are "selling" you a product that includes a car service, presumably with tip included. It's not your fault that they're arranging it at an especially attractive cost for the airline, and a cost where the limo company comes out ahead, while for the most part the driver is making less than minimum wage on these airport pick-ups.
A good driver will appreciate that different cultures have different perspectives on tipping, and won't be disappointed if you don't tip, because they realize it's nothing personal against them.
Of course I don't love the tip system we have in the US, but I also don't want to take that out on front line employees.
Do I tip room attendants at hotels?
I do. At least I try to when I have cash. I realize they work hard and I can only imagine what they sometimes have to "encounter" in rooms.
At the same time, when I tip a room attendant I truly think of that as discretionary and not as being necessary. And maybe that's something I'm wrong about. The reason I feel like that is because there should be zero variability in how that service is executed, as a clean room is the absolute core of hospitality.
In other words, the attendants use a checklist and I never even come in contact with them. So while I do appreciate their efforts, I also tend to associate tips with jobs that involve variability in service delivery.
Again, I say this as someone that typically does tip housekeeping…
This envelope rubs me the wrong way
For me this is what it comes down to. I want to tip housekeeping because I want to tip housekeeping.
Frankly I find the text on the envelope to be rather direct. I don't get the title ("The Envelope Please?"), and truly it makes me feel like I'm being guilted into a tip.
Bottom line
I'll continue to tip housekeeping, but at the same time I can't help but feel like this goes a bit too far.
If this is the standard then I can't figure out why you wouldn't tip the person that checks you in (which you may already do if you're in Vegas and want an upgrade).Afterall, the front desk staff is also providing a service and there's a ton of variability in how they can deliver it.
How do you feel about these tip envelopes, and will they impact whether or not you tip your room attendant?