Update: Read my full St. Regis Bora Bora Resort review.
Hello from Bora Bora! I've spent the past few days at the St. Regis Bora Bora, which is easily one of the most aspirational hotels in the Marriott & Starwood portfolio.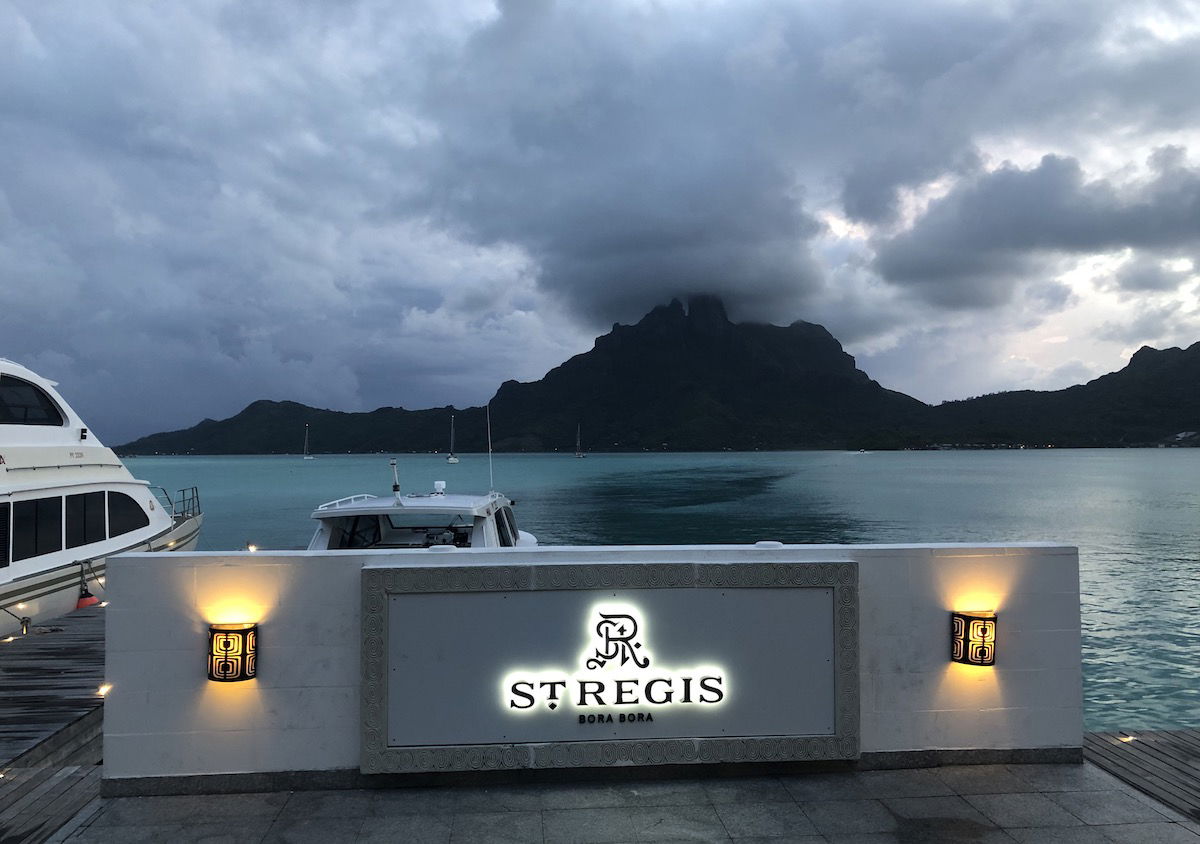 Until recently this hotel wasn't actually bookable with points at the "standard" levels, but since the Marriott and Starwood merger it is, and for the time being it's bookable for 60,000 points per night.
While I'll have a full trip report soon, in this post I wanted to share my initial impressions of the resort. In no particular order:
Bora Bora is beautiful
I've been to the Maldives several times before, so I was curious to see how Bora Bora compared, given that they're two of the biggest remote and exotic island hotspots.
Bora Bora is stunning, and I'm so happy to be here. I find the Maldives to be beautiful, though you're stuck on one private island, and the scenery is all beautiful but flat.
In the case of Bora Bora you actually have a main island. It's not the most interesting island in the world, but there are so many activities given that all of the major resorts are near one another. You can take the boat into town for dinner, there are all kinds of expeditions, etc.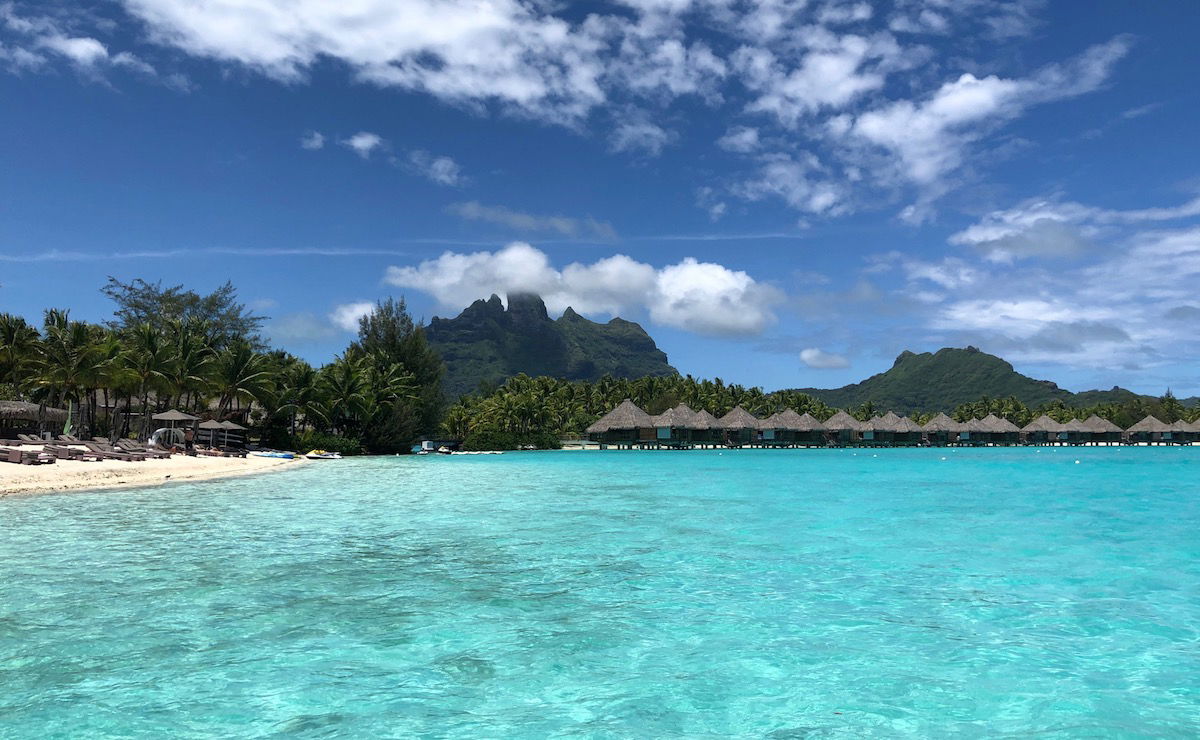 I actually think Bora Bora might be even more beautiful than the Maldives. That's thanks to the beautiful otemanu mountain which adds a nice contrast to the crystal clear water.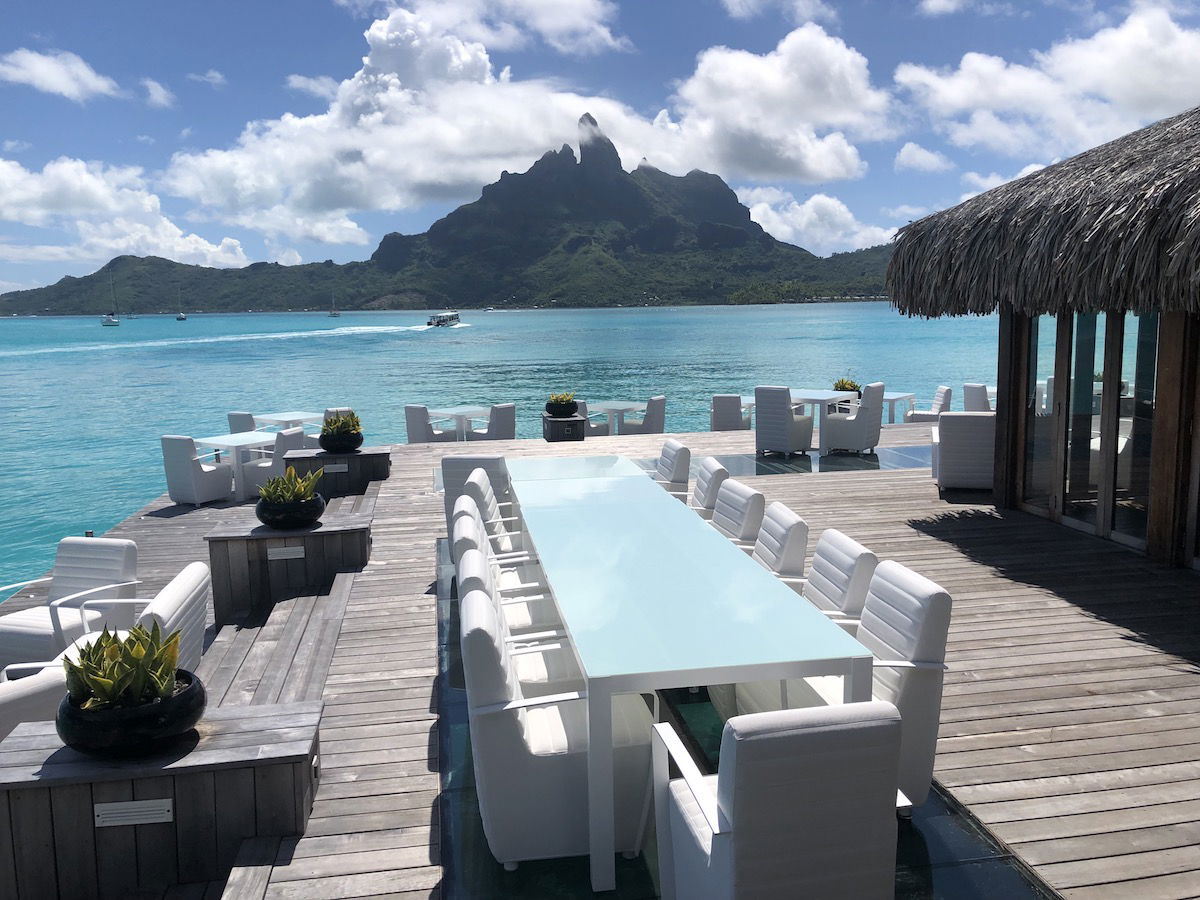 So I highly recommend visiting Bora Bora. It's very different to the Maldives, and I like it just as much.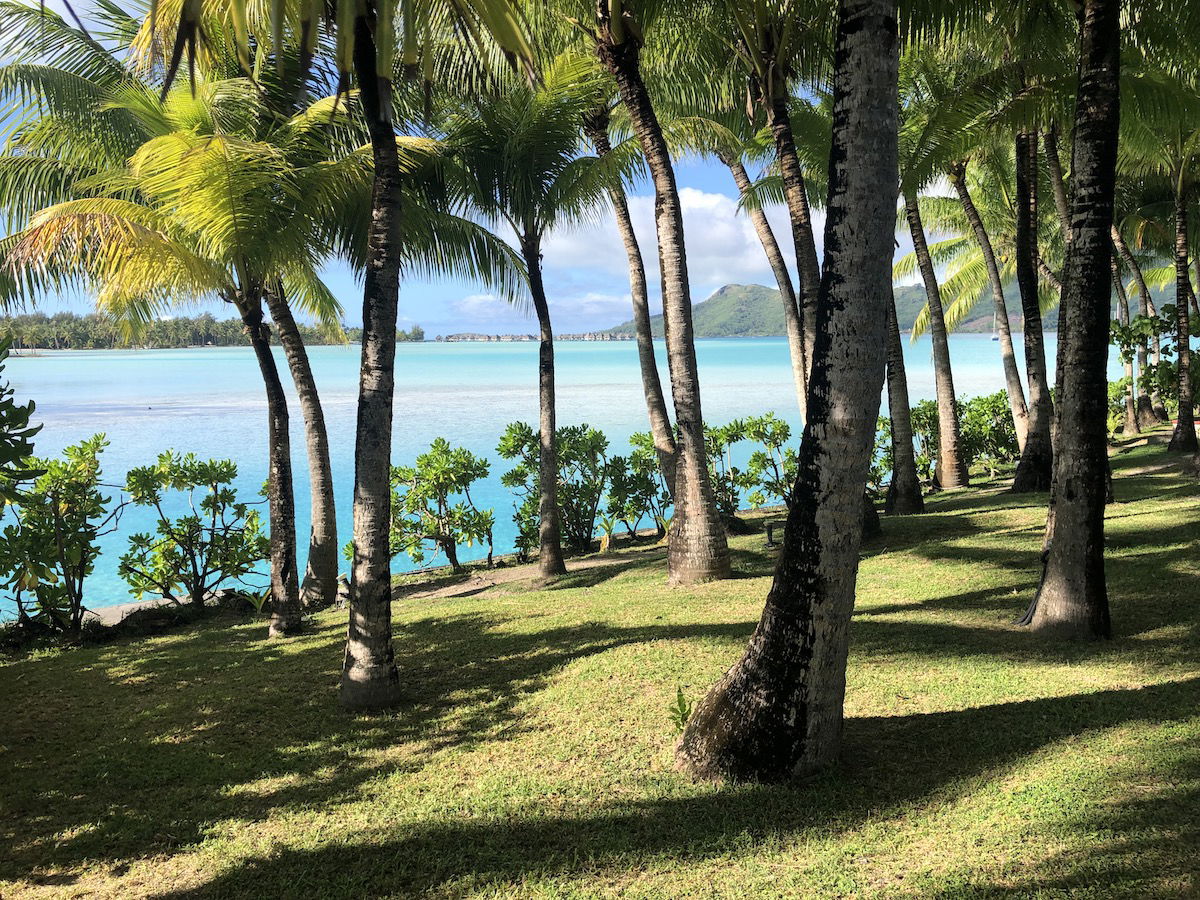 The St. Regis Bora Bora is a bit dated
I'm not sure it's even fair to say this specifically about the St. Regis, as it seems to be true of all hotels in Bora Bora. There are only a handful of luxury hotels in Bora Bora, and they all look dated.
That's part of the charm — you don't come here looking for modern minimalist design — but everything does just feel a bit past its prime.
For example, we split our time between a land villa and an overwater villa. Our land villa was renovated, and I found the decor to be quite nice. Apparently this is the only renovated land villa so far.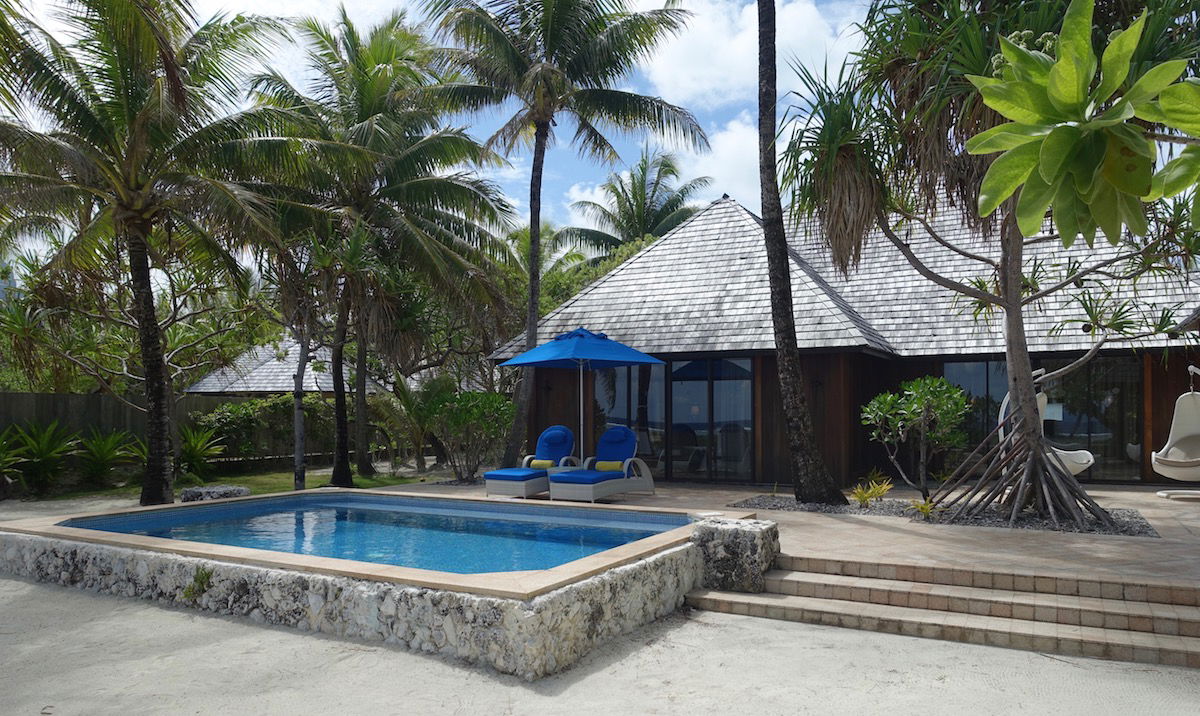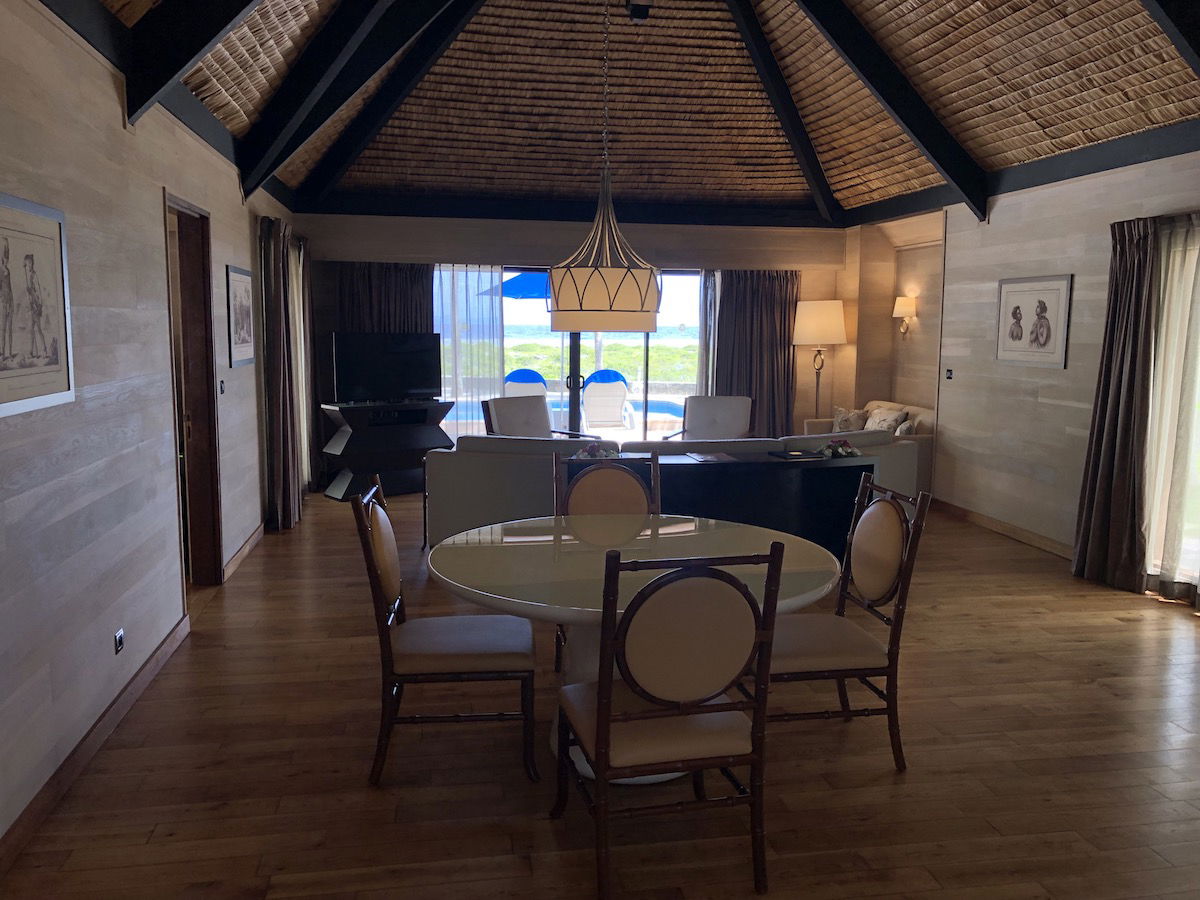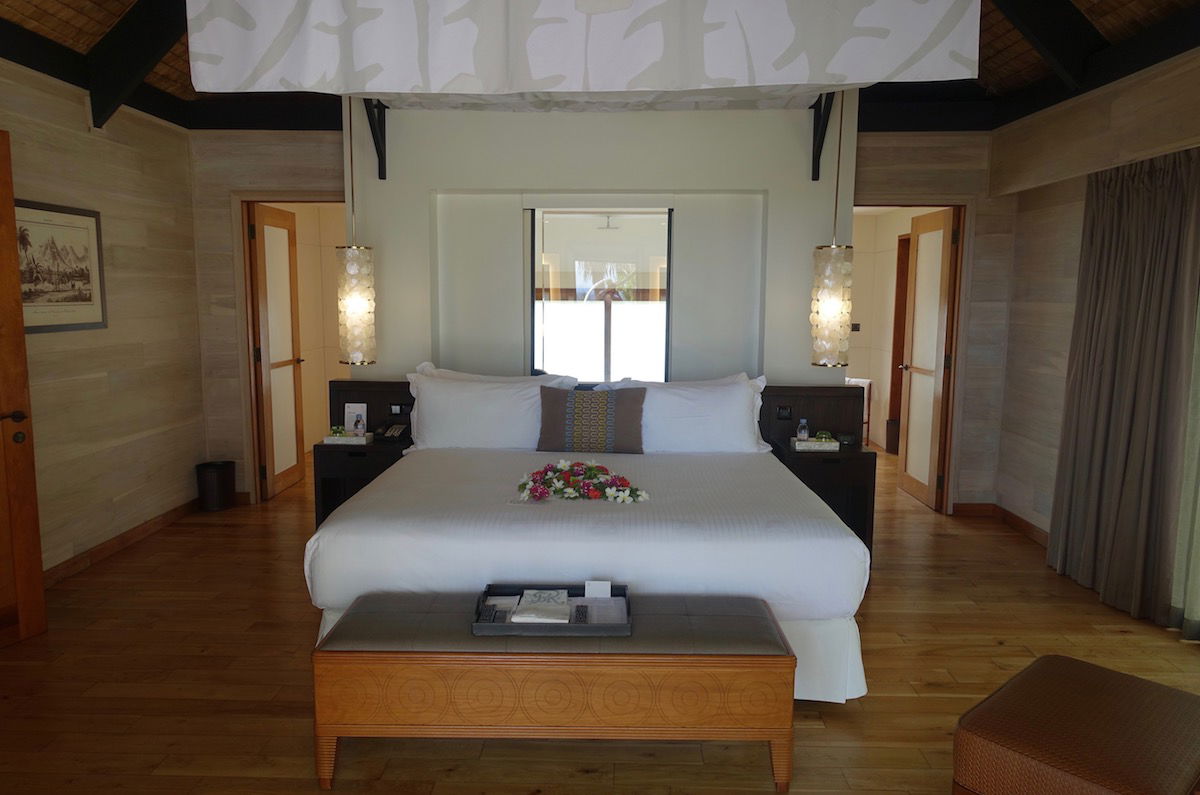 Meanwhile the overwater villa wasn't renovated, and I found the design to not at all be in line with what you'd expect from a St. Regis. The design wasn't bad, but I'd expect this from a Sheraton or Le Meridien, and not from a St. Regis property.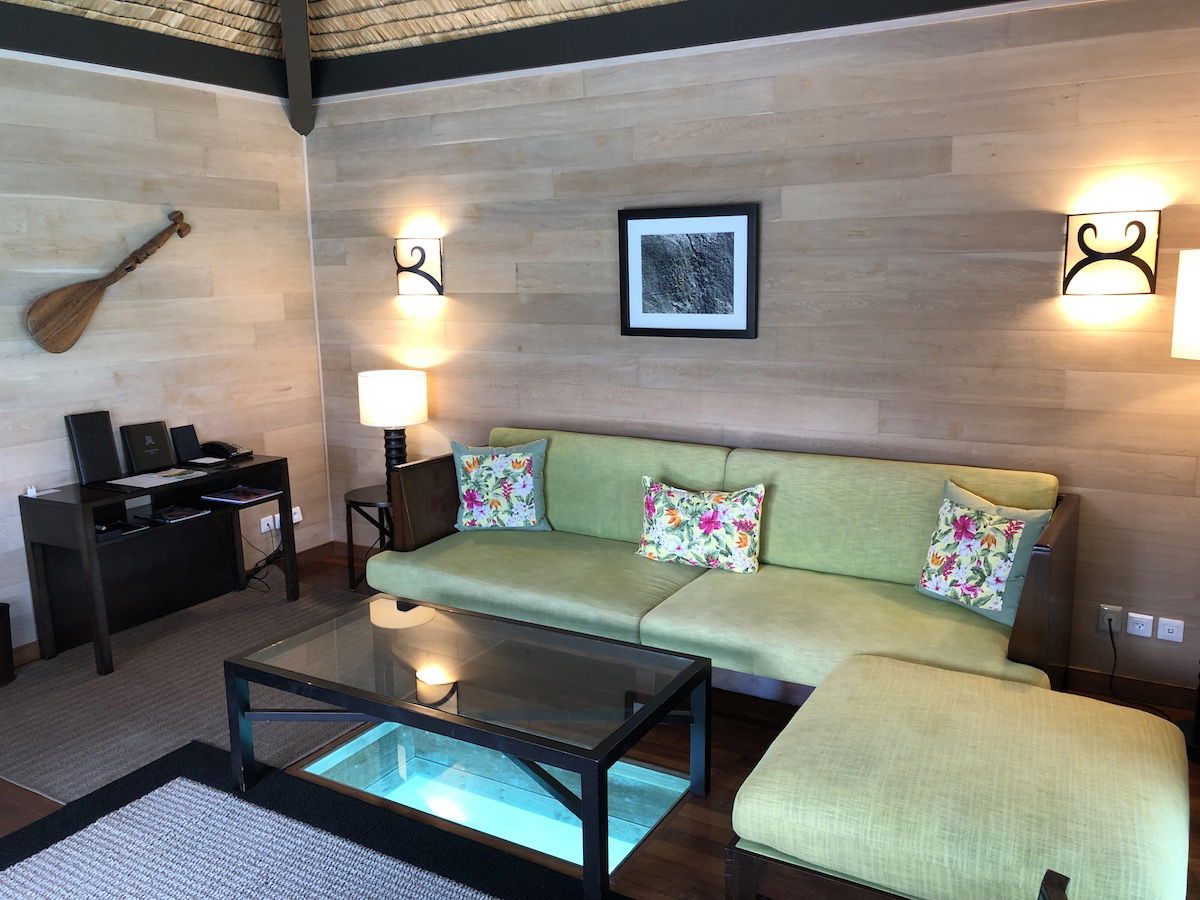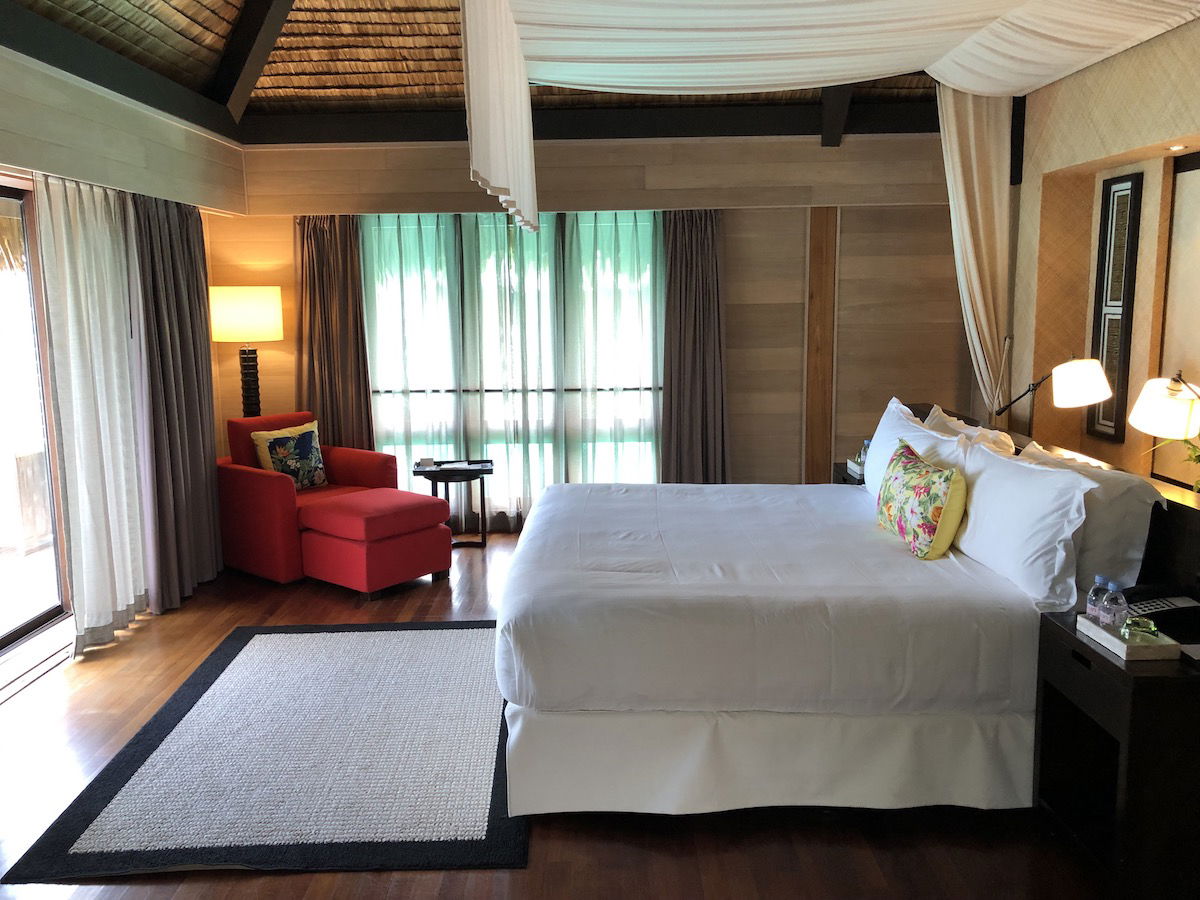 So this hotel doesn't at all compare to the St. Regis Maldives in terms of design. I'll take it a step further — the St. Regis Maldives makes this place look like a subpar Sheraton or Le Meridien by comparison.
But to be fair, the St. Regis Maldives might be the most beautifully designed hotel I've ever been to.
You don't come to Bora Bora for design, and given that all hotels in Bora Bora are sort of outdated, it seems like hotels don't feel the need to invest. And again, the design style is very Tahitian, so it's not out of place.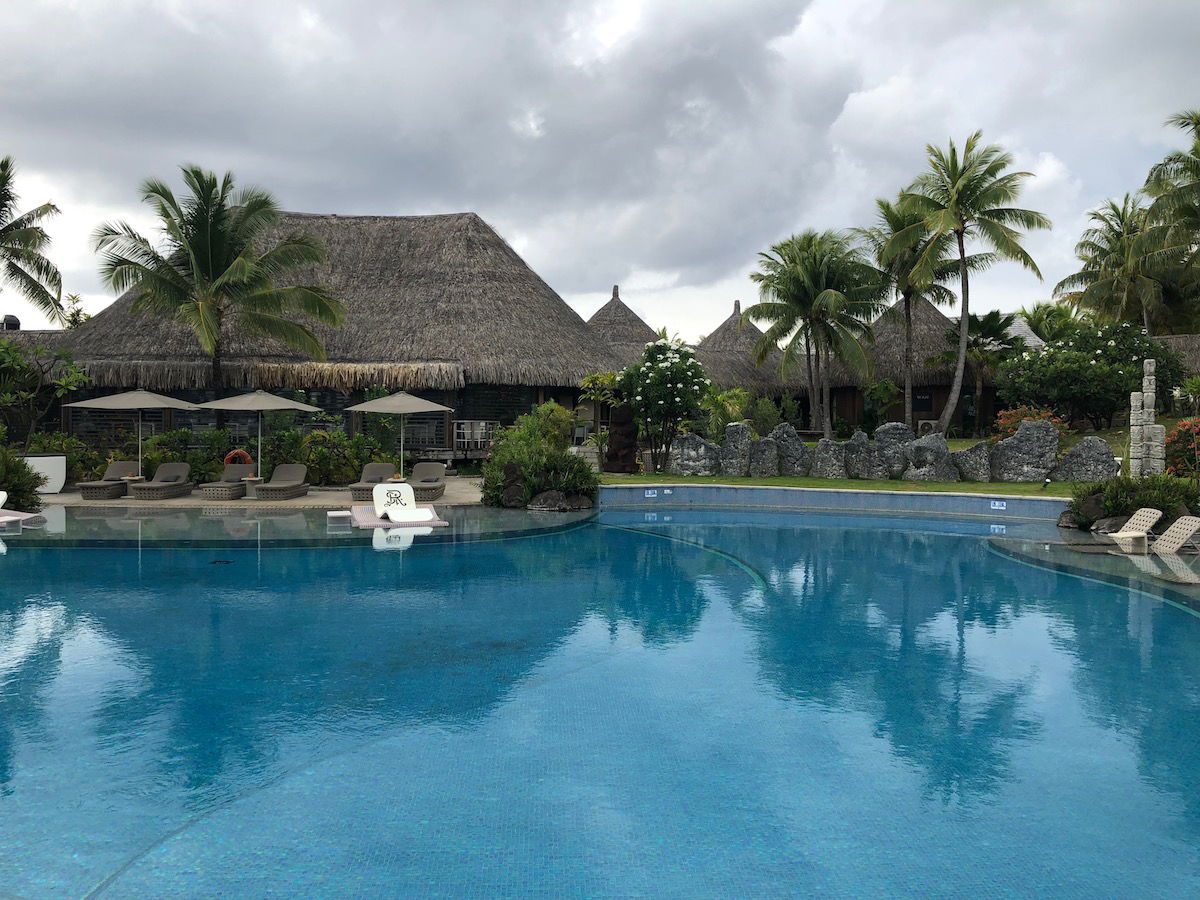 The service is mostly excellent
I didn't know what to expect in terms of service, though I've been very impressed. Most of the people working at the hotel are "locals," then you have some people from continental France here, and then they also have a mix of staff from other countries (China, Korea, India, etc.), given the diversity of the guests.
Service for the most part has been excellent. There were a few minor service incidents, but service was consistently friendly and well intentioned, and for the most part even very polished.
The hotel badly needs TLC
I can handle the hotel being a bit outdated, but what really disappoints me is that how much this hotel is lacking TLC (and I'm not talking about the cable network, though I do love 90 Day Fiancé). They're just not maintaining what they have, and it's actually pathetic.
This is what the floors look like throughout our room, and that might not be such an easy fix.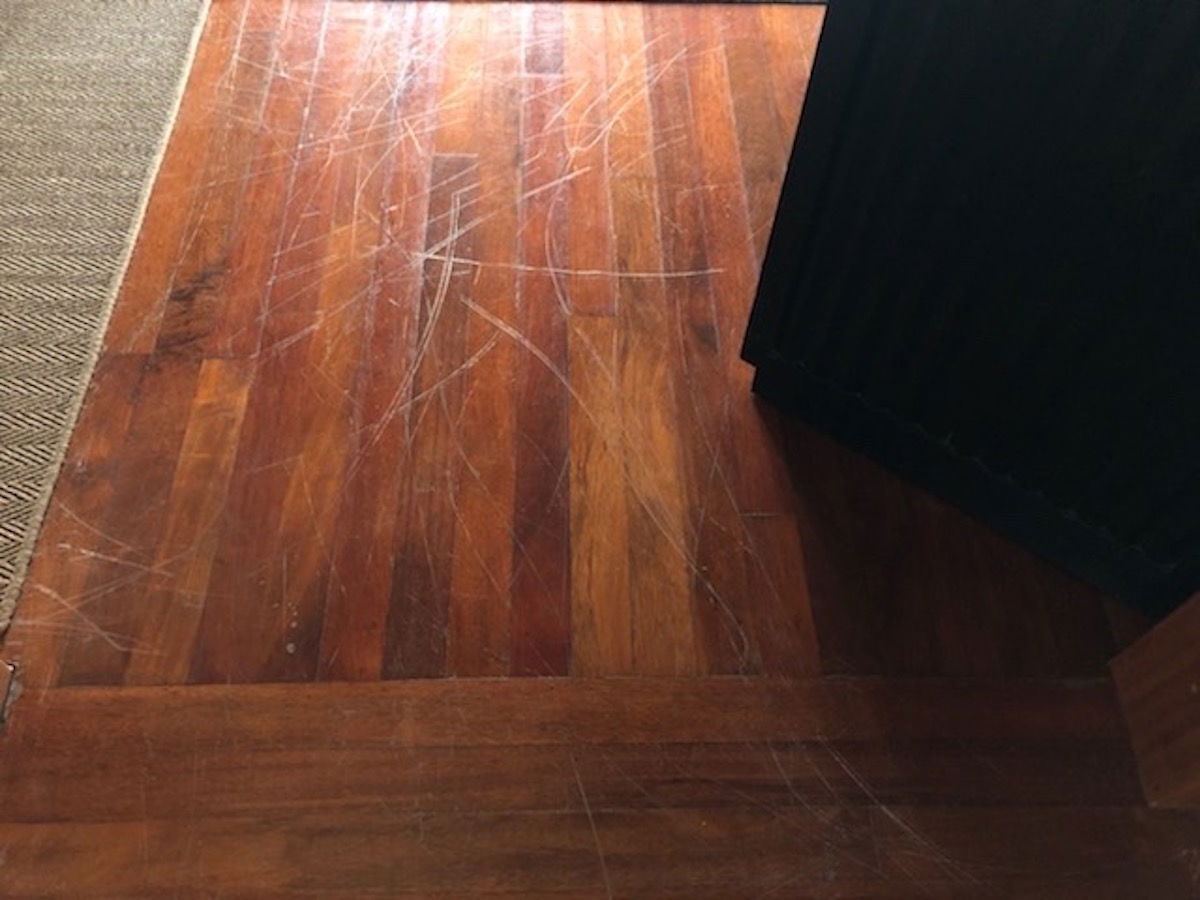 But this is what the tables looks like — seriously, in a $1,000+ per night overwater villa at a St. Regis?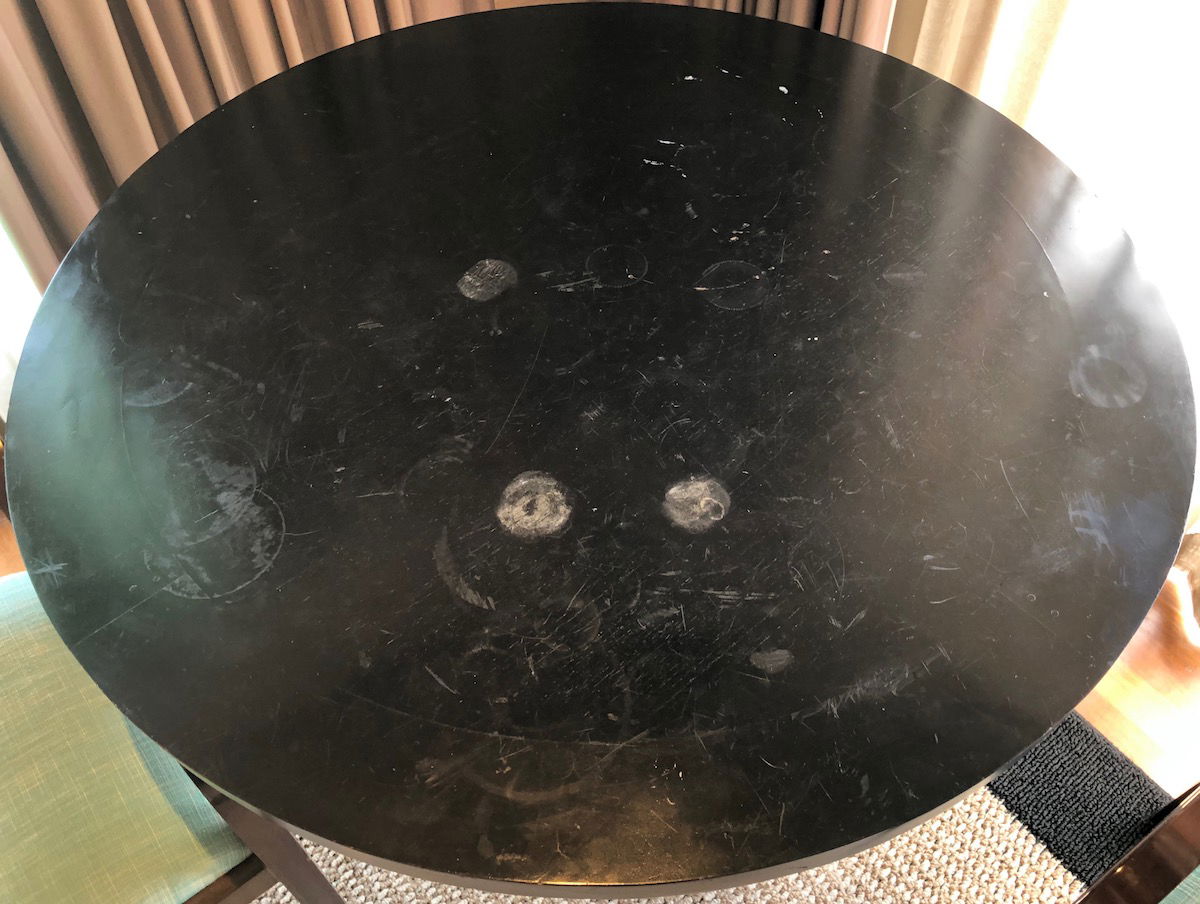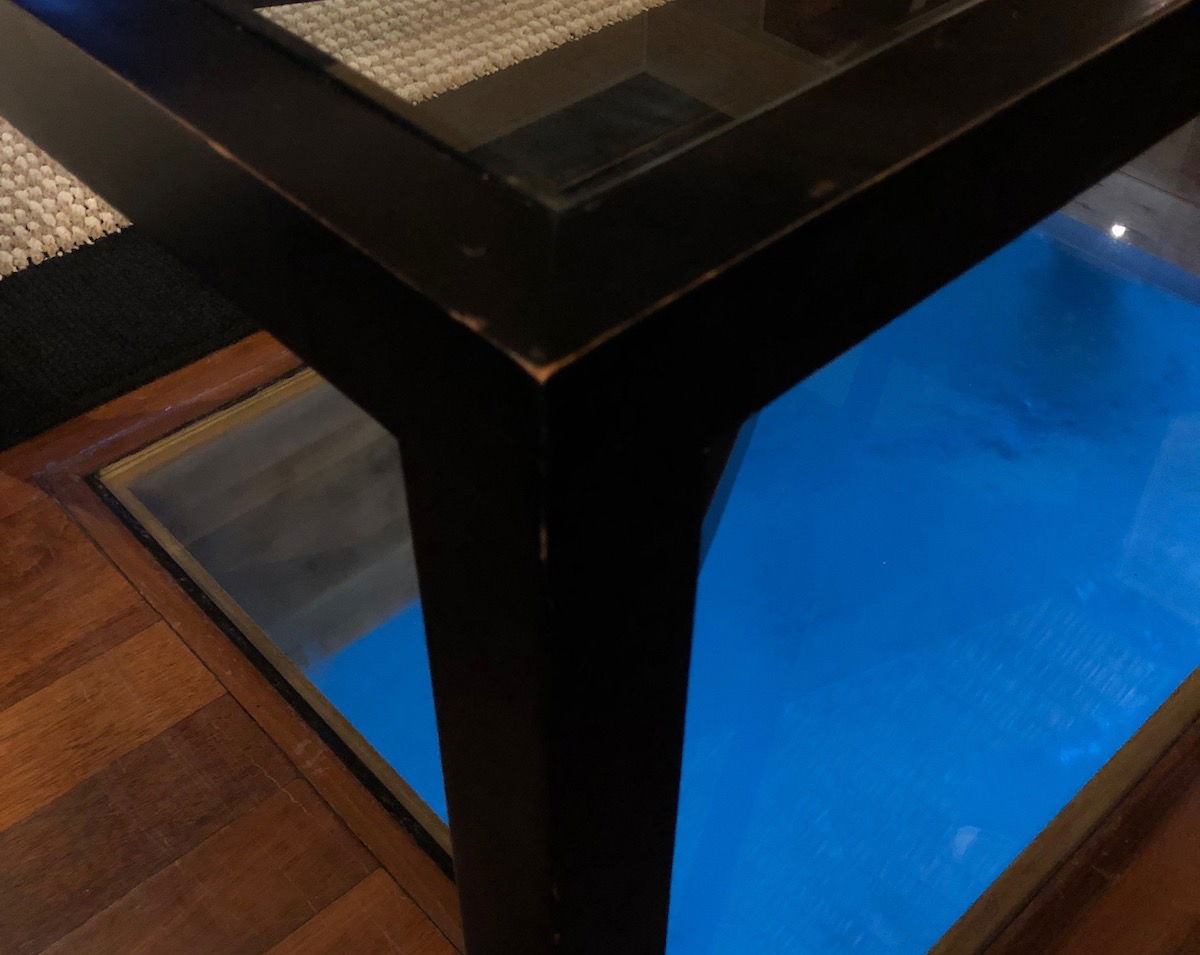 This is what the cabinet right outside our villa looked like.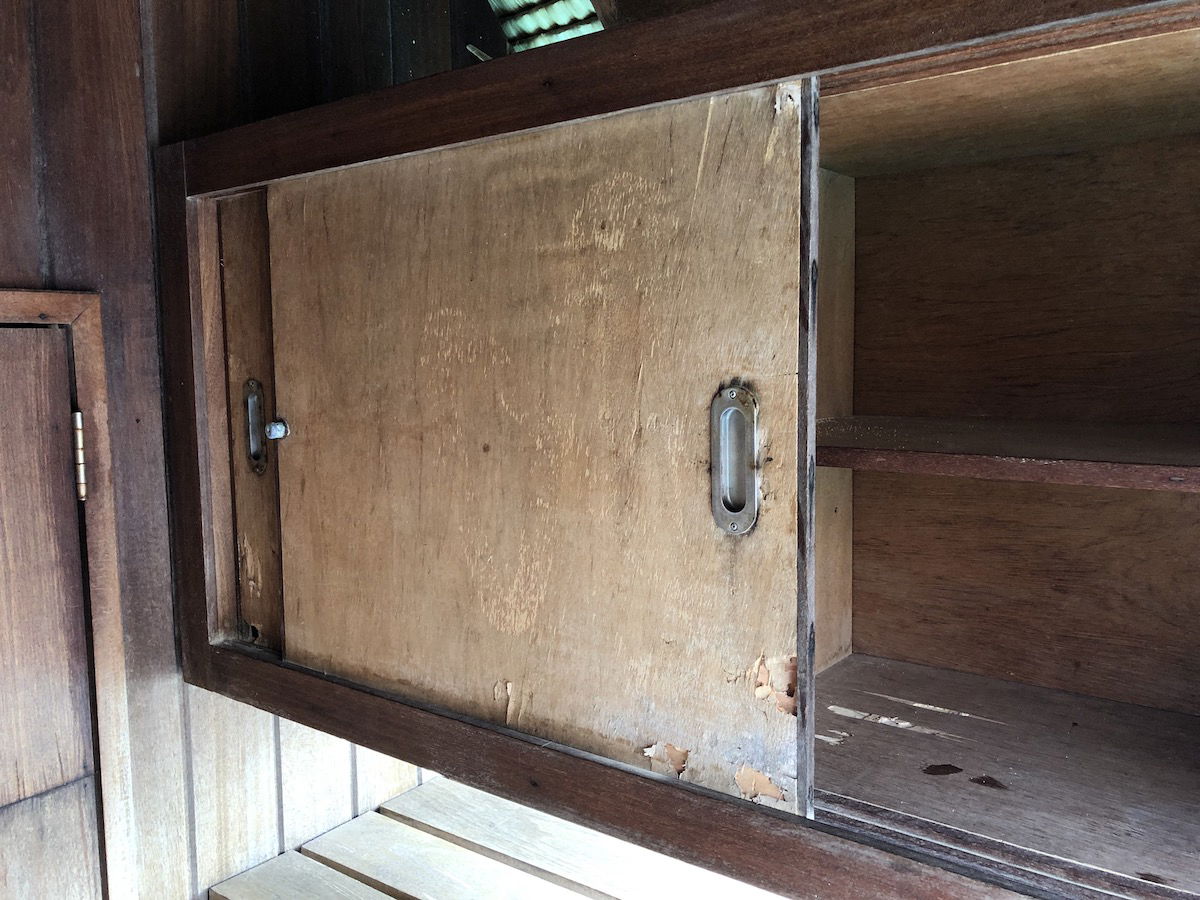 Here's what the wall behind our bed looked like.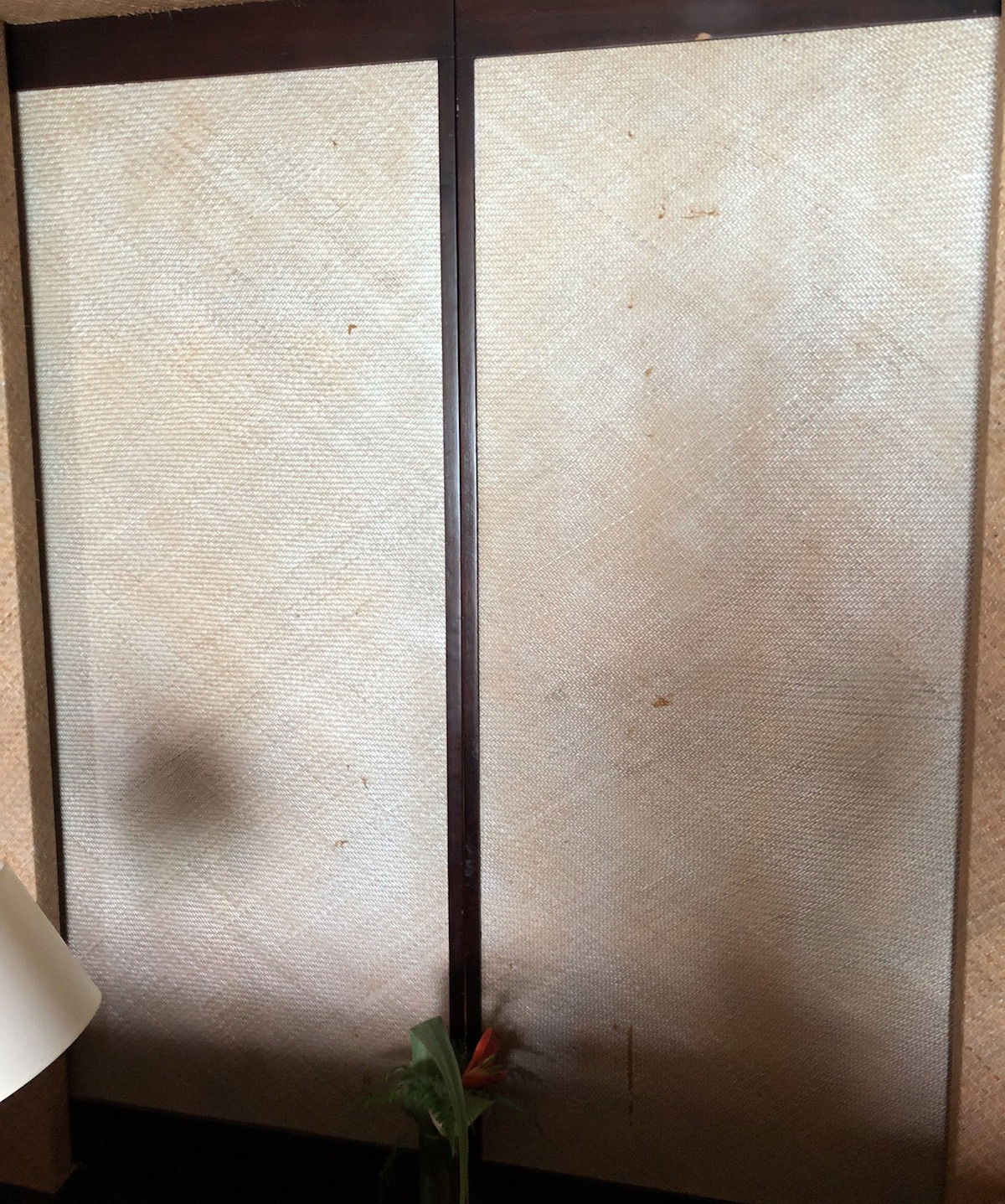 These aren't just a few pieces of furniture that were that way, but I found these kinds of things throughout the room.
The hotel has bikes on which you can ride around, which are the most poorly maintained bikes I've seen in a long time. I've taken over a handful of bikes, and not a single one has worked correctly — the kickstands are broken, the breaks don't work, they squeak like crazy, etc.
Prices are what I expected
Prices for everything are quite high, but in line with what I expected. As you can imagine, it's really expensive to ship stuff here.

On top of that, all prices on the menus include a 17% tax and service charge, so at least the pricing is "all-in" (unlike in some places, where the prices shown don't include an additional 30% in fees).
So cocktails here are $20-30, mains are $40-60, etc. Like I said, expensive, but also expected.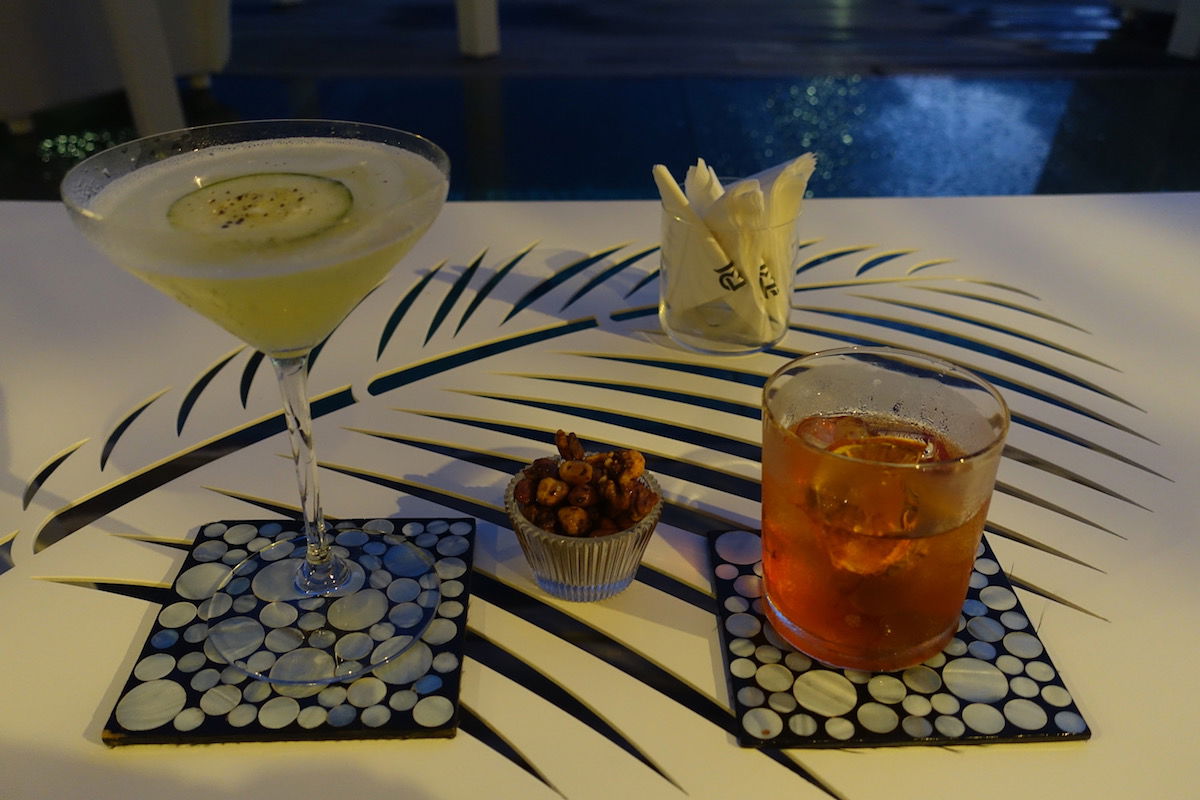 The food was a mixed bag
I was looking forward to amazing food here, given that I love fish. The hotel has five restaurants, and I've found the food to be quite inconsistent.
The breakfast is pretty good, and on top of that all the fish dishes I've had have been excellent.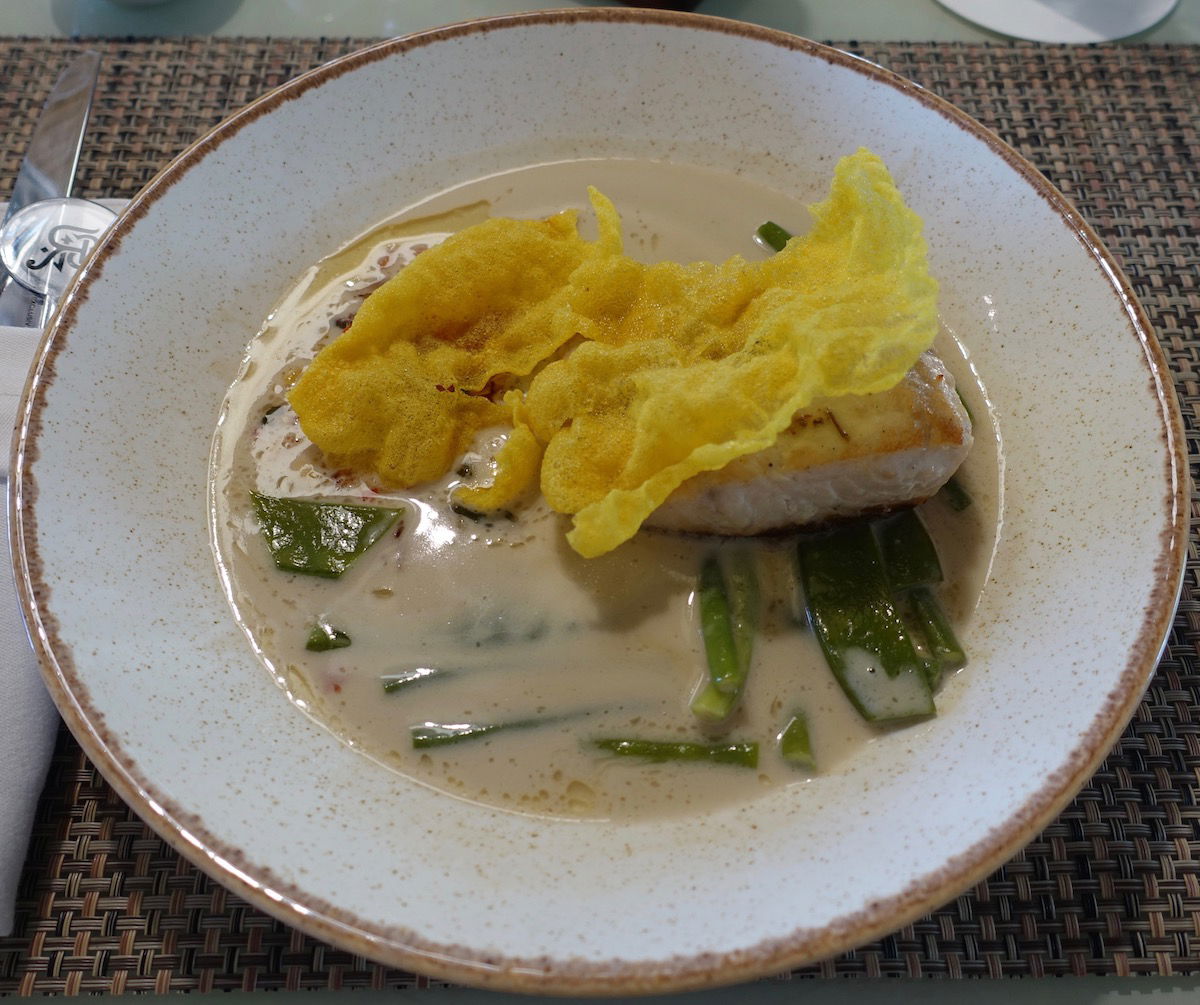 The problem is, I'm a bit surprised by how few fish dishes have been on the menus. I've found more meat dishes than fish dishes, which just seems odd.
While the fish has been good, most of the non-fish options haven't been good. They have pizzas at a couple of the restaurants and in-room dining, but they don't actually taste great.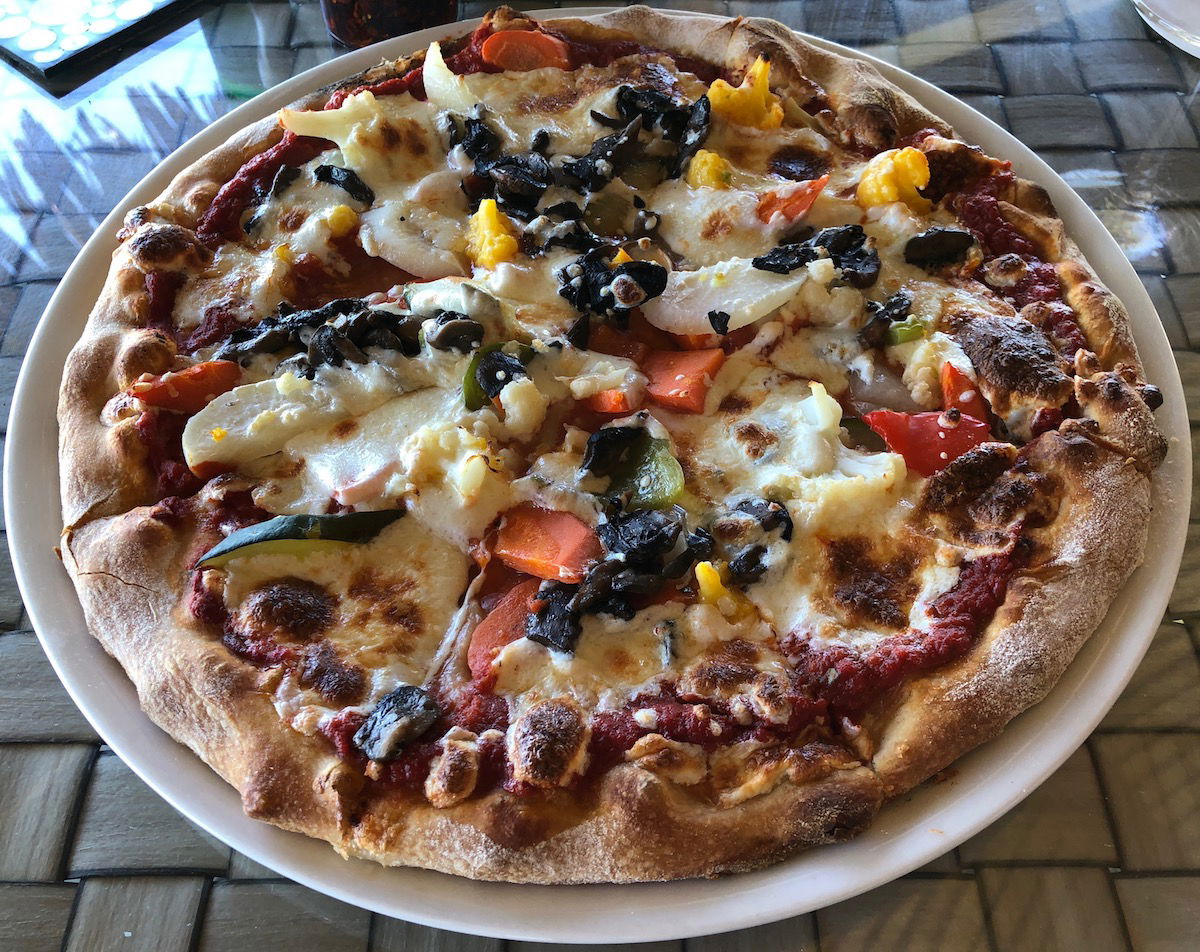 That's just one example. Usually I rarely run out of things I want to eat at a hotel, but by day four here I'm actually over the food, other than the fish (and I don't want to each fish for lunch and dinner every day).
Who knows, maybe I've just had bad luck with the food…
I also don't really get their opening hours for things. They have five restaurants, but only the pool bar and in-room dining are open for lunch.
I'm not sure the overwater villa is worth the premium
We spent three nights in a land villa and one night in an overwater villa. For the novelty it's absolutely worth staying in an overwater villa, since it's something that's really special. I've been fortunate enough to stay in a few over the years.
Personally I might just prefer the base land villa to the base overwater villa. The villa itself was nicer and it had a plunge pool, and on top of that the base overwater villa doesn't have much of a view. It actually has a worse view than most of the other rooms, as it just looks at the flat portion of the outer island (which is still a nice view, but by comparison not as nice).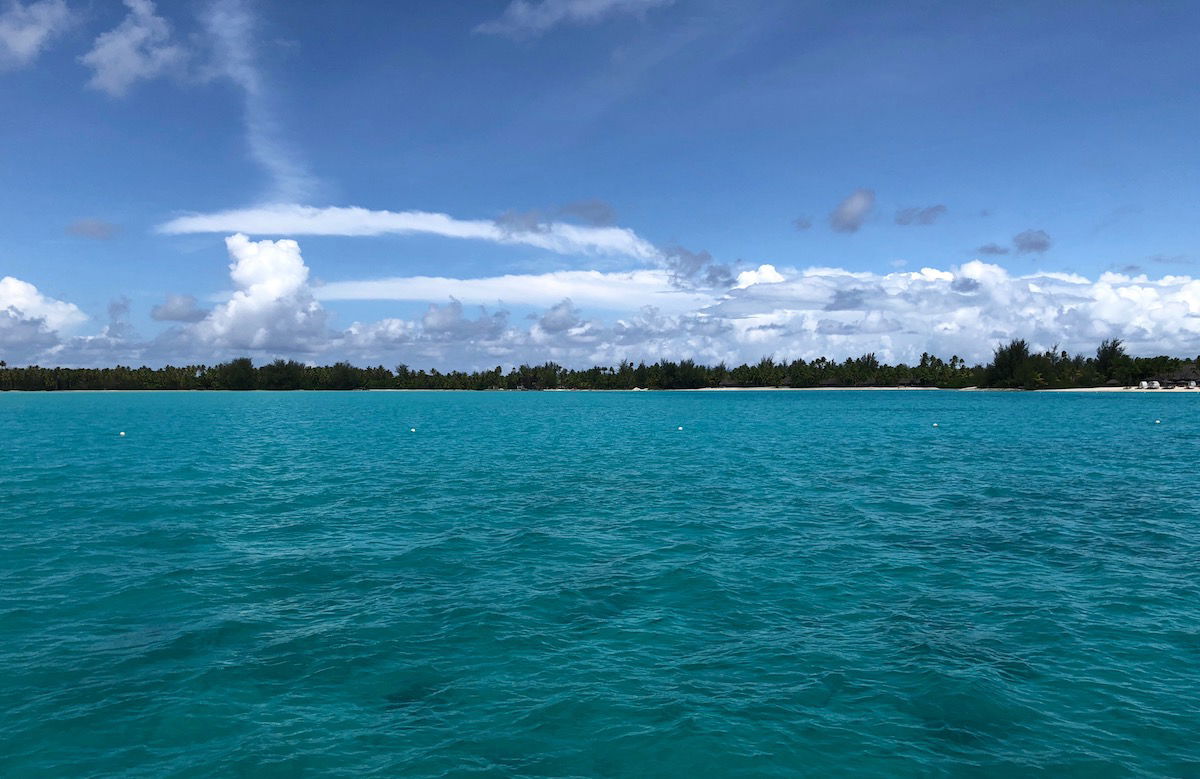 If you are getting an overwater villa, I do think it's worth getting one that has a view of the otemanu, which is the beautiful mountain on Bora Bora.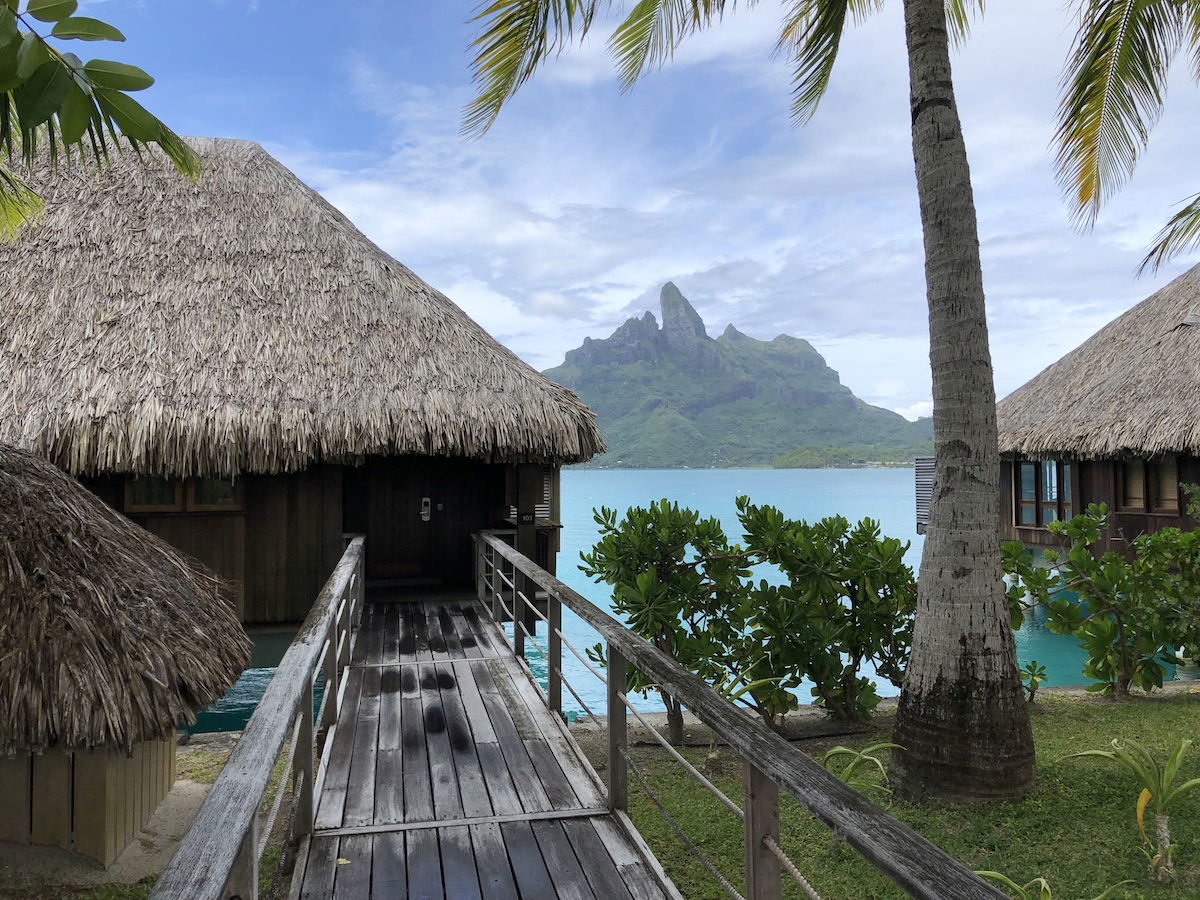 But the thing is, a base water villa is about $300 per night more than a base villa, and then if you want one with a view, it's another $400+, which just doesn't seem worth it at that point, in my opinion.
Bottom line
This might sound like a negative review, which it's not meant to me, because we had a really fantastic time, and I'd even recommend this place (if coming in with the right expectations).
I think Bora Bora is incredibly special, and I'd highly recommend a visit. While the Maldives is highly competitive with all kinds of new luxury hotels opening that are constantly one upping each other, the same isn't true in Bora Bora. Hotels don't have to be as physically beautiful, but that doesn't mean Bora Bora isn't worth visiting.
Personally I thought the service was excellent, the St. Regis has a great location, and Bora Bora is worth a visit.
The hotel is a bit outdated, and that's fine.
The one area where I do think there's big room for improvement is when it comes to the quality of the food, and also in particular when it comes to the lack of care that's taken with basic stuff — paint a table so it doesn't look chipped, make sure the bikes work, etc. The lack of attention to detail when it comes to so many things was appalling, in my opinion.
If you've stayed at the St. Regis Bora Bora (or another hotel in Bora Bora), what was your experience like?