I can't believe I didn't know this story until now…
The history of Marriott
I never really knew much about the story of how Marriott was founded, other than knowing of Bill Marriott (formally "John William," which is where the JW Marriott brand comes from), the Mormon connection, and that the first hotel opened in the 1950s.
At least that was all I knew until today. YouTube channel Hook uploaded a ~12 minute video sharing the history of how Marriott started, and frankly I found it to be really interesting.
Okay, to be honest I found the narration interesting, while the generic images used throughout the video took away from it a bit, though I can appreciate the challenges. If you have the time, I'd recommend giving the video a watch:
From root beer stand to world's largest hotel group
I had no clue that Marriott really started as an A&W Root Beer Stand, and that the company did airline catering before it ever opened a hotel. To briefly summarize how Bill Marriott got into the hotel business:
Bill Marriott was born in 1900 in Marriott, Utah, and his parents were sheep herders
Bill Marriott was always entrepreneurial, started working for his dad at the age of eight, and started his own business at the age of 13; there were lots of ups and downs, but we'll fast forward to how Marriott started
In 1927, Bill Marriott and his wife opened the first A&W Root Beer franchise in Washington DC; they had noticed the popularity of root beer stands elsewhere, and thought it would do well in DC
While it worked great at first during hot summer months, they realized that in the winter it wasn't as popular; they decided to add warm items to the menu in winter months, and branded the business as "Hot Shoppes"
In 1928, Bill Marriott opened two more Hot Shoppes, and kept growing from there
In 1936, Hot Shoppes approached airlines about the prospect of catering boxed lunches on planes, which had previously never been done before; airlines were interested, and soon enough the company was catering inflight meals at Hoover Airport in Washington DC
In 1953, Hot Shoppes went public, and stock sold out within two hours of trading
In 1957, Bill Marriott shifted into the hotel business, and opened the first motor hotel (motel) in Arlington, Virginia
In 1959, the second Marriott property opened, which was the Key Bridge Marriott
From there Marriott continued to grow to what it is today — the world's biggest hotel group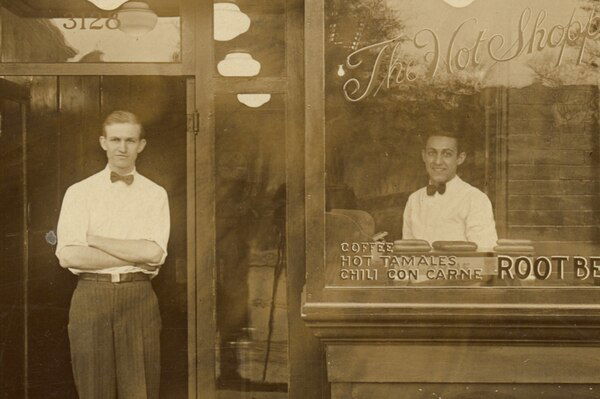 Hot Shoppes, how Marriott started
Bottom line
I had no clue that Marriott really started as a root beer stand, then turned into a restaurant serving hot food, and then turned into an airline catering company. Hotels only came into the picture decades later.
What a fascinating and inspiring story. While Marriott is now the world's largest hotel group, I can't help but feel like the innovation that got Marriott to where it is today is sorely lacking at this point.
Am I the only one who didn't know about Marriott's history?