In an update that will surprise absolutely no one (unless you work for Marriott, in which case I imagine every day lately is a fresh wave of surprise and horror), Bonvoy is not displaying the correct prices for Points Advance reservations made prior to the March 5th category updates.
Here's how Marriott Points Advance reservations were supposed to work
Marriott has a policy whereby you can make a points reservation at a hotel even if you don't have enough points in your account for that redemption. The way it works is that you just make the booking and there's no reward certificate attached to it.
As long as you earn or purchase the needed points at least 14 days prior to check-in, you're good to go. If you don't have the points needed 14 days out, then your booking gets canceled. Obviously, with the category changes being implemented March 5th, many people wanted to make some reservations ahead of time, so they could lock in the lower prices.
In early February, Marriott made what looked like a rather sneaky change to their points advance policy, with a footnote that implied that just because a customer had made a Points Advance reservation, reservations that hadn't been paid for prior to March 5th would be subject to the new category pricing.
We obviously took issue with that (it's one thing to modify a very generous policy, and another to do so in a casual footnote), but in a statement to View From the Wing, Marriott assured that there wasn't actually a change to Points Advance bookings:
There is no change. We included language in the category changes email encouraging members to order redemption certificates before March 5 as a suggestion to help members lock in the rate because having a certificate attached makes it easier to retrieve the original reservation and the original rate. While we can retrieve a reservation without a certificate attached, it is a more involved and time-consuming process requiring the help of a CEC agent.
Gary further emphasizes:
I followed up further, for avoidance of any doubt, and was told that when you make an award reservation using Points Advance "[t]he rate is locked in." So you just need to have the points in your account 14 days prior to check-in.
So that seems pretty cut and dry, but as it wouldn't be the first time in the past two years of this merger that Marriott has issued a statement that turned out to be completely divorced from reality, I decided to do some science.
A Points Advance booking at a hotel changing category
In order to see what this process would look like in practice, I made a Points Advance reservation last night at the Fontecruz Lisboa, an Autograph Collection property in Lisbon, Portugal, that was changing from a Category 5 to a Category 6.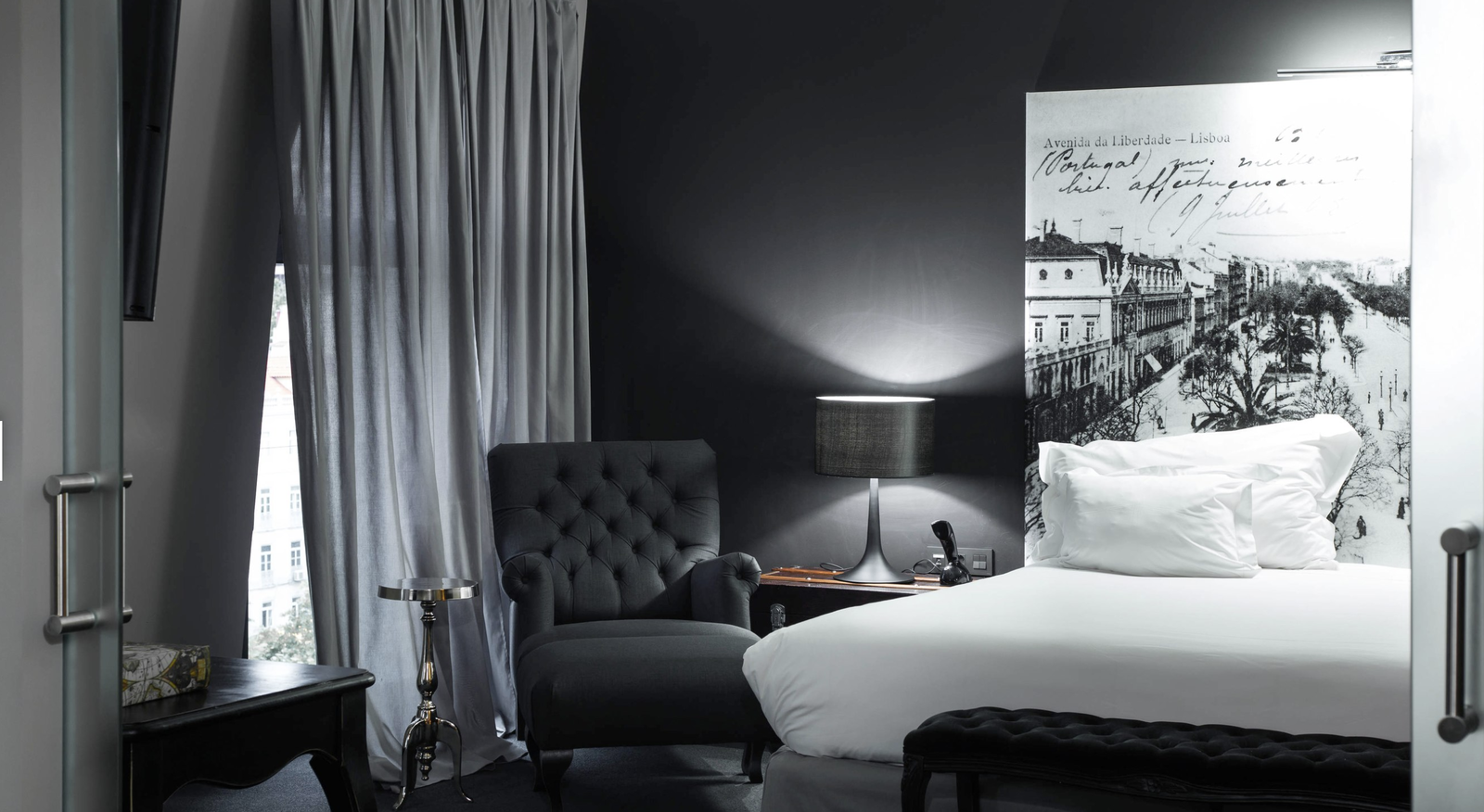 And, because I know some people are going to be like "you're taking advantage of the system and abusers like you ruin things for everyone, wah", I just want to clarify that at the time of this writing I still have ~1.5 million points in my Marriott Bonvoy account, so could have booked this outright.
But, science.
Making the Points Advance booking
As a Category 5 property, the hotel was 35,000 points per night for a standard redemption, or 140,000 for five nights (with the 5th night free).
I selected the Points Advance option, and the reservation was confirmed at 140,000 points for the stay, but the points weren't deducted. I did get a message saying "Congrats, you have enough points for this reservation! Click here to redeem, or we'll take care of it for you automatically 14 days before departure." which is typical for Points Advance bookings.
The reservation was completed at 5:11PM Pacific time on March 4th — this will be important later. And everything in my account showed the booking confirmed at 140,000 points, as expected.
If the category changed, so has the points cost
Expectedly (or, unexpectedly if you're the type to take stock in statements from PR people), my reservation this morning does not show at the correct price of 140,000 points, but rather invites me to redeem 200,000 points (the new Category 6 price) for my confirmed stay: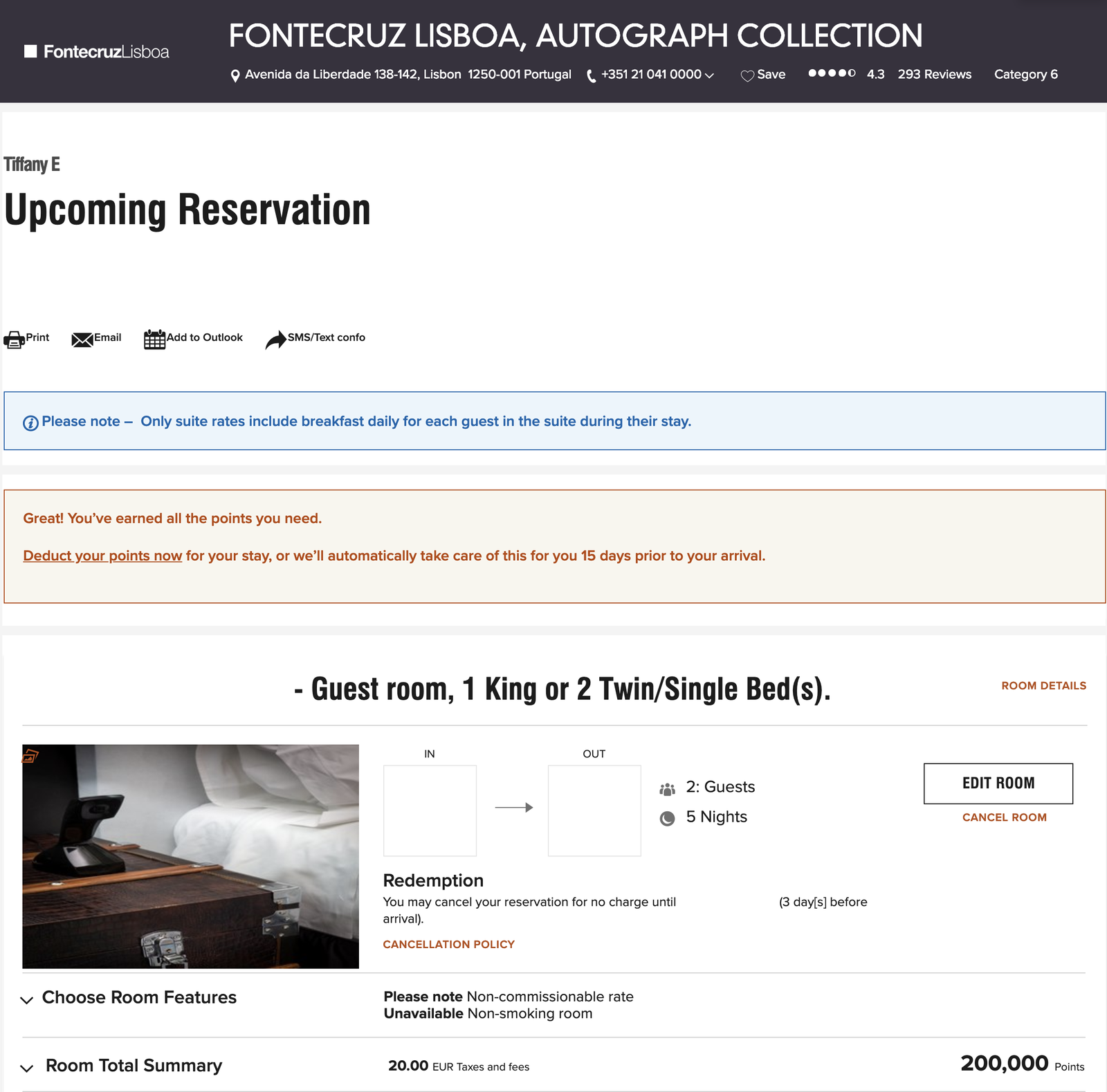 We've heard from several readers that their points prices are off as well, so this isn't just a one-off. But let's talk about how (or if) you can fix it.
Calling Marriott means never having to say you're kidding
In theory, this is apparently supposed to be as simple as calling Marriott and having them look at the reservation, and the right agent (or a certain department) should be able to see the history and deduct the correct number of points.
But I think we all know better at this point.
I rang up the Titanium Elite desk, and a friendly agent answered right away. We chatted for a bit, and then she looked up the reservation. She immediately, and without hesitation said that there was no way for her to deduct the old number of points if a property was showing the new category in their system.
(I always prefer an agent who hesitates, if I'm being honest).
I read her the statement Bonvoy made to VFTW, including the bit about "a CEC agent, though I don't know what that means," and she put me on hold to escalate to the elite line.
Twenty-five minutes later, she came back on the line with this pronouncement:
"We went ahead and took a deep dive into your account, and it looks like you just booked today, so obviously we can't honor an old category for a booking you made today."
I then explained further that no, I'd booked the reservation yesterday, and had a screenshot of when I'd made the booking at 5:11PM.
She put me on hold while she went for a supervisor.
Thirty-seven minutes into the call, the supervisor came on the line, and asked lots of questions about when I booked, what category I felt the hotel should be in, why I had made so many bookings with points yesterday, why I hadn't redeemed the points for this one when I had them, and so forth. I do feel like these were mostly general curiosity, and not necessarily part of the research process, but I'd be prepared with all those answers before you call.
With a baseline of information established, he put me on hold while he escalated to another department.
This wait was much faster, and forty-eight minutes into the call we had our prognosis:
When I made my booking on March 4th, with the correct pricing displayed on my screen, it was already March 5th Lisbon time, and so the category had already been changed in the hotel system.
Now, this seems like information that would have been helpful to know ahead of time (Bonvoy!), but at least everyone involved thus far agrees it's a ridiculous distinction. This may also explain why some properties were displaying the new/wrong category yesterday — for whatever reason some things may have been set to local hotel time.
So a case number has been created, and I'm told to expect either an email or phone call in 5-10 business days. Total call time so far? One hour and fourteen minutes.
Bon. Voy.
Recommendations for Points Advance bookings
At this point, and from what I can tell so far, if you made your booking prior to 11:59PM hotel time on March 4th, you may have an easier time resolving this. You'll still have to escalate to the research department, but my hope for you is that it will just be the 37 Minute Department, not the 1 Hour 14 Minute Plus 5-10 Business Days Department.
In general though, as has been the case with pretty much everything related to this merger, I think this is a time where the early worm gets eaten.
If your travel reservation isn't imminent (let's say in the next 30 days), I'd probably recommend waiting a week or so for things to settle out. That will give reservations agents a chance to actually be informed about the situation (though I am of course skeptical that this will be communicated to them), and the various research departments time to develop a process around fixing these bookings.
Who knows, maybe Marriott will even proactively fix all the points requirements for these reservations.
LOL.
Do you have any Points Advance bookings impacted by the category change? How's it going?