In December I wrote about the disturbing trend at Marriott hotels, where they were removing desks from guest rooms, instead replacing them with side tables.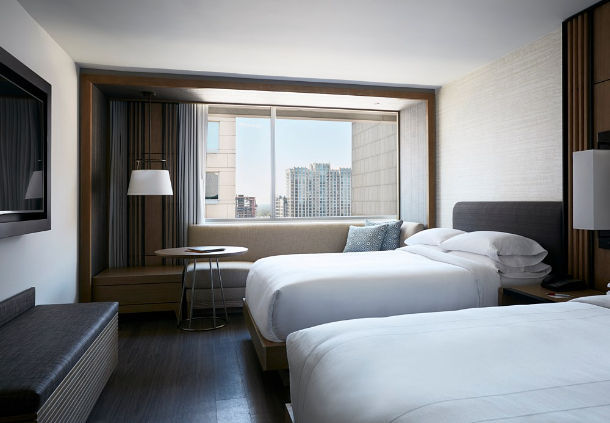 Apparently they felt desks were unnecessary in the age of laptops and smartphones, and that eliminating them fit into the overall theme of minimalist decor that they're going for. As laptops continue to get more popular I'd think desks would be more important, and not less important. But maybe that's just me…
Sure, not everyone is going to work from their hotel room for hours on end, but that has never been the case. But they suggested the reason for the change was millennials, which seems ridiculous to me. For that matter I think hotels have their perception of millennials all wrong. On one hand they love to market how they understand that millennials care about being individuals and don't want to be stereotyped. Then hotels make broad changes like suggesting that those millennials don't work from rooms.
Anyway, there's some good news on the desk front. Desks are once again part of Marriott's new room concept going forward. Per Yahoo:
Marriott is redesigning its hotel rooms, and desks with chairs are once again a standard feature.

The desks in what Marriott is calling its "modern guest rooms" are on wheels so you can move them around the room to work where you want.
I'm not sure what to make of these desks on wheels (which suggests to me that they're not actually "proper" desks, but just moving tables), though it's certainly better than having no workspace.
It's also interesting to note that Marriott will be eliminating tubs at roughly 75% of their properties going forward as part of their "modern guest rooms:"
Tubs are disappearing, too. Bathrooms will have only walk-in showers with hand-held sprayers in roughly 75 percent of the new hotel rooms, except for hotels in leisure/family markets.
That's another idea I can get behind. I'd much rather use a walk-in shower than a shower/tub combo. Besides, aside from resorts or luxury hotels it's rare to actually find a tub that one would want to soak in (and that's not even taking into account potential cleanliness issues).
Bottom line
It's nice to see Marriott change course on this. These new "modern guest rooms" won't appear everywhere overnight, but rather as hotels undergo renovations they'll get these new designs. The above concepts apply to Marriott flagged properties, and not their other brands.
What do you make of Marriott bringing back desks and eliminating tubs?