Mandarin Oriental has just launched a formal loyalty program, called Fans Of MO. The "fans" thing is in line with their typical branding, including their ad campaigns, where they have celebrities say that they're "fans" of Mandarin Oriental.
While I can appreciate their desire for consistent branding, at some point this is all a bit confusing, because Mandarin Oriental's proprietary travel agent program is called Mandarin Oriental Fan Club.
Anyway, as of now Mandarin Oriental's new Fans Of MO loyalty program is pretty straightforward, in the sense that there are no status tiers or points. Rather you get benefits as long as you're a member (it's free to join) and book directly with Mandarin Oriental. Benefits include complimentary Wi-Fi, a welcome amenity, and access to exclusive member only offers.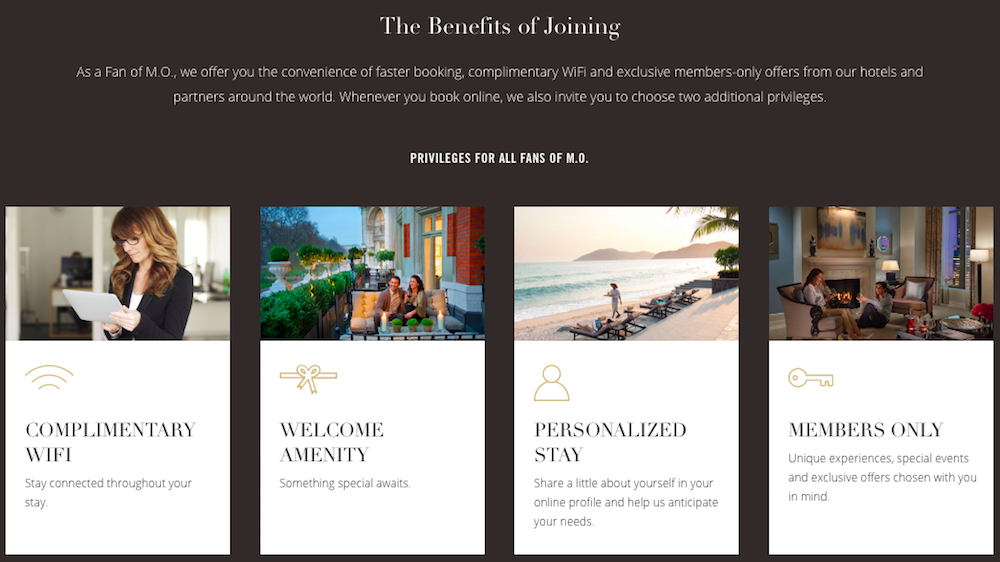 On top of that, members can choose two exclusive privileges with each stay. That's right, just for being a member you get even more. While the exact benefits vary by hotel, you can expect to choose from perks like early check-in, late check-out, daily breakfast, a dining or spa credit, a room upgrade, high speed Wi-Fi, a celebratory treat, or pressing services.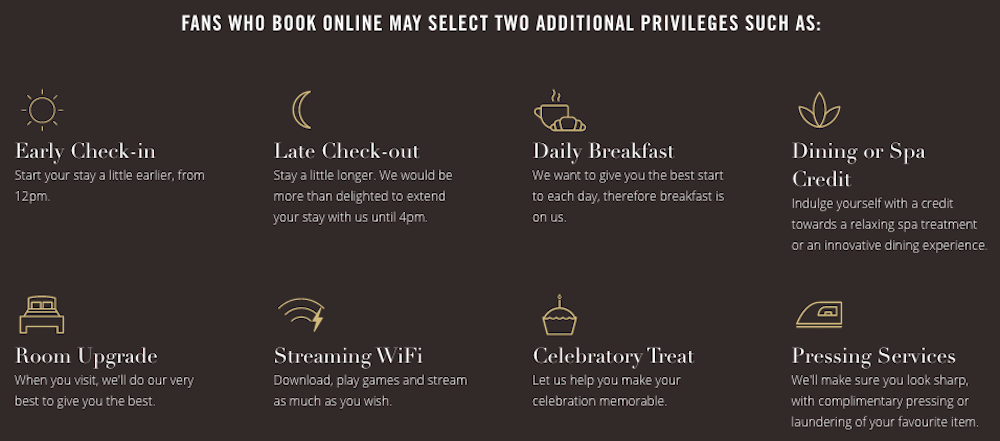 I signed up for the program and just to take a closer look at how the selection progress works, I went through the process of making a booking at the Mandarin Oriental Bangkok. On the page before you enter your credit card information, you're given the option of selecting two further privileges. These includes the following (along with their descriptions):
Pressing Services — We'll make sure you look sharp with complimentary pressing or laundering of your favourite item
Daily Breakfast For One — We want to give you the best start to each day, therefore, we are pleased to offer International Breakfast Buffet. Please note, À La Carte, Room Service and Breakfast are not included.
Breakfast For Second Guest — Enjoy a great start to the day with a second breakfast on us.
Dining Or Spa Credit — Indulge yourself with a THB 1,700 credit towards a relaxing spa treatment or an innovative dining experience. Please note, credit cannot be used towards spa products.
Celebratory Treat — Let us help make your celebration memorable.
Streaming WiFi — Download, play games and stream as much as you wish.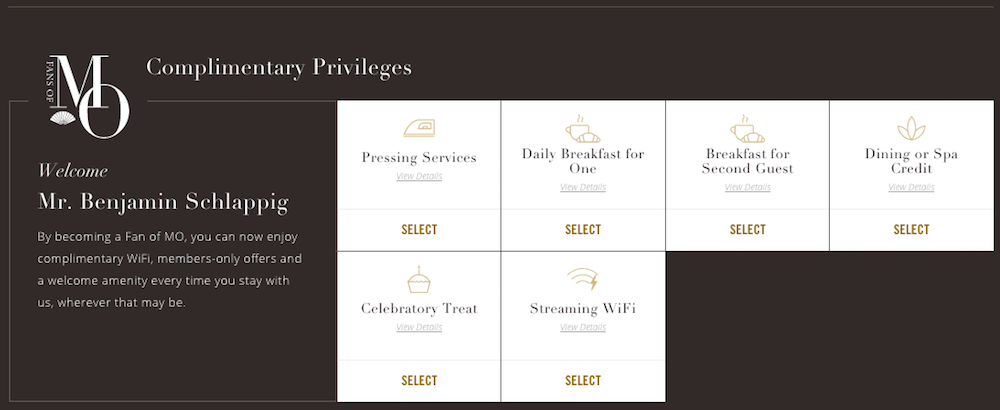 Some other random notes based on reading the FAQs:
There's "currently no fee" to join the program, suggesting that there may be a fee to join in the future
You can receive the benefits for up to two rooms (but since there's no cost to join and there are no points at stake, you can always just get additional accounts for people staying in other rooms)
They have an FAQ asking what the celebratory treat consists of, and they answer that by saying "our way to help you celebrate in style with a one of a kind treat for your special occasion," which is officially the least helpful FAQ ever; c'mon, if you're going to write the questions… 😉
Bottom line
The new Fans Of MO program by Mandarin Oriental is more about recognition than about loyalty, given that there's no points currency and no status. That being said, as far as benefits of membership without any stay requirements go, I'd say this is pretty compelling. All members get free Wi-Fi and a welcome amenity, and then you can select from a list of amenities. Well done on this, Mandarin Oriental.
The catch is that the best way to book Mandarin Oriental stays is through the Fan Club program, and the Fans of MO and Fan Club programs aren't combinable.
What do you make of the Fans Of MO program?