There have been a lot of stories over the years about people abusing refundable tickets to visit lounges, gain access to airport facilities or restaurants, etc.
Well, this week's story from Singapore should make anyone not planning to travel on a purchased ticket through Changi think twice.
A 27 year-old man purchased a ticket to escort his wife to her plane. But things didn't go as he planned because he was arrested for using his boarding pass to access the terminal without the intention of flying. Turns out he broke a law specific to Changi where police consider the transit area a "Protected Place" for passengers only.
The remarkable thing is this isn't an isolated event. The Singapore Police Force reports he is the 33rd person to be arrested for "misuse of boarding passes" this year alone.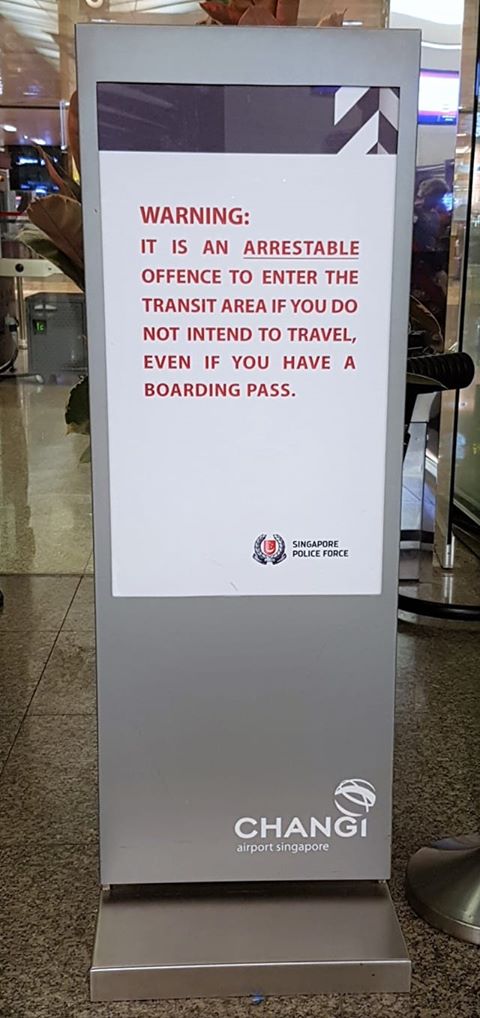 The full police advisory is below:
The Police would like to remind all passengers that the transit areas of Changi Airport are gazetted as Protected Places. Passengers who enter the transit areas with a boarding pass should only be there for the purpose of traveling to their next destinations. Those who misuse their boarding pass to enter into the transit areas, with no intention to proceed to their next destinations, are liable for an offence under the Infrastructure Protection Act. The offender may be prosecuted in Court and shall be liable on conviction to a fine not exceeding $20,000 or to imprisonment for a term not exceeding 2 years or to both.
So, as tempting as it might be to go see the new terminal in Singapore, just make sure you do it as a passenger with actual plans to travel.