When it comes to transatlantic expansion from network carriers I generally find that British Airways is the most creative in the destinations they add. Lufthansa has been trying some routes, though hasn't been nearly as adventurous. Furthermore, many of their new routes are operated by Eurowings, their low cost carrier.
Well, Lufthansa has just announced their next North American destination that they'll operate with a mainline plane, and it's not necessarily what you might expect.
Lufthansa Launching Frankfurt To Ottawa Flights
Lufthansa will be launching nonstop flights between Frankfurt and Ottawa as of May 16, 2020. The route will operate 5x weekly with the following schedule on Mondays, Tuesdays, Thursdays, Saturdays, and Sundays:
LH472 Frankfurt to Ottawa departing 1:45PM arriving 4:05PM
LH473 Ottawa to Frankfurt departing 5:50PM arriving 7:15AM (+1 day)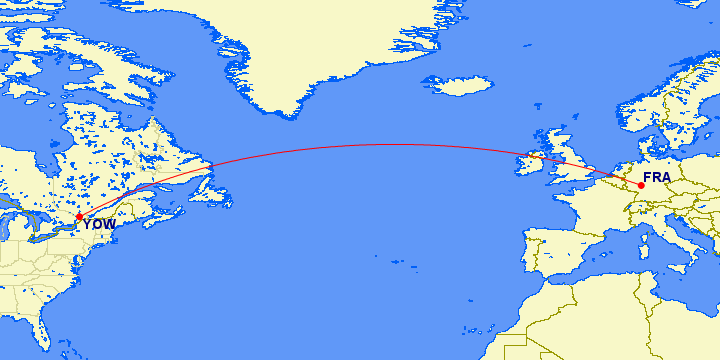 The flight will be operated by an Airbus A340-300 featuring a total of 279 seats, spread across business class, premium economy, and economy. The flight will cover a distance of just ~3,730 miles, and is blocked at 8hr20min westbound and 7hr25min eastbound.
This represents the first time that Lufthansa is flying to Ottawa, and it's also Lufthansa's fourth destination in Canada, after Montreal, Toronto, and Vancouver.
The new flight will become bookable as of tomorrow, Wednesday, September 11, 2019.
What About Air Canada's Ottawa To Frankfurt Flight?
When it comes to transatlantic flights out of Ottawa, the only other flights are year-round service on Air Canada to London Heathrow, as well as seasonal service on Air Canada to Frankfurt.
Given that Air Canada and Lufthansa have a transatlantic joint venture, I wouldn't be surprised to see Air Canada drop their Ottawa to Frankfurt seasonal flight, and hand it over to Lufthansa.
This is pretty common in joint ventures, where we see airlines switch the "metal" they use for a particular flight:
Air Canada currently uses a 767-300 for the route featuring 211 seats, so on a per flight basis the swap to Lufthansa represents a ~32% capacity increase
At the same time, Air Canada operates the flight daily while Lufthansa will only operate it 5x weekly
So either they're roughly doubling capacity on the route for the joint venture, or it's remaining roughly steady if they're simply handing the route over from Air Canada to Lufthansa.
What do you make of Lufthansa's new route from Frankfurt to Ottawa?