Lufthansa will be operating its longest-ever flight with passengers on February 1, 2021, and it couldn't be a cooler route.
Lufthansa's charter flight to the Falkland Islands
In early February, Lufthansa will be operating what's easily one of the most fun charter flights I've ever heard of:
On February 1, 2021, LH2574 will operate from Hamburg, Germany, to Mount Pleasant, Falkland Islands; the ~8,300 mile flight is expected to take around 15 hours
On February 3, 2021, LH2575 will operate from Mount Pleasant, Falkland Islands, to Munich, Germany; the ~8,100 mile flight should be marginally shorter, given tailwinds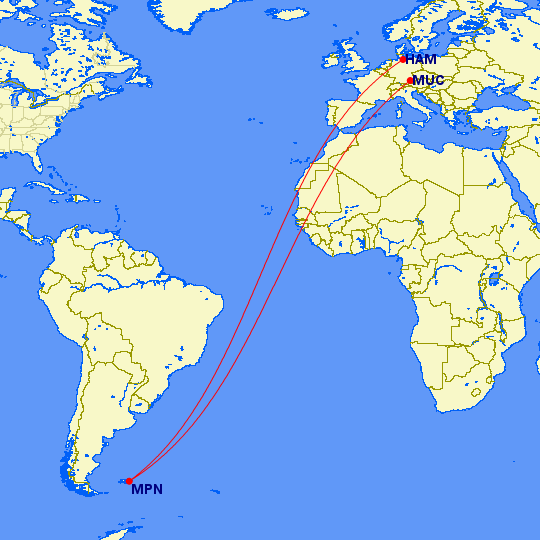 Lufthansa's routing to the Falkland Islands
Lufthansa will be using an Airbus A350-900 for this charter, featuring 293 seats. However, there will be fewer than 100 passengers on each flight.
For those of you not familiar with the Falkland Islands, this is a remote South Atlantic archipelago. There are just over 3,000 residents there, and it's a British overseas territory. It's also just a few hundred miles from Antarctica.
What's the point of this Lufthansa charter flight?
Lufthansa is essentially providing a charter for people who are taking the Polarstern research vessel to & from Antarctica.
The flight from Hamburg to Mount Pleasant will be carrying 92 people, split evenly between scientists and ship crews.
Then the flight from Mount Pleasant to Munich will be carrying the crew that is getting off the Polarstern, which resupplied the Neumayer Station III in Antarctica. That crew started the trip on December 20, 2020, so they're being relieved after being in Antarctica for several weeks.
In the past this kind of trip to get people to Antarctica would operate via Cape Town, but due to the coronavirus situation there, a nonstop charter flight to the Falkland Islands was decided on this time around.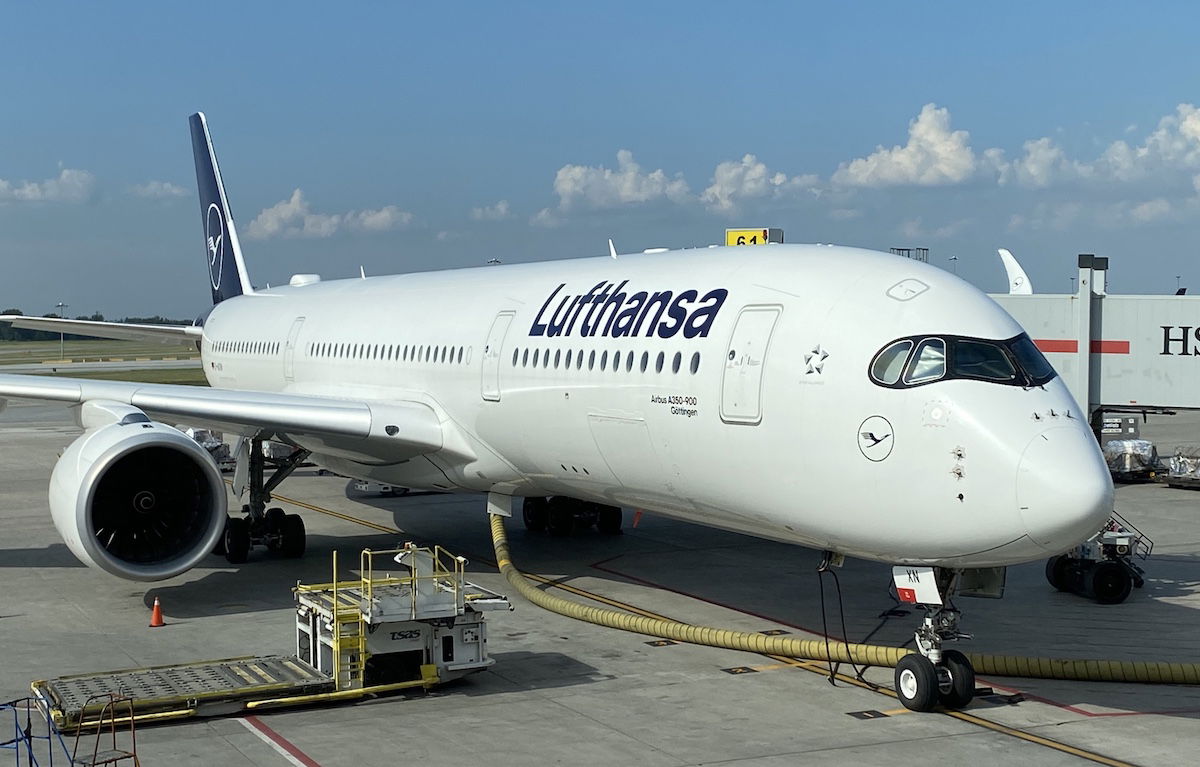 Lufthansa will use an A350 for this charter flight
Lufthansa is making special preparations
Given the unique circumstances of this flight, all the passengers and crew have to quarantine for a period of 14 days before the trip, given how problematic it could be if someone on this trip tests positive for coronavirus.
Despite the quarantine requirement, it's being reported that over 600 flight attendants applied to take part in this trip.
Lots of extra preparations are required as well — pilots are doing extra training via special electronic maps, and are also monitoring the fuel supply at the Mount Pleasant military base for the return flight.
In Hamburg the A350 will be loaded with additional cargo and baggage, which is being specially disinfected, and will remain sealed until departure. There are also containers on the plane for any residual waste on board, since this can only be disposed of when the plane arrives back in Germany.
The Lufthansa crew also includes technicians and ground staff for on-site landing and maintenance in the Falkland Islands. The Lufthansa crew will have to quarantine in the Falkland Islands, in line with government requirements.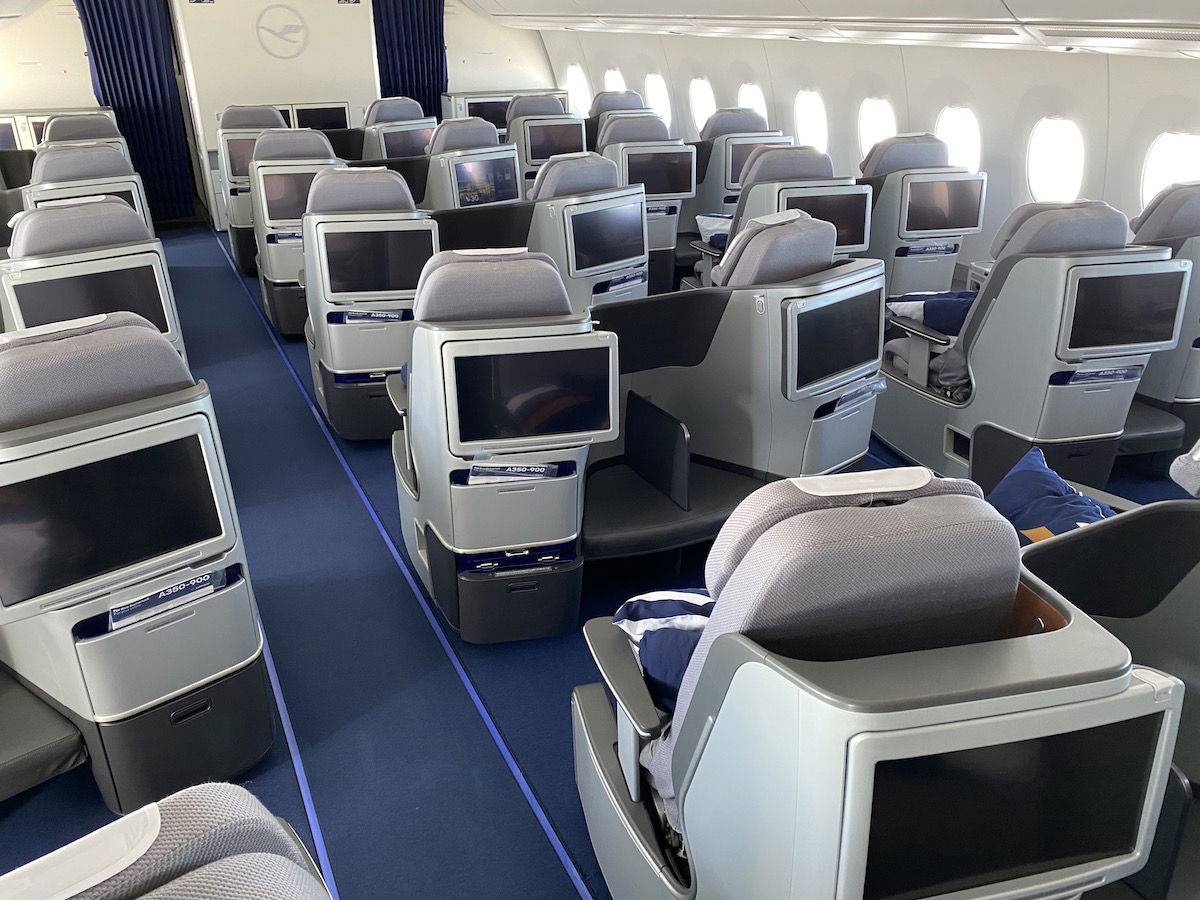 Lufthansa A350 business class
Bottom line
Lufthansa will be operating its longest flight ever with passengers, as the airline will operate a charter flight from Hamburg to Mount Pleasant. This ~8,300 mile flight is being operated to get research teams and ship crews closer to Antartica.
I've long been fascinated by the Falkland Islands, so I find this to be such a cool trip. If I were a Lufthansa crew I'd certainly volunteer for this cool experience, even if there is a quarantine requirement in the Falkland Islands.
Is this charter flight awesome, or what?