International aviation is incredibly complicated, and politics and diplomacy can often get in the way of things. We saw this with the Gulf blockade involving Qatar several years back, and we're also seeing it with the current situation in Russia.
Well, the Falkland Islands is having its own diplomatic dispute at the moment, which is threatening some air service to these remote islands.
The basics of the Falkland Islands
First I think some background is valuable, for those who aren't familiar with the Falkland Islands. This is a remote South Atlantic archipelago, just a few hundred miles from Antarctica (many cruises to & from Antarctica stop here). There are just over 3,000 residents there, and it's a British overseas territory.
Now, it's important to note that the Falkland Islands being a British overseas territory is disputed by Argentina. An undeclared 10-week war happened in the Falkland Islands in 1982, over control of the islands. This was between Argentina and the United Kingdom, and the United Kingdom won, as Argentina surrendered.
Even more than 40 years later, this continues to be a point of contention with Argentina, which claims control of the islands, and calls them Las Malvinas.
Well, that disagreement between the Falkland Islands and Argentina is leading to the latest aviation dispute, involving this remote archipelago.
Diplomatic dispute over Falkland Islands flights
While the Falkland Islands doesn't have many residents, the islands do have air service to connect them to the rest of the world. Not only are these flights popular with some tourists, but they also provide an essential link for people and supplies.
Mount Pleasant Airport (MPN) has a once weekly flight to Punta Arenas, Chile (PUQ), operated by a LATAM Airbus A320. There's also a once monthly flight to Río Gallegos, Argentina (RGL), also operated by a LATAM Airbus A320.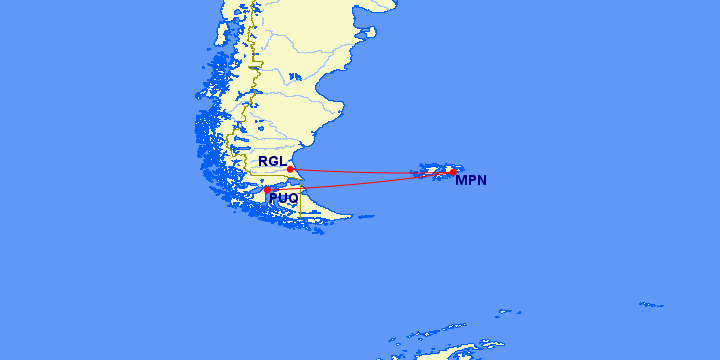 Pre-pandemic, LATAM also operated a flight from the Falkland Islands to Sao Paulo (GRU), which was supposed to resume shortly. Well, that's now being blocked by Argentina. Why?
Argentina controls the airspace around the Falkland Islands, so Argentina needs to approve flights to the Falkland Islands
Argentina wants its national airline, Aerolineas Argentinas, to be able to fly between Buenos Aires (EZE) and the Falkland Islands, but the Falkland Islands is rejecting this request
In an act of reciprocity, Argentina is blocking LATAM from adding a new route from Brazil to the Falkland Islands
Member of the Falkland Islands Legislative Assembly, Mark Pollard, had the following to say about this:
"The Government of Argentina continue to deny our self-determination, and take every opportunity to enforce sanctions on our people and collectively punish us for legitimately exercising our democratic rights. This latest move is yet another attempt to isolate us from South America and impede our economic development."

"We have said, repeatedly, that Falkland Islanders will not enter into discussions about a direct flight to Buenos Aires, or the possibility of Argentina's national airline servicing any routes into the Falkland Islands. We have been steadfast on both of these points, and it is incredible that these are still considered bargaining chips by a government which treats us with such unprovoked open and continued hostility. By refusing permission for overflight of this aircraft, not only are they removing the only link between the Falklands and Cordoba, they are also hindering their own economic and social development by reducing connectivity between Sao Paulo and Cordoba."
Bottom line
The Falkland Islands is pretty darn remote, and has very limited air service. The archipelago was supposed to see the resumption of a route from Sao Paulo, though Argentina is now blocking it. Argentina controls the airspace around the Falkland Islands, and it's claiming to be denying this out of reciprocity, because Aerolineas Argentinas isn't allowed to fly to the Falkland Islands from Argentina.
Personally it seems to me like the government of the Falkland Islands is in the right here. It's not really fair to claim this is due to reciprocity, as the Falkland Islands is just in the unfortunate situation of being near Argentina's airspace. It almost seems like Argentina just wants to launch this service to troll the Falkland Islands, and as a power play.
I'm curious to see how this plays out, though this does seem to me like an abuse of controlling airspace.
What do you make of this dispute?