In terms of rather bizarre moves which counter the industry trend, Lufthansa will be discontinuing the option to purchase Miles & More miles. Per a notice on their website:
The option of being able to buy the miles you are short of for an award flight with a Lufthansa Group airline will only be available for a few more weeks. This option will be removed from the Miles & More programme during July 2014.

Until then you can buy up to 20,000 miles and receive an extra 20% more miles as well.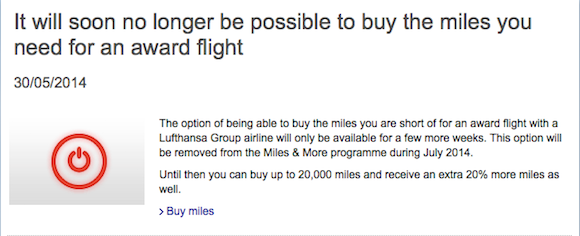 So through June 30, 2014, it's possible to buy Lufthansa miles with a 20% bonus, but after that they'll be discontinuing the program altogether. I find this move rather puzzling, given that Lufthansa charges €35 (~$47) for 1,000 purchased miles. That's just about the highest cost to purchase miles in the industry.
At that rate I have no clue why they wouldn't offer — and even encourage — people to purchase miles.
The only explanation I can come up with is that not enough people were taking advantage of it for it to be worthwhile to continue the program. But at the same time if not enough people were taking advantage of it, you'd think their solution would be to lower the prices and make it more appealing, as opposed to discontinuing the program altogether.
Or perhaps this is just a very poor translation, since the page for the 20% bonus on purchased miles reads as follows:
The additional mileage package of 20,000 miles and the offer of 20% more miles on all mileage purchases are only available until 30 June 2014.
So maybe this is a doom-and-gloom way of saying that the promotion is ending?
The first announcement does seem pretty explicit, so I'm guessing it is being ended. Either way I don't think this really matters since it wasn't a good deal to begin with, though I do find the move strange.