I recently wrote about how six Lufthansa Boeing 747-400s landed at a small airport in the Netherlands several months ago, but weren't allowed to leave. Well, there's now an update on that situation.
Lufthansa 747s parked at Twente Airport
Airlines around the globe have been putting planes into long-term storage, given the huge and sustained decrease in demand we're seeing:
Some of the planes in storage will fly again, while others will be retired and may never carry passengers again
Regardless, a vast majority of planes taken out of service had to be flown somewhere, since there wasn't enough room to keep them parked at major airports
Along those lines, between early June and late July, Lufthansa ferried six Boeing 747-400s to Enschede Twente Airport, in the Netherlands:
The airport has a nearly 8,000 foot runway, so 747s can easily land there
The airport doesn't have any regularly scheduled service, and was one of the best options at the time for Lufthansa to store these jumbo jets
Lufthansa intends to scrap these 747s, and initially the plan was for that to be done at Twente Airport, given that there's an aircraft scrapping firm based there (specifically, Aircraft End-Of-Life Solutions, or AELS)
These planes were all delivered to Lufthansa in the late 1990s and early 2000s, so they're an average of around 20 years old
Lufthansa flew most 747-400s to Twente from Frankfurt (a short ~40 minute flight), though one 747-400 was flown straight from Beijing, as it had just come out of maintenance (a ~10 hour flight)
Why Lufthansa 747s weren't allowed to leave the airport
Lufthansa is preparing to scrap these 747s, and had decided to do so elsewhere (not at Twente Airport), a move that the airport leadership respects. Recently Lufthansa hoped to have its 747s leave the airport, but there was one major problem — the planes weren't allowed to take off from there, as reported by Tubantia.

A 747 was supposed to leave the airport on October 26, per Flightradar24
What happened? In a situation that the airport director calls "too absurd for words," the Netherland's Human Environment and Transport Inspectorate had allegedly issued an interim permit change that prevents 747s from taking off at the airport. In other words, 747s can land at the airport, but can't take off from there.
Here's how the airport director described the situation, per Google Translate:
"The planes came here because Twente is one of the few airports where there is still room to park such large planes. Of course we hoped to be able to dismantle them here as well, but the owners have decided otherwise. Now they have to leave shortly, three devices preferably this week. It is incomprehensible that there is a sudden blockage.

We are completely surprised. When those planes landed here, there was nothing wrong. And now suddenly there is a taboo on these kinds of large devices. That is crazy for words and we are certainly not going to accept that."
Here's how a spokesperson for the Human Environment and Transport Inspectorate described the situation:
"Twente Airport simply does not have the correct safety certificate. Larger aircraft such as the Boeings can land at Twente, but only for dismantling. The airport infrastructure is not suitable for taking off larger and heavier aircraft. This can pose security risks. The flight procedures before departure have also not yet been approved."
It's not entirely clear what caused this policy change, since the airport suggests that 747s taking off wasn't an issue in the past. Legal proceedings had been initiated to allow the 747 to leave, and there's now a resolution.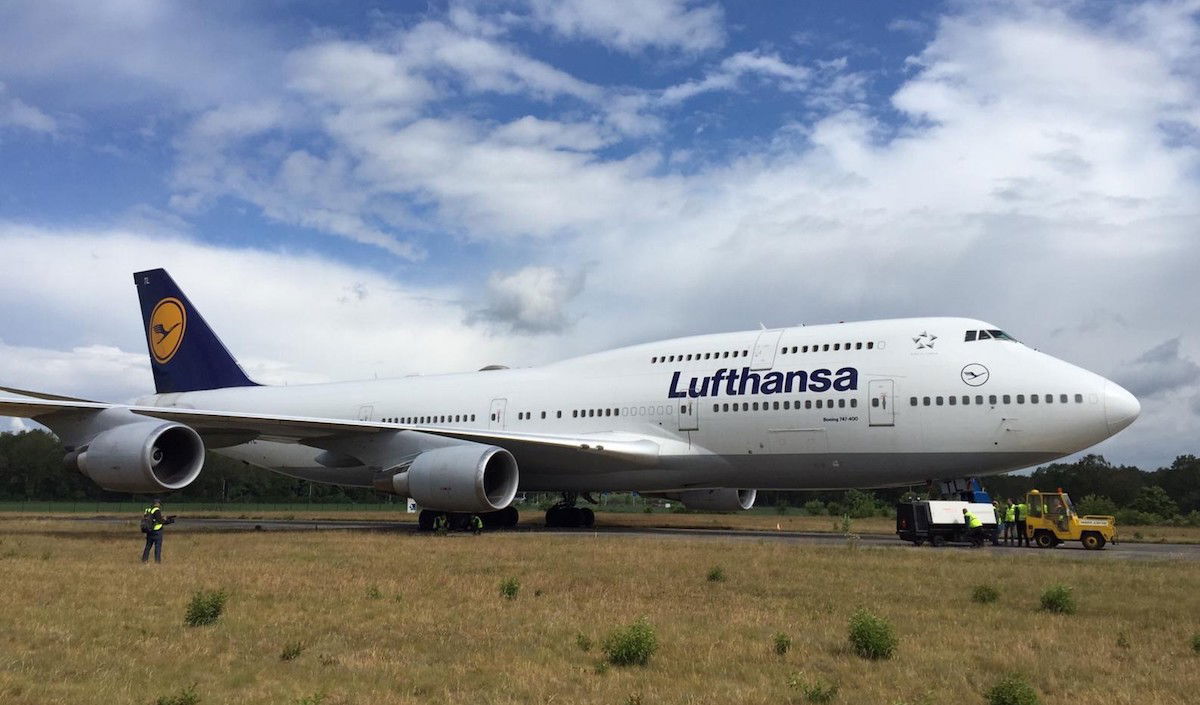 One of the Lufthansa 747s in storage at Twente Airport
Lufthansa gets a "one time exception" for 747s
Twente Airport and Lufthansa have now received permission from Netherland's Human Environment and Transport Inspectorate for the 747s to take off. The organization claims it's against regulations but is safe, so a one-time exception will be made.
It's expected that the first 747 will leave the airport shortly. The plane will be especially light, carrying just enough fuel to get to Frankfurt. The plane will be refueled there, and then will be flown to the US, where it will be scrapped. At least a few of the planes have been sold to GE Aviation Materials, which will recycle the parts.
Here's a statement from the Human Environment and Transport Inspectorate:
"Technology Base and the Human Environment and Transport Inspectorate have consulted constructively in recent days to find a solution for the safe departure of the aircraft. Twente Airport clarifies some specifications of the safety protocols for this type of very large aircraft during the inspection. By complying with these types of safety requirements (including the use of the runway, aircraft must be light and carry little fuel), the ILT can issue a one-off exemption. Both parties agree that the current state of affairs cannot be repeated. Lufthansa aircraft can thus depart from Twente Airport. The first aircraft will leave shortly. Lufthansa is in talks with interested buyers for the devices. Three aircraft have already been sold and will leave before the turn of the year."
Bottom line
Lufthansa has six 747-400s that have been in storage at a Dutch airport for several months now. While the planes were able to land there without issue, there were restrictions on the planes departing. This became a major problem, since some of the planes had already been sold for parts, and that required them being able to depart.
Fortunately a resolution has now been reached, and these 747s will be allowed to leave the airport thanks to an exception.
Strange situation, eh?