I'm celebrating seven years of the blog this week, and in addition to the traditional "comment to win" posts I'm trying other things that I hope will be fun/interesting.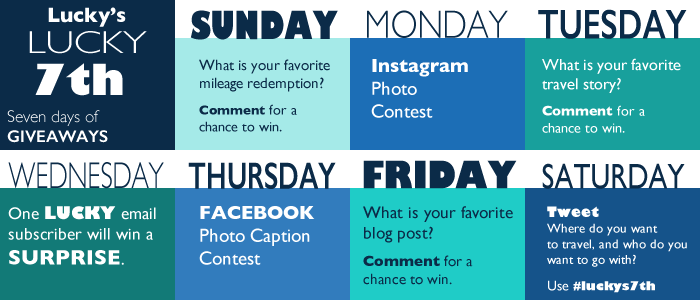 Today, I'm giving away $100 on Instagram. I generally share "real time" photos there, many of which never make it to the blog or trip reports, so if you've been wanting to see more of the destinations I visit you might want to follow me there. 😉
Just as I love interacting with you guys here on the blog, I really enjoy seeing the places other people are traveling and the images you capture along the way.
So, to enter this contest, upload a photo to Instagram and make sure to use the hashtag #luckys7th so I can find it later. Ideally it'd be a travel-related photo, but as long as it's your original image I'm not going to be too picky.
Even better, as long as you use that hashtag, your photo will show up in a gallery on this post, so even the non-Instagram users will be able to see all the entries.
Since I'm traveling with my mom, she'll pick her favorite photo, and the winner will receive a $100 Visa gift card!
You have until 11:59PM Pacific today! The winners of each of the daily contests will be announced on Sunday, February 8th.