Hello from Dahab, Egypt. It sure is beautiful here.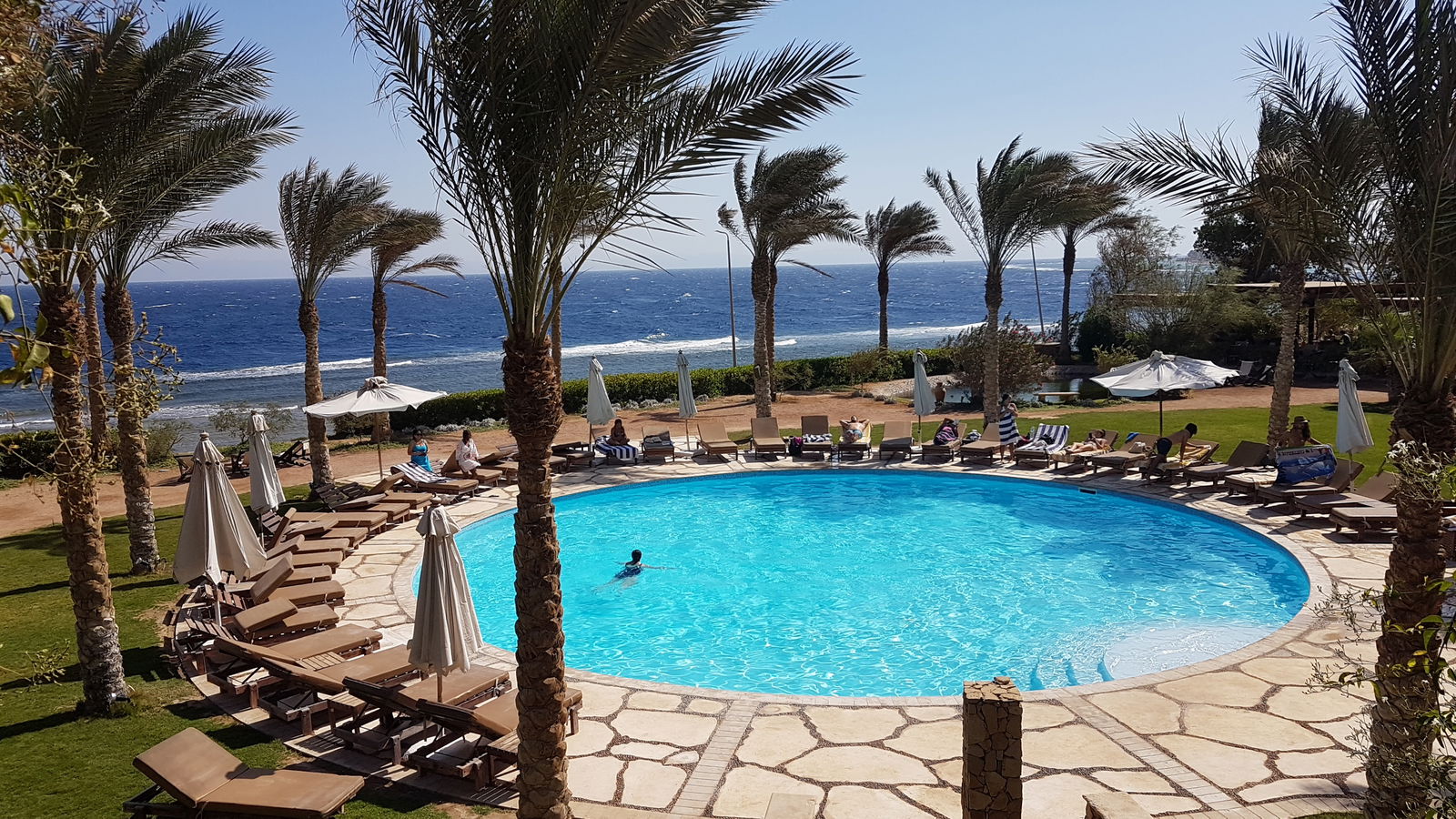 I've spent the last week exploring Egypt, again as part of a group tour (I booked this tour well before my Morocco tour commenced). I knew that Egypt was a big country, and that we would be covering fairly long distances by bus.
I'll use the term 'bus' in this article rather than 'coach,' because I'll be comparing it to economy/coach flights and comparing 'coach with coach' will be confusing. The 'bus' was advertised as a luxury coach and in many regards it was — it had air conditioning, movies, and a bathroom on board.
I usually fly when traveling as much as I can both because I enjoy the miracle of flight and it's usually a pretty efficient way to get from A to B. So this was the first time I would be traveling by bus for similar distance journeys.
What I had not appreciated was just how uncomfortable those long bus journeys would be. Where the journey was just a few hours, much like a low cost flight, they were fine. I'd either look out the window, have a nap, watch some Netflix, or even attempt to write an article, which wasn't easy given how bumpy the roads were.
But we had some really long drives.
The longest bus ride in Morocco was from the Sahara Desert to Marrakech and with short stops every few hours, took 13 hours. That is about the same time as a flight from Western Europe to Asia. Also, the past week in Egypt there have been two nine hour bus journeys within a few days of each other.
And I felt like death after all three.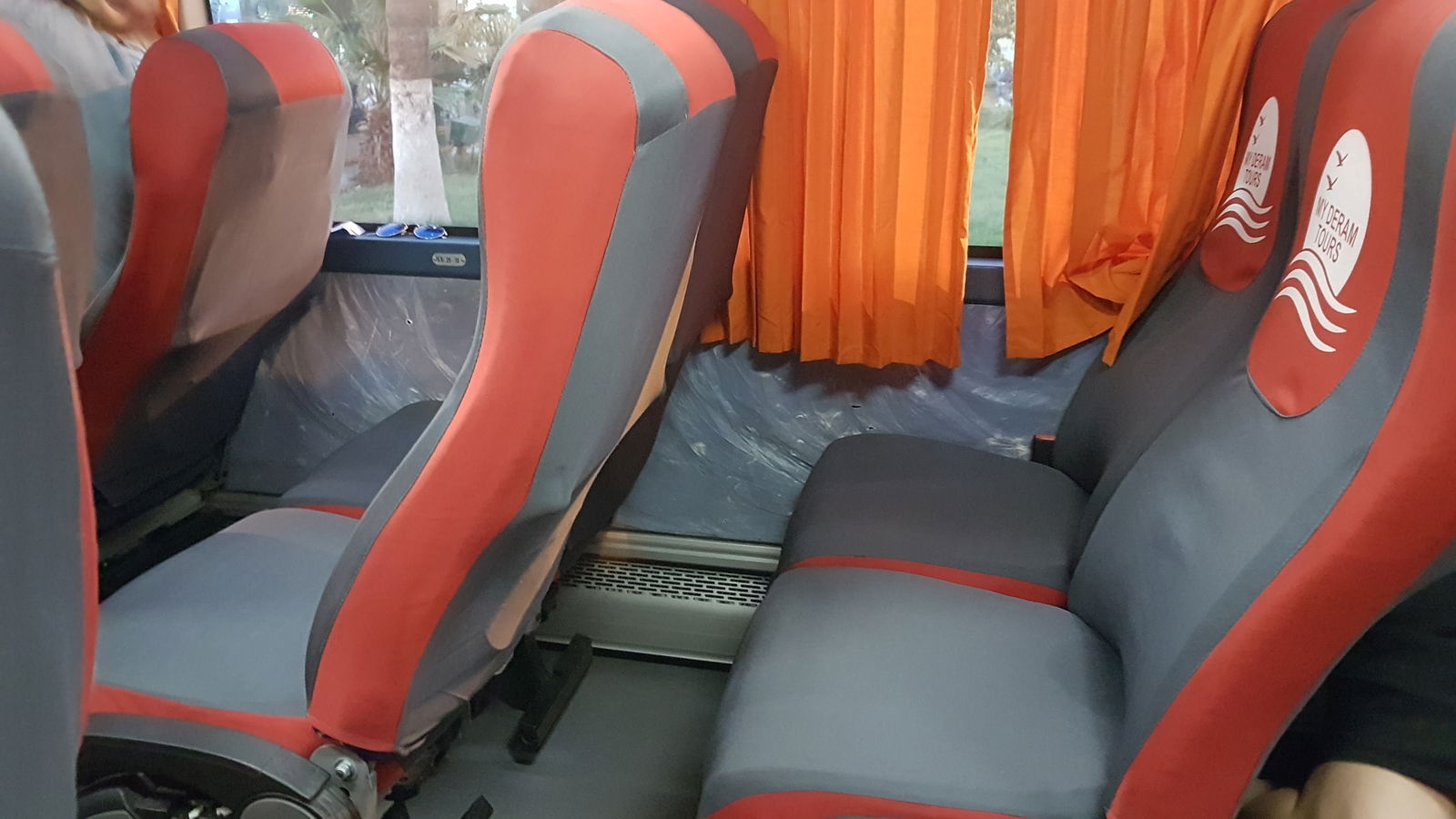 I can nap anywhere at anytime, even on a 45 minute flight, but can't sleep sitting up for more than about 30 minutes at a time, so it's pretty restless sleep. So I did manage to pass some of the time napping, but was awake for most of the journeys.
Here's what I learned in all those hours on that bus.
The advantages were:
The seats had a deeper recline than a standard airplane economy seat
There was a bathroom on board, so we didn't need to stop every 90 minutes for bathroom breaks
We did make a few stops along the way, where we could get out of the bus and properly stretch our legs (I could have gone for a run around the block if I'd wanted, which you can't do on a plane)
The views out the window were more varied than a long flight
But the downsides were:
Very limited legroom, less than the tightest airplane seat I had ever experienced — I would estimate it was around 28″ – 29″; I'm 6'0″ and my knees were pushed into the seat in front the whole time
The tray table and seat pocket had been covered with an additional seat cover so couldn't be used
The roads were so bumpy I would constantly be woken up when napping by a violent jolt
No seat back entertainment, so when movies were played on the two screens in the bus the sound was loudly played over the bus speakers; even though I didn't watch Pitch Perfect 3 because I was trying to nap, I can tell you the entire plot (which could be written on a postage stamp)
Buses often drive more slowly than normal cars, so estimations of travel time on, say, Google Maps are not accurate
If the seat in front was reclined I could almost touch it with my nose, and certainly couldn't use a laptop
No food served on the bus, so we were limited to eating convenience store snacks which other than water were mostly junky crisps, chocolate, soft drinks, etc.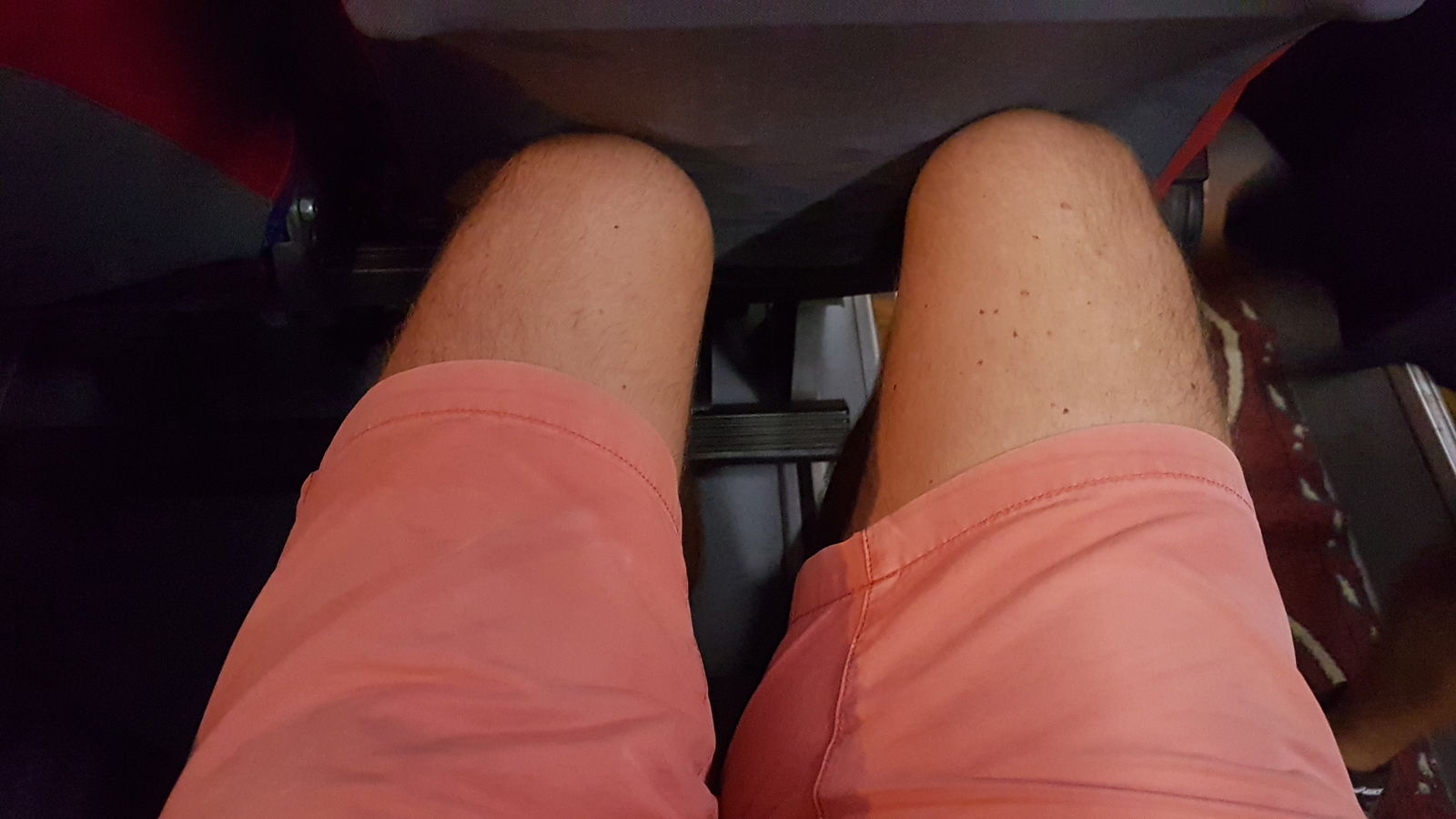 The last medium or long haul economy flight I did was on Norwegian from London to Boston about 18 months ago. The plane was new and clean, the seats fine, the IFE excellent and you could order any food or drinks from the seat back screen at any time and they would be promptly brought to you. It's only about a 6.5 hours flight but the time 'flew' by.
I enjoyed the flight, walked off feeling great, and would not hesitate to recommend it to anyone.
But these bus rides have been hell.
I emerged from each long one feeling dirty, sweaty (even though the bus did have working air conditioning), tired and very irritable.
I would rather take a long haul flight in economy, than take another of these long haul bus journeys. At least on a flight there's proper food served to you, you can nap without being regularly woken up (assuming there's no turbulence), and walk decent distances up and down the aisle to stretch your legs.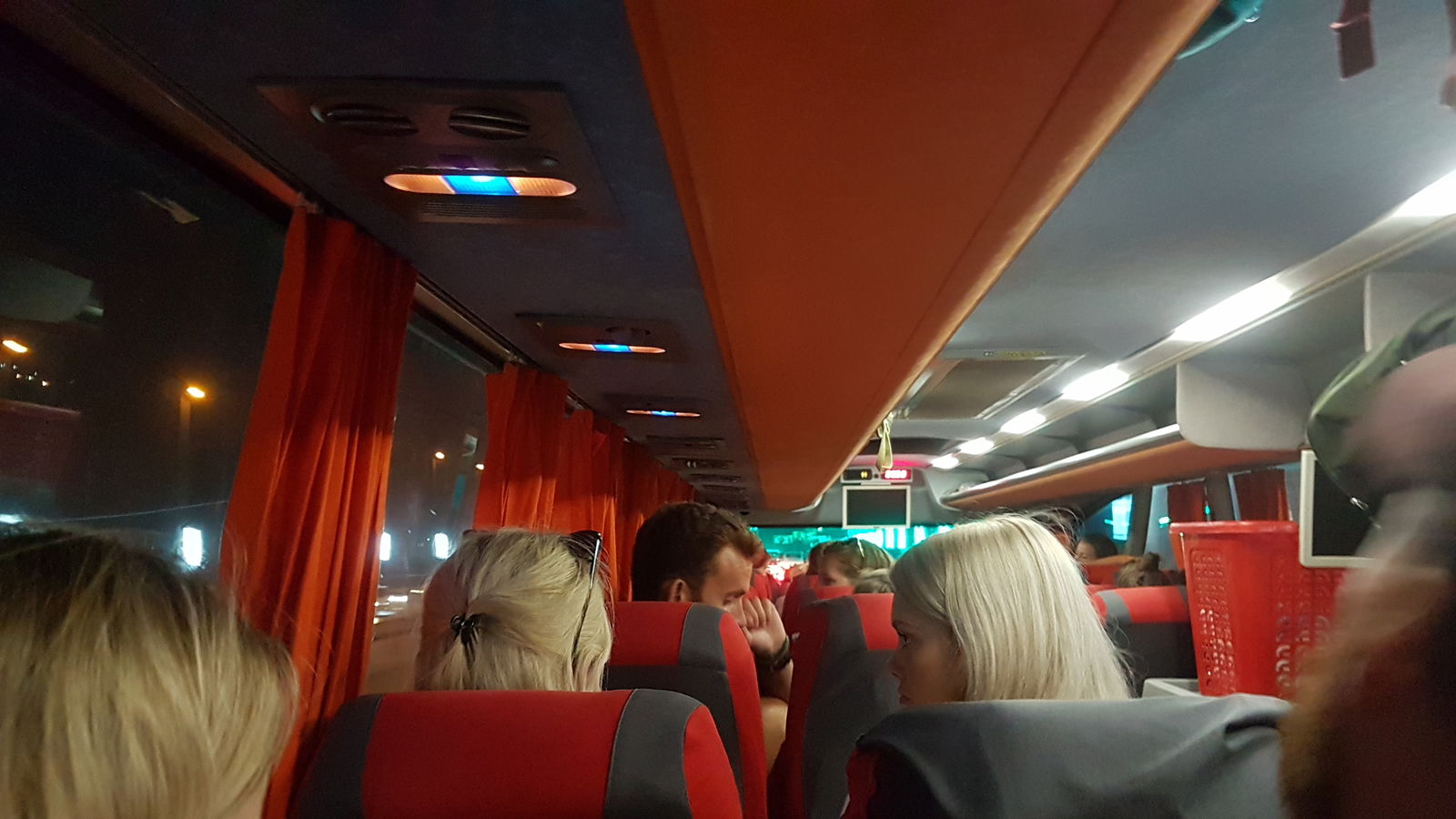 So what does this have to do with savvy traveling?
I realise many of you would be reading this saying 'this is exactly why I fly rather than take a bus.' So here's where I got creative and solved this problem.
On Saturday night we had a meeting for the next part of the tour. All we knew beforehand was that we were driving from Cairo to Dahab the following day and on the map, it was a fairly long distance.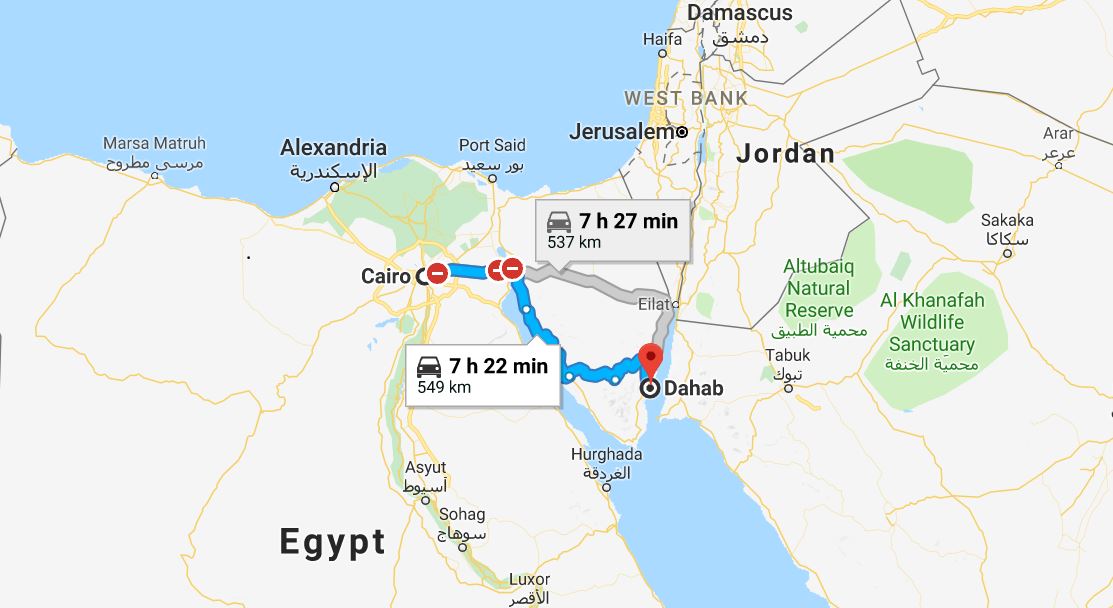 At 9pm that evening, our tour leader told us that the next morning we would be indeed driving from Cairo to Dahab.
It would take the bus around 10 hours (with the odd stop to stretch legs). And we would depart at…
3am.
There was a loud gasp from the 40+ attendees in the room with several people asking if the tour leader was actually serious. He assured us that he was and that it was necessary to have some time left in the day to do activities in Dahab. We did enquire as to whether anyone would want to do any activities after little sleep and a horrendous bus ride but he assured us that 'once we were there we would change our minds.'
My partner and I look at each other in horror, both immediately reached for our phones and searched Google Flights to see if we could fly instead, to avoid the ungodly early start. Noting this was only about 12 hours in advance we were surprised to see that last minute fares were affordable given the circumstances. Unfortunately EgyptAir does not allow online bookings less than 24 hours in advance (does anyone know why?) so we had to go with the slightly more expensive Nile Air.
It was around US$100 for a ~1 hour flight the following day. I can tell you exactly how much I now value my time – $10 per hour, so $100 to save 10 hours of hell was a price I was willing to pay.
Within an hour we had booked a flight on Nile Air from Cairo to Sharm El Sheik, a very short flight but that would put us almost at Dahab (there was then a 45 minute hotel transfer from Sharm to Dahab).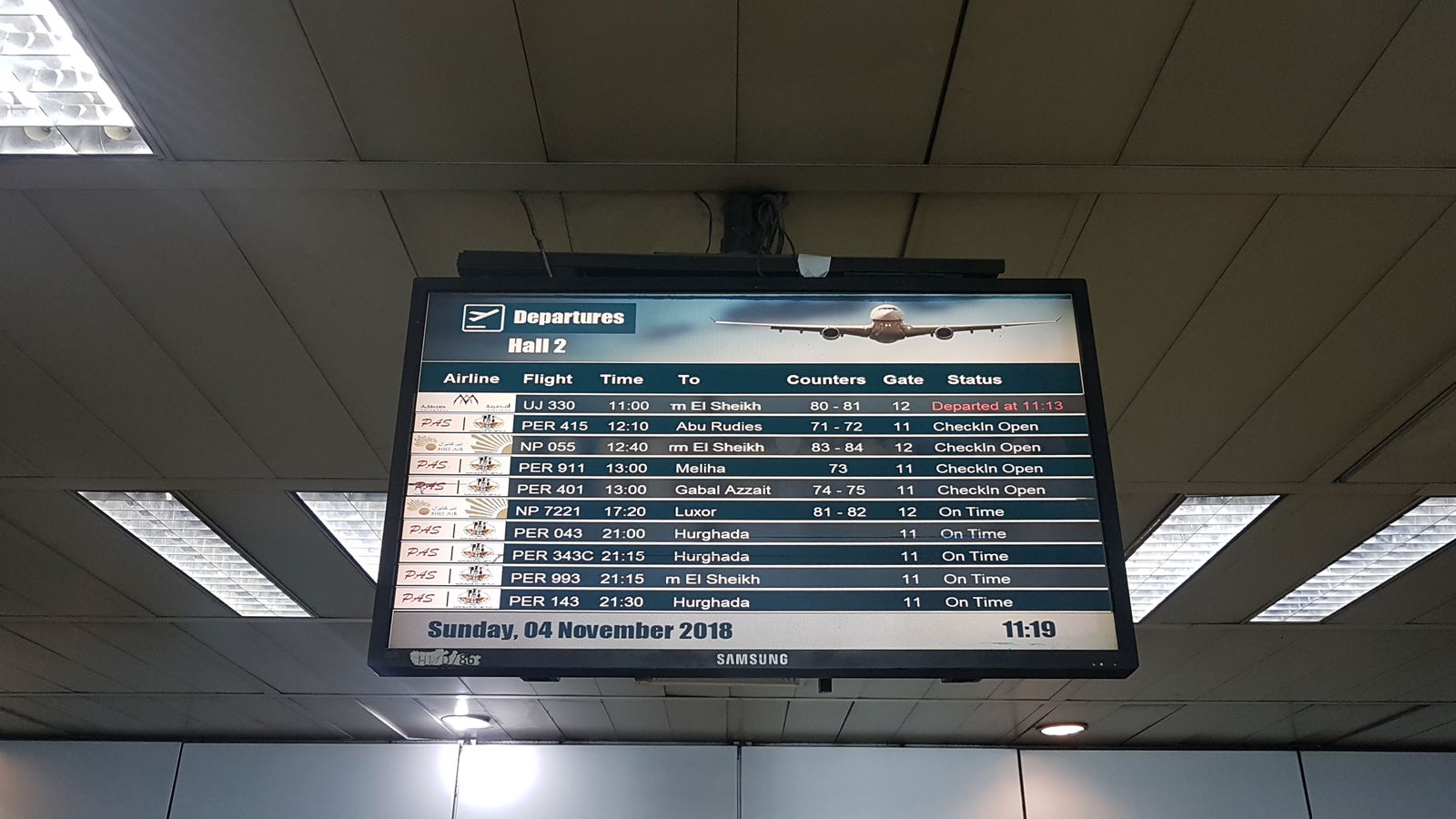 The flight was perfect (I'll be writing about my surprising experiences at Cairo airport in a separate post), and after waking up six hours after the bus group did, we arrived in Dahab only about an hour after they did. When we walked into the Dahab hotel, the group was about to leave for their afternoon activities and said to us 'how did you get here? You weren't on the bus?!'
We somewhat sheepishly admitted we had flown, and I asked about how the bus ride was to which they replied 'don't ask.'
Had the bus ride commenced at, say, 7am so we could have a decent night's sleep beforehand, I may have sucked it up and taken the bus. But I was especially annoyed being given less than seven hours warning about the pick-up time, especially since this was feedback we had already provided the tour company. We were also expected to attend a group dinner after the meeting, which many of the group simply bailed on last minute given they would only have a few hours sleep before the early wake up.
I did discuss the flight option we found with those who were still up and about after the meeting, but most had gone to bed immediately after realising how early they needed to be awake.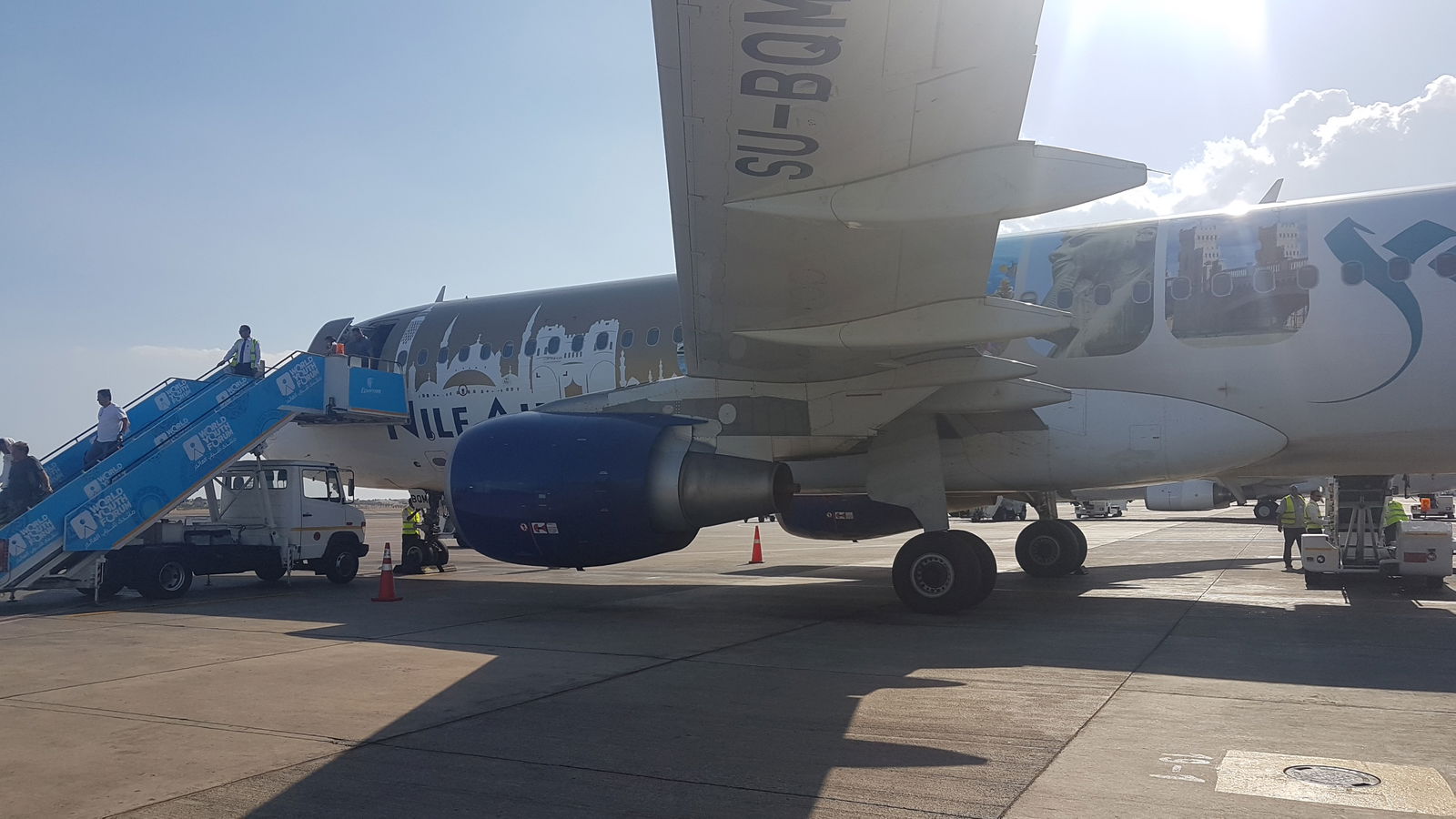 Bottom line
I have been avoiding long haul economy flights as much as I can since discovering this world of miles and points, and going the extra 'mile' to secure premium seats now that I know how to do it.
But after the horrendous bus rides, suddenly a 13 hours Singapore Airlines economy flight doesn't seem so bad. I've certainly learned a lot about what I enjoy and don't enjoy moving from one place to the next. I'm not sure I'll be doing another group tour anytime soon, as I am too old and grumpy to handle another bus ride like the ones I've had the last few weeks, especially if it involves waking up so early.
As much as there's a fair bit of stuffing around getting to an airport, getting through security, delays, etc., yesterday was a dream and I wouldn't hesitate to book a last minute cheap flight to avoid a long bus ride. The money spent was absolutely worth it.
Presumably there are super luxury coaches with wide seats, excellent leg room, meals served on board, etc. Has anyone taken one of these? Are they like premium economy on a plane?
Would you rather take a long haul bus ride or a long haul economy flight?