Reader C Diddy asked the following question on the "Ask Lucky" page of the blog:
Hi Lucky,

How much time do you leave yourself on a layover between a positioning flight and an international flight booked separately? I'm flying LAX-AUH shortly, and need to book my positioning flight from DEN. I get nervous that if something goes awry on the positioning flight, I might miss the long-haul. Just looking for some guidance on what you typically are comfortable with. Thanks!
It's a question I get asked in one form or another on a daily basis, and there's not a single right answer, since there are tons of variables:
Are you connecting at an airport notorious for delays (JFK, SFO, etc.)?
Are you connecting during a time of year that's prone to inclement weather (potential for snowstorm, thunderstorm, etc.)?
Are you connecting on a reliable airline/plane (for example, I'd feel safer booking a short connection with a Singapore A380 in SIN than with an American ERJ out of JFK)?
How important is it that you get to your destination when you're scheduled to (if you need to make a cruise the same day, for example, it's much more important than if you're spending two weeks at a resort close to your arrival airport)?
How complex is the award ticket (if it's one segment New York > London, I wouldn't be as concerned as if it were New York > Los Angeles > San Francisco > Hong Kong > Singapore > Colombo, all with short connections, because the rebooking process process would be much more challenging)?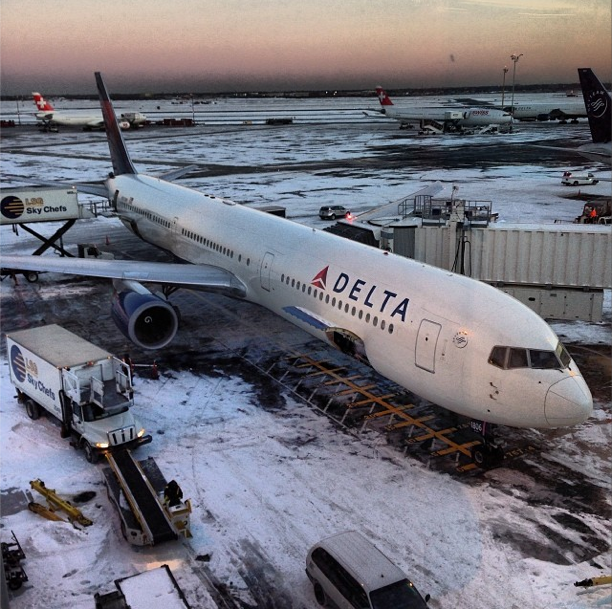 When it snows at JFK Airport, all bets are off!
My general rule of thumb — assuming I'm not checking bags — is to leave at least two hours or double the minimum connection time (whichever is higher) for the airport if connecting on a separate ticket. I mention both because minimum connection times vary wildly. For example, in Helsinki the minimum connection time is as little as 20 minutes. Conversely, at New York JFK if going from Terminal 7 to Terminal 8, the minimum connection time is two hours, so I'd leave double as long to be on the safe side.
It's also worth noting the difference in policies that many airlines/alliances have if you're connecting from a separate ticket. For example, oneworld is the only alliance that will "protect" you in the event that you misconnect from a separate ticket, assuming both tickets are for travel on oneworld:
Changes to itineraries for passengers holding separate tickets:

AA to/from Non- oneworld® Carrier
Schedule Irregularity procedures and AA Conditions of Carriage do not apply to separate tickets purchased by the customer as part of their journey.  Example: customer holds a ticket from ABQ-ORD-ABQ on AA (001 ticket stock) and a separate ticket on another carrier for continuing travel from ORD.  If the AA flight is late or cancelled, AA has no responsibility for onward travel on a separate ticket for travel on a non- oneworld carrier. Advise customers who may be affected that they will need to work separately with the other airline for assistance.

AA to/from AA or a oneworld® Carrier
If a customer is holding separate tickets on AA or another oneworld carrier, customers holding separate tickets where travel is on oneworld airlines should be treated as through ticketed passengers. In the event of a disruption on the originating ticket, the carrier responsible for the disruption will be required to reroute the customer to their final destination. The ticket stock of the second ticket must be of a oneworld carrier, eligible under the Endorsement Waiver Agreement. You may contact AA Reservations 1-800-433-7300 (U.S. and Canada) or outside the U.S. and Canada, reference Worldwide Reservations Numbers for additional information if the separate ticket is for travel on a oneworld carrier.
Now this isn't relevant in C Diddy's case specifically, since Etihad is an American partner but not a oneworld member. But it is generally good to know, since I've had situations in the past where I've booked revenue tickets to London on American, and then Avios connections on British Airways with relatively short layover times, knowing that I'd be "protected."
But even if there isn't an official policy to protect passengers in the event of a misconnect, I find that most airlines are still fairly good about helping you out if you missed your flight due to a late inbound, even if it wasn't on them. Keep in mind that in some cases there's only so much the airlines can do. For example, if you redeemed US Airways miles for a Star Alliance award before they joined oneworld and have four Star Alliance carriers on your award, the rebooking process wouldn't be pleasant, to put it mildly.
Hopefully that answers the question in a really roundabout way, because I don't really think there's a "one size fits all" answer.
How about you? How much time do you leave when connecting from separate tickets?