Avianca's LifeMiles program is one of the most popular for Star Alliance premium cabin redemptions, given that they frequently sell miles at a discount.
LifeMiles award chart devaluation as of March 1, 2016
LifeMiles sent out an email today with the subject line "Changes in Avianca's redemption fares." Ruh-roh, I was bracing for the worst, given that LifeMiles is a great mileage currency for booking Star Alliance premium cabin awards. Presumably a vast majority of LifeMiles redemptions are for travel on Star Alliance partners, so you'd assume that's what their devaluation would be targeting.
However, I was relieved when I read the content of the email (bolding mine):
To maintain a reasonable relation between the miles we charge for redemptions and the commercial fares available in the market, adjustments are necessary at times.

In this occasion, we are announcing changes to our redemption fares for flights with Avianca. With these changes, some destinations will require more miles and others will reduce the amount of miles required. Some routes will not have variations.

These changes will be effective on March 1st, 2016.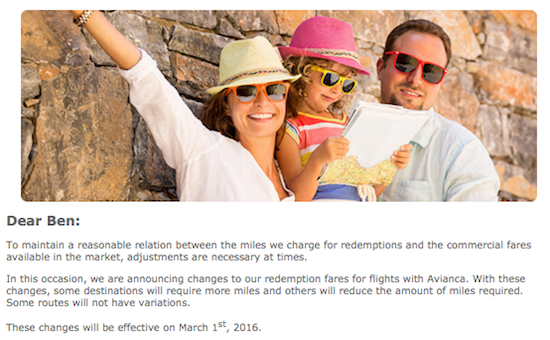 Whew, it seems like redemption rates will only be changing for flights on Avianca.
The email links to this page, which gives some examples of the new redemption rates: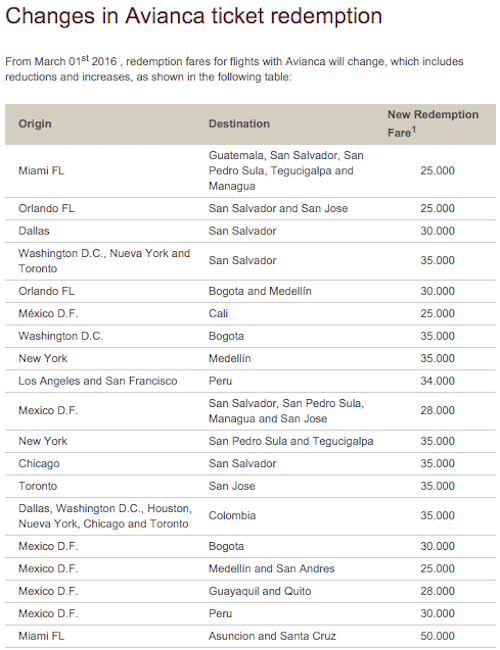 The following terms & conditions are listed below the table:
The table shown above should be used as an illustrative example only; it's intention is to summarize the amount of miles that will be required per region for the "X" class in economy cabin. The amount of miles required for a ticket redemption is calculated based on a specific origin and destination and it might happen that they do not match the amount of miles shown on the table above, the number could be higher.
The amount of miles required could vary depending on the date, route and redemption product.
To know the exact amount of required miles for each origin and destination, it will be necessary to consult the miles amount through the redemption system at https://www.lifemiles.com/eng/use/red/dynredpar.aspx
The amounts listed by the redemption system shall prevail over those shown on the table above.
The terms suggest that award rates could be variable, whereby the number of miles required varies based on the date, time, etc. This isn't really anything new, as LifeMiles has had variable award costs for travel on their own flights for a while.
This also means that we don't know exactly how much award costs will change. While LifeMiles gives examples of the new award rates, they don't actually have a chart.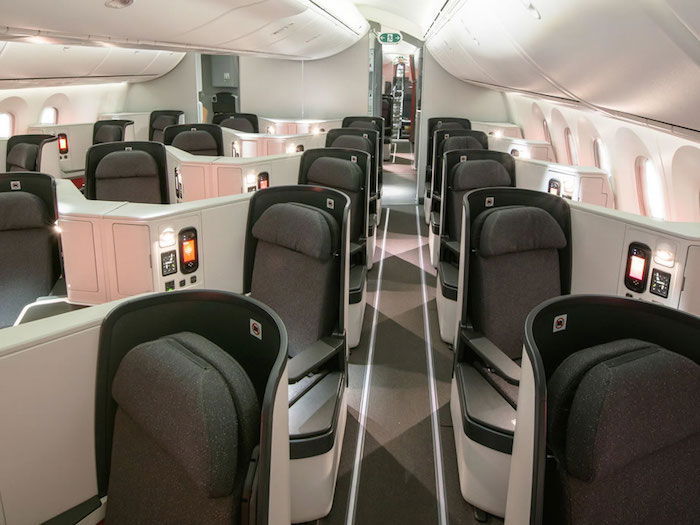 Redemption costs for travel in Avianca's business class are changing
What this devaluation tells us about LifeMiles
At first I was surprised that LifeMiles isn't devaluing their Star Alliance chart, though after thinking about it I totally get it.
I would generally assume that most people buying LifeMiles are using them for Star Alliance partners, while many (most?) people earning LifeMiles through flying and/or in their home markets are redeeming them for travel on Avianca.
LifeMiles devalued their Star Alliance award chart last year, and also raised the cost to purchase miles.
The fact that they're only devaluing redemption rates on Avianca suggests that the combination of last year's devaluation and increase in the cost to purchase miles may have been an overkill. Clearly not as many people are buying LifeMiles as they're hoping, which is only reinforced by them constantly increasing the bonuses they're offering on purchased miles.
They used to offer at most a 100% bonus on purchased LifeMiles, while nowadays they're sometimes offering a bonus of up to 135%.

Bottom line
While we don't know the extent of the devaluation, the good news is that it's limited to travel on Avianca. This suggests that LifeMiles may have overdone the last devaluation/increase in purchased miles, so they're not reaching their goals there anymore. That's good news for us.
What do you make of the LifeMiles devaluation exclusively for travel on Avianca?