I'm having a bit of a whirlwind travel week, which is a polite way of saying that I planned my week very poorly.
Living in hotels has its advantages in theory, though this probably isn't one of those weeks, as I'm literally planning my stays day-by-day.
Why? Because if I actually flew the flights I had booked over the course of eight days, it would look like this (and that's all due to legitimate commitments and not mileage runs):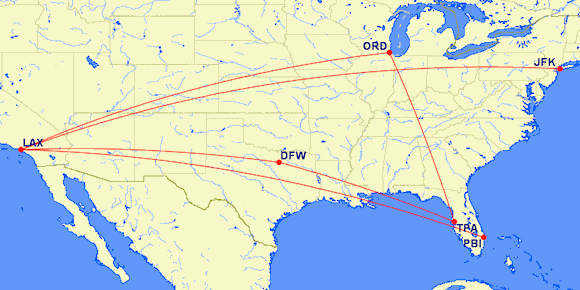 I woke up yesterday morning at the Grand Hyatt Tampa, which is sort of my home hotel. The staff there are top notch and slowly becoming like family, and while it might just be a really nice airport hotel, it sorta feels like home to me.
I was looking at hotel options for last night and noticed the new Le Meridien Tampa. It had its soft opening yesterday, June 16, 2014. At a rate of $119 it seemed like a great option.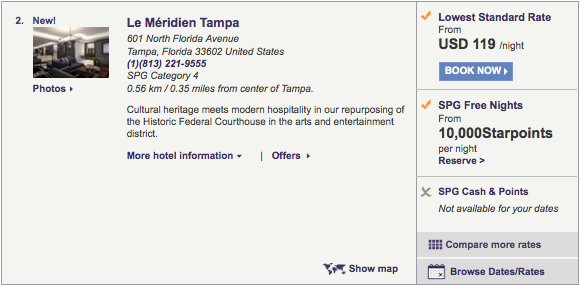 Le Meridien Tampa rate
I took to Twitter to ask if anyone had stayed at a hotel during a soft opening, and several people responded saying to avoid it as it tends to be pretty chaotic.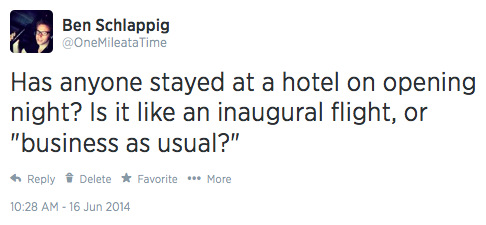 But I didn't listen.
Not that I didn't trust the advice, but rather thanks to the blog I don't have any "skin in the game" — a comically bad stay is probably more interesting to you guys than a flawless stay. I mean, of trip reports in the past few months, which did you enjoy more — my billionth Lufthansa review, or my "one of a kind" China Southern first class experience?
To be honest I came into the stay expecting I'd basically be "taking one for the team" for the purposes of entertaining you guys.
My gosh, was I wrong.
I'm still at the hotel, but this hotel has quite possibly exceeded my expectations more than any hotel I've stayed at in a long time. I'm not sure why, but I came in with low expectations, and couldn't have been more wrong.
Let me take this in sections.
Le Merdien Tampa is a transformed federal courthouse
I live in chain hotels… which is ironic, because I hate "cookie cutter" hotels.
On one hand it's comforting to have a similar environment no matter where in the world you are, but nothing beats a property with a bit of a kick.
Tampa is on the whole a pretty crappy hotel market, but my gosh, the Le Meridien Tampa is one of the coolest hotel concepts I've seen anywhere. It's a converted federal courthouse which is over a century old. From the outside it just looks so unique, unlike any other chain hotel you'd find in the US.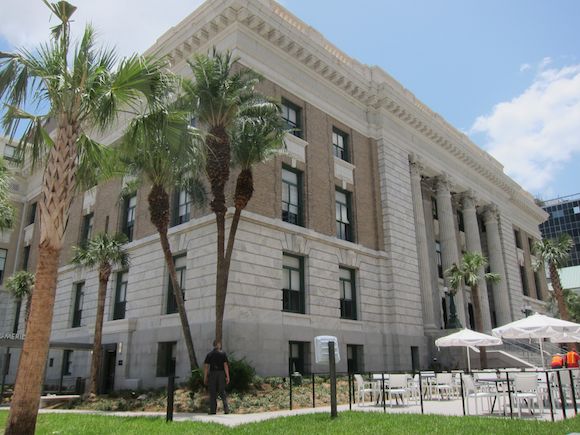 Le Meridien Tampa exterior

Le Meridien Tampa exterior
They manage to mix the historic exterior with a really awesome, modern interior.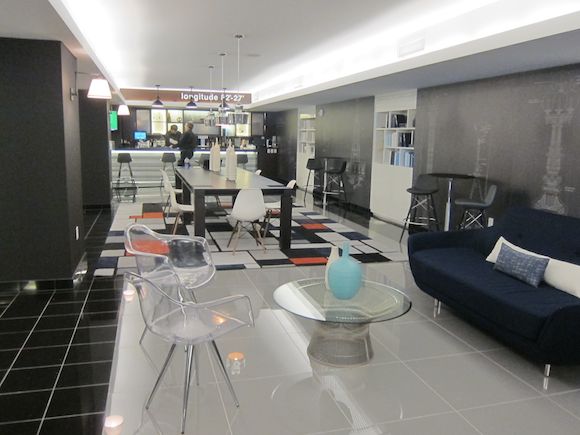 Le Meridien Tampa lobby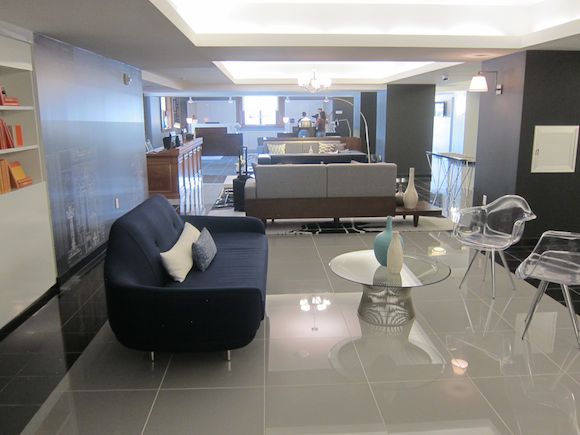 Le Meridien Tampa lobby
And the coolest part of it all is that they manage to make the interior modern while still keeping some "original" touches. Like seriously, check out how awesome the bathroom door is in the restaurant.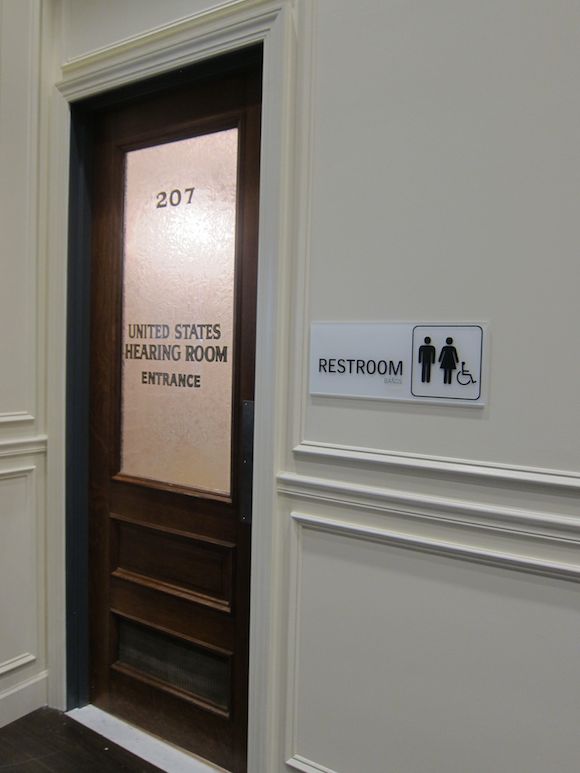 Le Meridien Tampa preserved bathroom door

Then check out the hotel hallways, which are also original.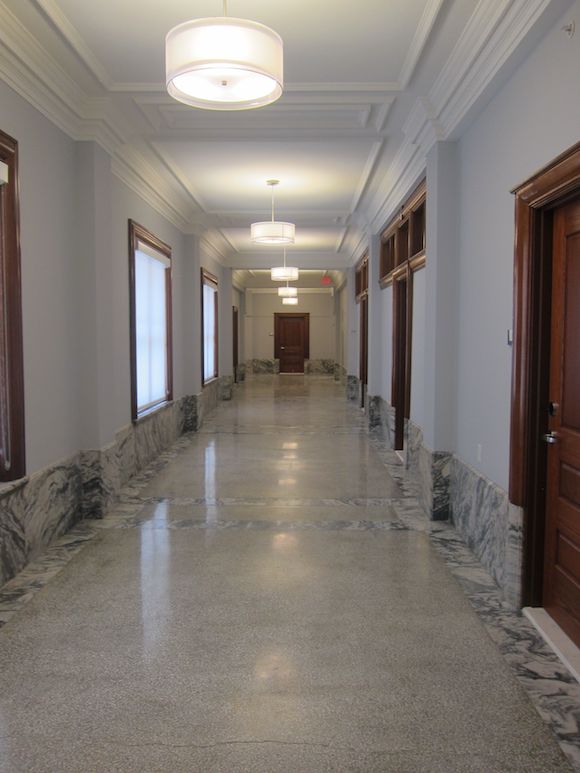 Le Meridien Tampa preserved hallways
Seriously, how awesome is that?!?!
We'll get into the rooms below, but I just can't say enough how much I love this concept. I wish more chain hotels were this unique, because it's great to get the benefits and consistent experience you're used to, while being in such unique surroundings.
Le Meridien Tampa rooms
This is a very soft opening, so not that many of the rooms are finished yet. I was assigned an executive room with a nice view.
The room was just perfect.
I love the mix of old and new in this hotel, because from the inside of the rooms you'd never guess what the exterior of the hotel or hallways look like.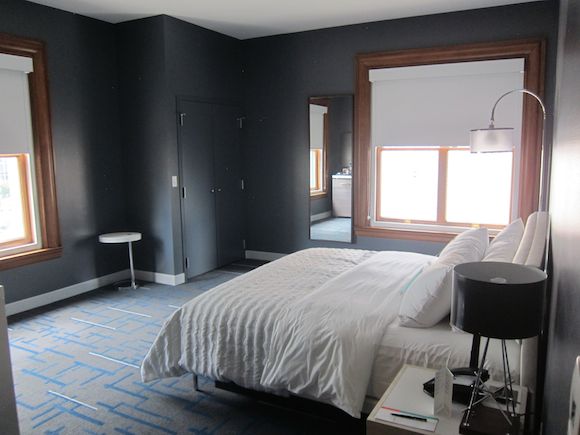 Le Meridien Tampa executive room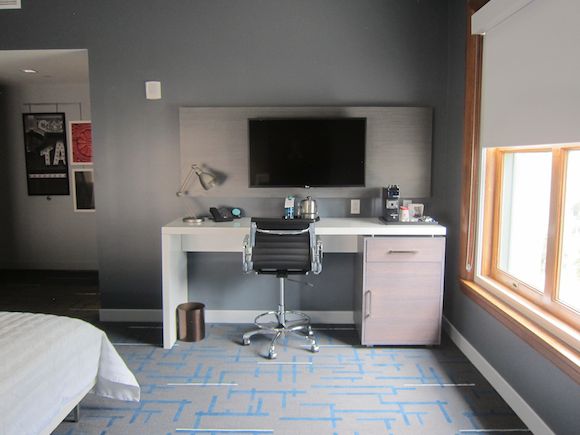 Le Meridien Tampa executive room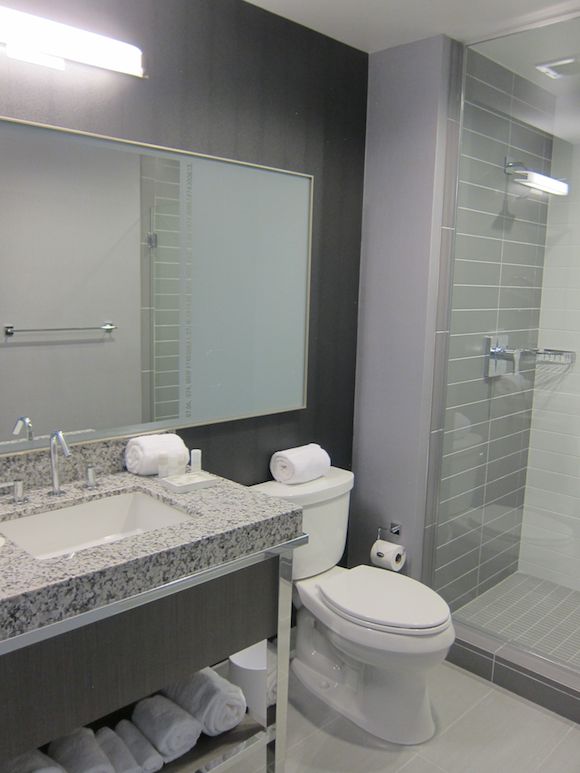 Le Meridien Tampa executive room
Le Meridien Tampa soft opening experience
So what's it like being the first guest to ever check into a hotel?
I arrived at the hotel at around 1PM, and was immediately greeted by the front office manager. He was super nice, and apologized that they weren't quite "handed over the keys from Starwood yet," but assured me the system would be "live" by 3PM.
He introduced himself, explained a bit about the hotel, offered me a drink, and invited me to take a seat. He also said there would be goodies for staying the first night, like bonus Starpoints — woohoo! I asked if the restaurant was open yet, and he explained that it was open and on the second floor, so I headed up there for lunch.
While the lobby was more or less empty, the restaurant was happening, with dozens of diners, presumably all non-hotel guests.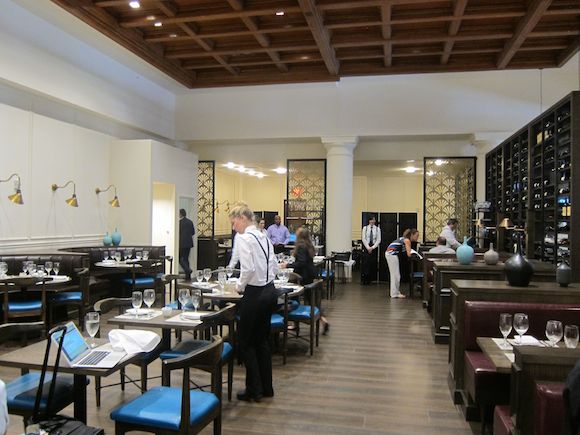 Le Meridien Tampa restaurant
Lunch was great, but best of all had to be that it was free for everyone!
When the meal was done the manager came by each table to explain that it was their soft opening and thanked everyone for checking out the restaurant, and just asked that we "take care of his servers."
Who said there's no such thing as a free lunch? 😉
I had a salmon flatbread with salad, and per the server's insistence, the blueberry cheesecake as well.
I might not be an expert on fine dining, but I'd like to think I know a thing or two about desserts, and this was hands down the best cheesecake I've had. Ever.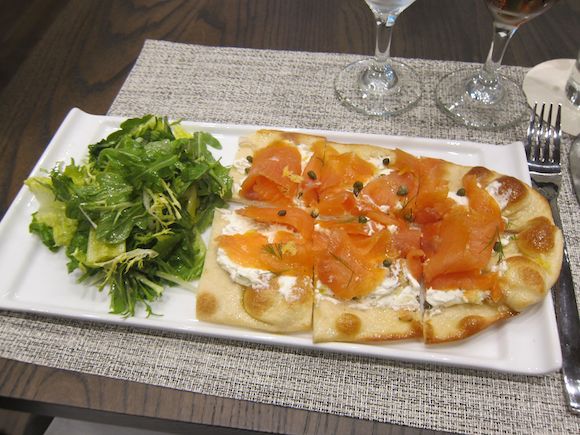 Le Meridien Tampa lunch
Service throughout the meal was comically good. It was more attentive than I've even ever had in Singapore Airlines first class. I'd have a sip of water and a server would be by to top off my glass. I'd have another sip and the same would happen again.
It was just hilarious.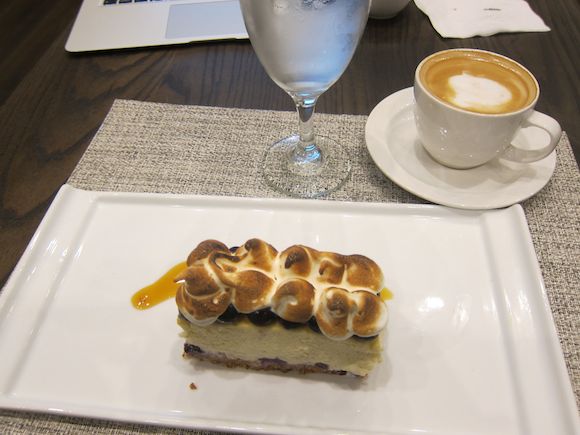 Le Meridien Tampa lunch
After lunch I headed back down to the lobby, where I met another front desk associate, Evanlee, who said the computers should be up any minute.
Secretly I figured I might as well make an effort to be the first person to check-in (why not?) so stuck around the front desk. Sure enough, at around 2:40PM she processed my check-in.
And it was one of the most amusing and by the book check-in experiences I've had. It was so funny because there were two people watching over her shoulder as she did it, and I had a hard time keeping a straight face. She processed the check-in as "by the book" as a flight attendant would do a safety demonstration. She was awesome.
A few minutes after I got to the room I got a call from the general manager welcoming me, and then a few minutes after that I got a call from the front office manager asking how the room was.
Then a few minutes after that the front office associate that had checked me in came to my room to "personally deliver" a welcome amenity.
At check-in she had asked me how lunch was, and I said it was excellent, especially the cheesecake. I also mentioned that all the pastries looked ridiculously amazing. So while I sure as hell wasn't going to touch any more sweets for the day (I had already more than met my quota), I thought it was such amazing attention to detail that she'd bring me some as a welcome amenity.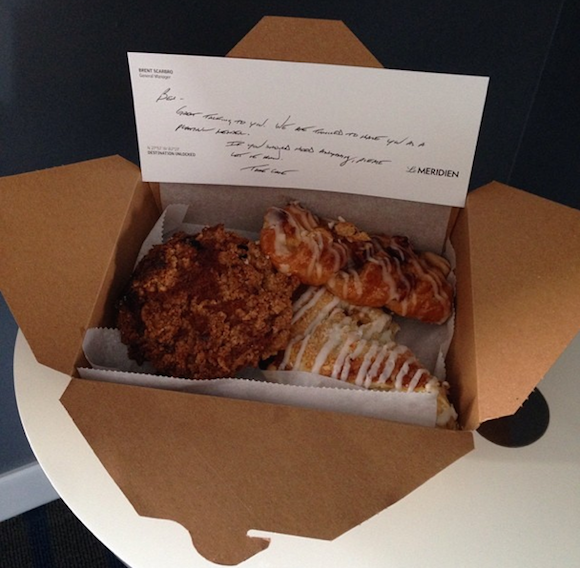 Le Meridien Tampa welcome amenity
Bottom line
I'm blown away by the Le Meridien Tampa.
The hotel itself is gorgeous — I just love how unique it is, and that they managed to convert a historic landmark into something so modern yet authentic.
And the service really impressed me.
There were some hiccups. Not everyone knew everything, as you'd expect the opening day.
But they all just seemed so damn excited to be at the hotel, and despite it being the first day, really went above and beyond to make the handful of guests feel at home. And for avoidance of doubt regarding getting special treatment due to being a blogger, I made this booking 30 minutes before I arrived.
If I'm being honest, my only complaint is that the hotel is in downtown Tampa. I know this appeals to some business travelers, but having lived in Tampa for over a decade I can say that downtown Tampa is about as exciting as downtown Cleveland…