New York to Los Angeles/San Francisco is one of the most competitive markets in the US. American, Delta, JetBlue, United, and Virgin America, all operate flights between those cities. If you're planning in advance there are typically opportunities to score good deals on premium cabin tickets. Often business class fares start at ~$600 one-way, which is pretty good for a fully flat seat on a six hour flight.
If booking flights between New York and Los Angeles way in advance I think the best option is paying for Mint on JetBlue and snagging one of their suites, which feature doors. While the ground experience is lacking, JetBlue has the best food and service in the market, in my opinion.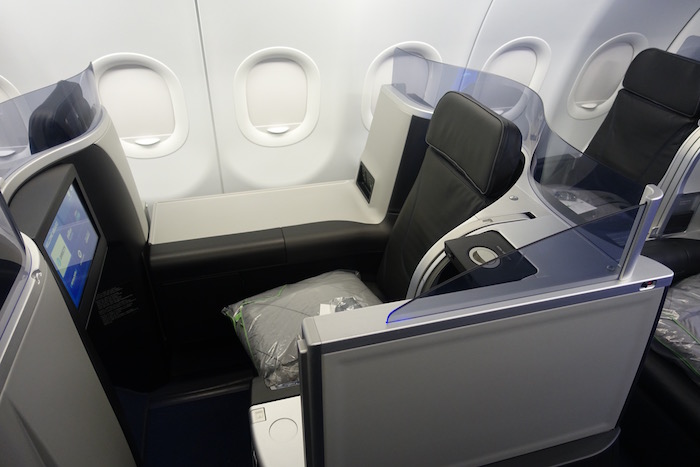 But I'm sure I'm not the only one who books tickets in this market last minute with some frequency, and finds myself frustrated.
My former go-to for last minute transcon tickets
Back in the day the best way to redeem miles last minute between New York and Los Angeles was in American's A321 first class. American used to release tons of last minute first class awards, and they could be booked for 32,500 American AAdvantage or Alaska Mileage Plan miles one-way. I'd consider that to be an exceptional deal.
Unfortunately American has gotten really stingy with award availability nowadays, and they'd rather let an A321 first class cabin go out empty than to have people redeem miles at the saver level. So this is no longer a consistent option. Furthermore, Alaska miles can't be redeemed for American A321 first class in this market anymore.
What options does that leave?
Unfortunately this really limits options for those looking to redeem miles for business class last minute. That's because:
American, Delta, and United all make very little saver level first & business class award space available last minute
JetBlue has a revenue based frequent flyer program, so the number of points required will reflect the typically high last minute cost of a paid ticket
But there's some good news. Virgin America releases quite a bit of last minute first class award space, and Alaska Mileage Plan has access to those seats at the cost of 25,000 miles one-way.
Now, availability isn't perfect. However, unlike the other carriers, there is pretty consistently first class space within a week of departure. On any particular day you should see at least a couple of flights with availability at 25,000 miles each.
Now, Virgin America's first class isn't quite on par with what the competition offers. The soft product is roughly comparable, and they have good food and service. However, while all other airlines are offering flat beds in the market, Virgin America offers recliner seats. They're considerably more comfortable than what you'd usually get in domestic first class.
Ideally I'd avoid these on a redeye, but for a daytime flight this is a great option.
Acquiring Alaska miles
As people will correctly point out, Alaska Mileage Plan doesn't have many transfer partners; of the big four currencies, their only partner is Starwood Preferred Guest.
However, Alaska does frequently sell miles, and the bonuses can be as big as 50%. For example, at the moment there's up to a 50% bonus on purchased miles, which is an opportunity to pick them up for as little as 1.97 cents each.
Alaska doesn't charge any sort of close-in ticketing fees, so if you're acquiring miles at ~1.97 cents each, you're paying just under $500 including all taxes for a one-way transcon first class ticket.
Why don't I just book economy on American and upgrade?
Another logical follow-up point is "aren't you Executive Platinum with American? Why don't you just fly American and upgrade?"
I am indeed an Executive Platinum member with American, so am technically entitled to complimentary upgrades. However, upgrades on American's transcon flights are becoming incredibly difficult. Beyond that, the last minute economy fare is about ~$450.
For example, I flew from Los Angeles to New York today on American, and there were 24 people on the upgrade list at the gate (there are only 72 economy seats). The only reason I cleared is because I redeemed a Business Extra upgrade certificate, and I booked my flight when I saw there was a confirmable upgrade seat (which is rare).
So I can pay ~$450 for economy with a small chance of an upgrade, or I can pay an extra $50 and just confirm first class last minute.
Remind me why I bother with loyalty anymore? 😉
Bottom line
I'm not suggesting the above is the ideal strategy for booking transcon flights. Instead my point is that if you are in a position where you need to book last minute, and if you value the benefits of a premium cabin, then redeeming Alaska miles for travel in Virgin America first class is a great deal.
I view this as paying ~$500 for a last minute one-way ticket from Los Angeles/San Francisco to New York/Washington/Boston, and I'd consider that to be a solid option, given that economy is often only marginally less.
Again, my goal is usually to book in advance, but often scheduling issues prevent that, in which case I'm thinking this is the best strategy to take. I'm going to buy some more Alaska miles for the purposes of taking advantage of this in the future.
Anyone else appreciate the value of redeeming Alaska miles for last minute transcon travel in Virgin America first class?