As I first wrote about several weeks ago, La Compagnie is offering a one year "all you can fly" business class pass. The pass is on sale as of today, and is supposedly only available for up to 10 people. As a reminder, La Compagnie is the French all business class airline that operates flights between New York and Paris as well as New York and London.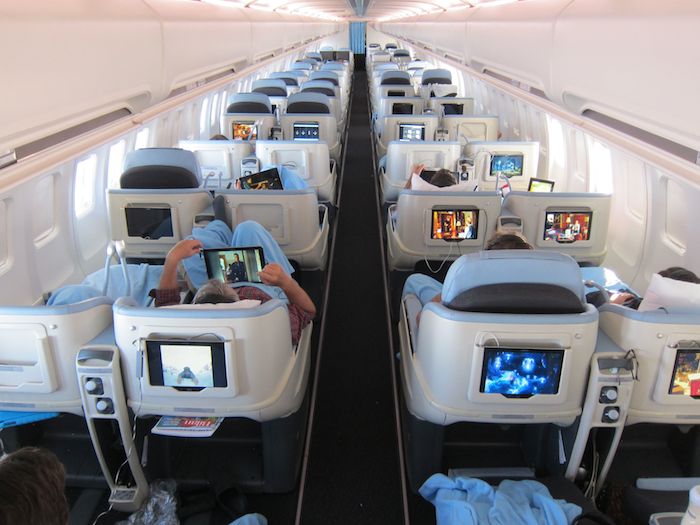 La Compagnie's L'Unlimited Pass
Exclusively between July 21 and July 30, La Compagnie is selling unlimited flying on them for a year at the cost of $35,000. The pass is only valid for the first 10 people who purchase it, and you can start the process of purchasing a pass by calling them at 800-218-6820.
Here's how they describe the offerings:
To recap the basic details:
The pass is on sale July 21 through 30, but only to the first 10 buyers
The pass is good for a year from the date of your first flight, though will expire no later than December 15, 2017
There are no capacity controls (as long as a seat is available, a pass member can catch a ride)
You can only reserve up to two roundtrips at a time
If you don't cancel more than three hours before a trip and no show, you'll be charged $2,500
You earn points in La Compagnie's loyalty program for flights you take
You can find the full terms & conditions of the deal here.
Is unlimited business class flying for $35,000 a good deal?
La Compagnie is known for their cheap business class fares. For example, at the moment they have promotional fares of as little as ~$1,400 per person for roundtrip business class between New York and London. Here are the deals at the moment:
Two business class seats between New York and London for $2,790
Two business class seats between New York and Paris for $2,990
It's worth noting that these aren't walk-up fares, though. If you're planning more last minute, the fares may be $5,500+ roundtrip (in those instances I probably wouldn't choose to fly La Compagnie, though).
To break it down, you're basically paying $670 per week for such a flight pass. If you fly transatlantic every single week (shockingly there are some people who do that), it's an incredible deal.
If you fly every other week, you're still paying only ~$1,340 for roundtrip business class, which includes if you're planning last minute.
If you fly every three weeks, we're getting closer to the breakeven point of this deal, as you'd be spending ~$2,000 for each roundtrip. That's probably a bit more than you would otherwise pay if planning well, though this pass has the advantage of allowing you to book very last minute, in which case you'd otherwise end up probably paying significantly more.
Bottom line
This is a unique offering on La Compagnie's part, and I'd be very curious to know if they sell out. Unfortunately I doubt we'll actually find out, given that they probably won't make it public. Something tells me they'd be willing to sell a lot more than 10 of these passes if the interest was there.
For the right person this can represent a good deal, given that you can plan last minute travel between New York and London/Paris using this offer. However, for those of us who plan in advance and don't exclusively travel between the above cities, this probably isn't a very wise investment.
What do you think demand will be like for La Compagnie's L'Unlimited plan?