For me the Boeing 747 will always be the queen of the skies. While most 747s are slowly being phased out, the plane has a bit of life left in it thanks to the new Boeing 747-8.
Lufthansa operates a good size fleet of them, while Air China recently started flying their 747-8s. The third airline to take delivery of the passenger version of the 747-8 will be Korean Air.
In March I wrote about Korean Air announcing that their first 747-8 destination will be London Heathrow, as of August 2015. That seemed like a logical enough choice. London is a huge market, and Korean Air only has once daily service there.
However, it looks like they've changed their mind, as Korean Air will be flying the 747-8 to Frankfurt rather than London Heathrow. Instead, Korean Air will continue to service London Heathrow with a 777-300ER.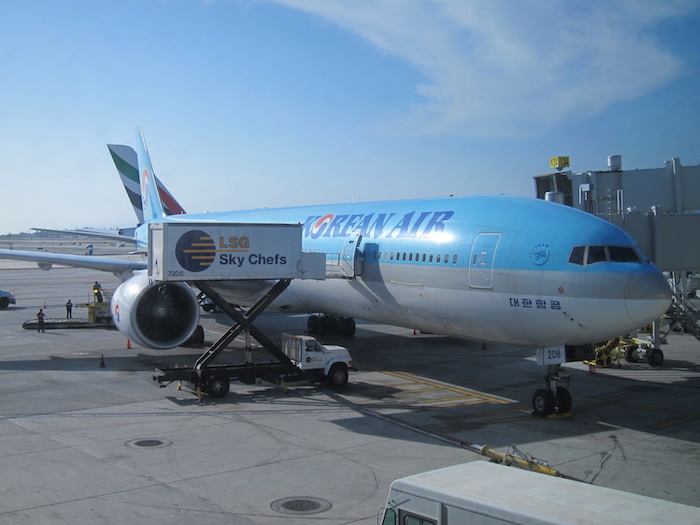 Via airlineroute.net, Korean Air will begin operating the 747-8 to Frankfurt three times weekly as of September 2, 2015, and then daily starting October 1, 2015. The flight will operate with the following schedule:
KE905 Incheon to Frankfurt departing 12:45PM arriving 5:40PM
KE906 Frankfurt to Incheon departing 7:40PM arriving 1:05PM
That's an interesting move. It seems like Korean Air is delaying 747-8 service by a bit, given that the Frankfurt 747-8 service will commence a month after the London 747-8 service was scheduled to begin. But this also does suggest that Frankfurt is a bigger market than London for Korean Air. Given the lack of SkyTeam connectivity in Frankfurt, that really does surprise me.
Bottom line
I know some of you specifically booked Korean Air between Incheon and London in hopes of getting onto their 747-8, so if you did, it's time to rethink your plans.
I hope that Korean Air flies the 747-8 to the US soon, especially given that it will feature their new first class product. I'll book a flight on their 747-8 as soon as such a service is announced.