My family loves Scandinavia. We've been to Norway, Sweden, Denmark, and just got back from another trip to Norway where our family hiked to the top of the famous Preikestolen, or Pulpit Rock. Norway in particular is just incredible — the entire country should basically be a national park.
Norway is also one of the most expensive countries in the world. Dining out, in particular, can be insanely expensive. But if you know what you're doing, there are ways to make it affordable, even for families.

My son peering over the edge from Preikestolen (Pulpit Rock)
The irony of course is that getting to Scandinavia is actually relatively cheap. The proliferation of low cost carriers has really driven down the costs. And the good news is that from November to May, it's going to be even cheaper for American families to visit Scandinavia as SAS is again offering their kids fly free promotion from November to May.
You'll still pay taxes and fees, so the total cost is about $50 per kid. Which is ridiculous.
SAS ran a similar version of this promotion last spring.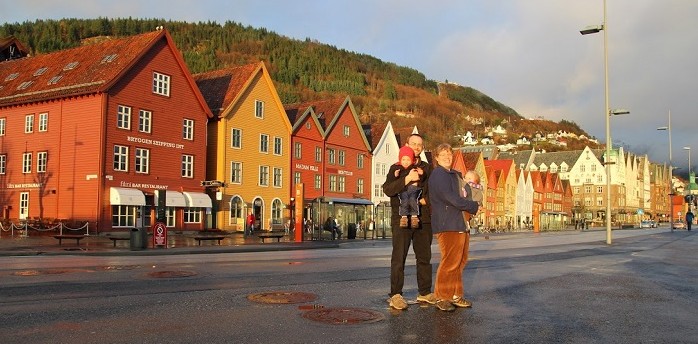 Travis and his family in Bergen, Norway
Kids Fly Free From The US To Scandinavia
For trips booked on SAS between the US and Scandinavia between November 1, 2017 and May 31, 2018, you can bring along all of your kids (12 and under) for just the taxes and fees. You will literally be paying less than $50 for each round-trip kid ticket, and you can book up to eight kids with each adult.
It is critical that you act fast, however, as tickets need to be booked by October 5.
I recommend using Google Flights to search for fares. Google will then give you a direct link to book with SAS or other online travel agency.  Here I searched for one adult and one kid from Los Angeles to Stockholm. The cost of the child ticket is already included in the price.
You can basically fly from the SAS gateways of Boston, Chicago, New York, Miami,  Washington D.C., San Francisco, and Los Angeles. On the other end, you can fly to Norway, Sweden, Finland, and Denmark. From there, you could catch cheap flights to just about anywhere in Europe on Norwegian or other low cost carriers.
Here is a sample trip I priced out during the last promotion.
Clicking through, I then get the passenger details page.
You'll note that the page specifically has a page for the child's frequent flyer number. That's because child fares earn miles. My kids have flown on child fares many times and the miles always post. You should be careful where you credit them, however, as United now awards miles based on the cost of the ticket. In this case, they'd basically earn no miles with United, but other carriers offer more lucrative options.
Also of note, I believe this works for Premium Economy as well.
Flying SAS With Kids
SAS is a fine airline with a long and proud history. We have flown SAS as a family several times now, but only on intra-europe flights.
On those flights, they had kid's meals loaded, even though we didn't request them ahead of time. They also give the kids some simple games and a sticker book, which is a nice touch.
In other words, your kids will probably have a better experience on SAS than they would on a US airline.

SAS Breakfast Box in SAS Plus
Is This Deal Legit?
As a parent, I'm often skeptical of these kids-get-whatever-free deals.
I often think that just means they've jacked the price up for the adults or whatever. But in this case, it really is as good as it sounds. Some friends of ours flew from Los Angeles to Stockholm on this same deal last spring without any issues.
They credited the miles to Aegean where each member of the family earned enough for a one-way domestic ticket on United. They are now planning to use those miles to visit relatives around Thanksgiving.

Oslo in the winter
Bottom Line
SAS has an awesome deal going for families right now. Kids can fly from the US to Scandinavia from November to May.
Scandinavia is obviously a really special place in winter, though perhaps not for everyone. But this deal extends through the end of May, which is a lovely time to visit with more than sufficient daylight. We were in Bergen a few years ago at the end of April and just loved it.
Are you excited about flying the kids to Scandinavia for almost free?