Airlines are increasingly talking about the environment. Who knows whether it's because they actually care, or whether it's because they think it's what they need to talk about. Regardless, it's a step in the right direction.
While airlines have long given customers the option to offset their travels, some airlines are taking it a step further. For example, in the past few months we've seen some airlines announce major carbon offset schemes. To give a few examples, Air France and British Airways will be carbon offsetting all domestic flights, while EasyJet will be carbon offsetting all flights period.
Now a US airline is joining the club, in what they describe as "preparing [their business] for a new climate reality."
JetBlue carbon offsetting all domestic flights
JetBlue has announced that they'll carbon offset all of their domestic flights as of July 2020, making them the first major US airline to do so. To do this, JetBlue will partner with carbonfund.org, a US nonprofit carbon reduction and climate solutions organization.
JetBlue says that since 2008 they've already offset more than 2.6 billion pounds of CO2 emissions.
This expansion is expected to offset an additional 15-17 billion pounds of emissions per year. They describe this as the equivalent of removing more than 1.5 million passenger vehicles from the road.
JetBlue CEO Robin Hayes, said the following:
"The airline industry is one of the few industries that has collectively committed to an international emissions reduction goal. Air travel brings so much good to the world and JetBlue has always been about making our essential industry better. Carbon offsetting is a bridge to, not a silver bullet for, a lower carbon future. Reducing and mitigating our greenhouse gas emissions is a fundamental aspect of our business plan and our mission to inspire humanity."
JetBlue choosing specific carbon offset programs
JetBlue isn't just throwing money at carbon credits, but rather the airline is being purposeful about the ways in which they're offsetting flying, which I appreciate. They've selected projects around the globe that will offset the use of jet fuel, including in less economically developed countries, where a bigger community impact can be made.
As they describe it, the airline will support carbon offset projects focused on but not limited to:
Forestry: Forest conservation projects prevent deforestation by helping voluntarily forego plans that would have converted forests for other purposes, thereby sequestering CO2 emissions from the atmosphere in trees and soil while having additional co-benefits for communities and local wildlife.
Landfill Gas Capture (LFG): Landfill gas is a natural byproduct of the decomposition of organic material in landfills. Instead of escaping into the air, LFG can be captured, converted and used as a renewable energy resource. In addition, LFG energy projects generate revenue and create jobs in the local community and beyond.
Solar/Wind: These projects develop expansive solar and wind farms, generating power that otherwise would have been supplied by fossil fuels like coal, diesel and furnace oil. These projects also create jobs and revenues for local communities.
JetBlue will fly with sustainable aviation fuel
JetBlue says that carbon offsetting is a bridge to other industry-wide environmental improvements. JetBlue has said that starting in 2020 they'll start purchasing sustainable aviation fuel for flights out of San Francisco from Neste, the world's largest producer of renewable diesel, and a pioneer in renewable jet fuel.
This is produced exclusively from waste and residue raw materials, and the fuel should lead to an 80% smaller carbon footprint compared to fossil jet fuel.
Modern planes & ATC modernization help as well
Beyond carbon offsetting and using sustainable fuel, the airline points out other ways they're trying to reduce emissions.
For one, they're getting more fuel efficient aircraft, including 85 new A321neos, which improve fuel efficiency by about 20%.
They're also getting 70 A220s to replace older aircraft, which reduce per seat emissions by about 40%.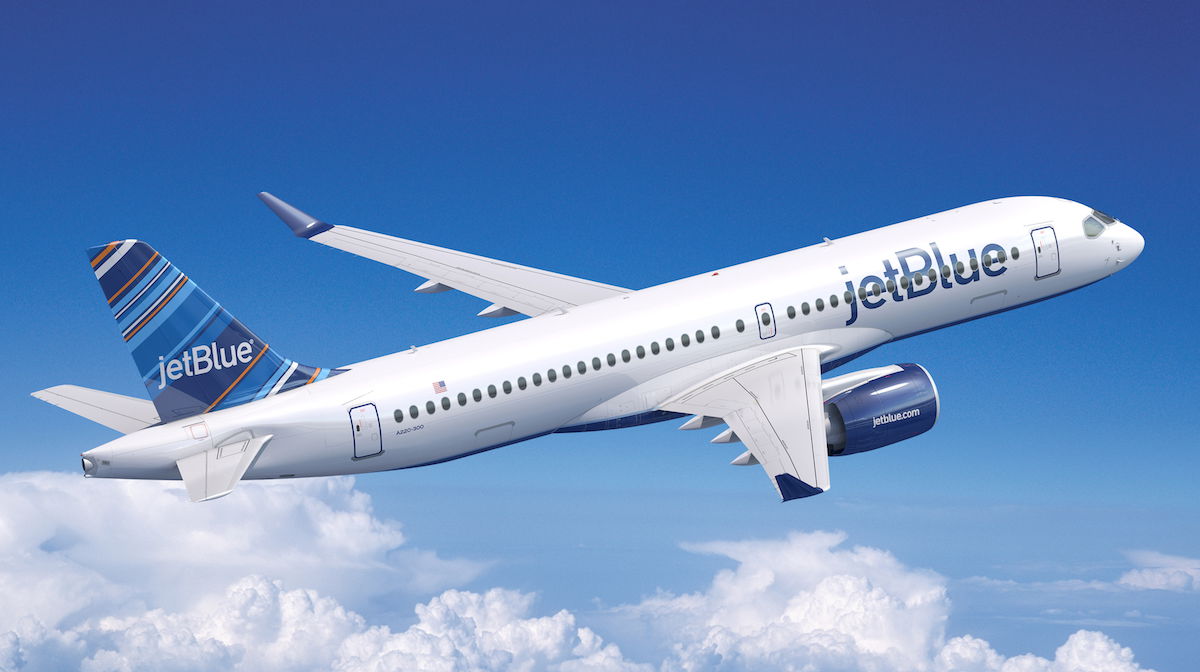 JetBlue Airbus A220 rendering
On top of that, JetBlue is advocating for a more efficient ATC system. JetBlue claims that ATC inefficiencies account for as much as 12% of fuel burn.
Bottom line
Kudos to JetBlue for their thoughtful plans for addressing the environment. This goes beyond just throwing money at a carbon offset scheme, but rather they're being deliberate about which programs they choose, and they're even using sustainable aviation fuel.
I'll be curious to see if/when the "big three" US carriers follow JetBlue's lead.