JetBlue had an interesting way of announcing some negative changes today. They didn't announce the changes to customers, but rather to investors, explaining how they "plan to drive shareholder returns through differentiated products and service."
To clarify, when they say "differentiated products and service" they don't mean different than what their competitors offer, but rather different than what they currently offer.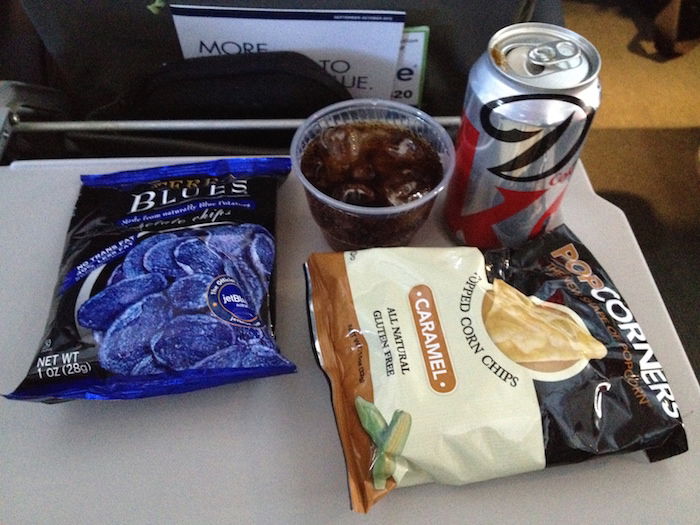 Just don't touch the blue chips!
There are two significant changes:
JetBlue will begin charging for first checked bag
The first change is that JetBlue will begin offering a fare class intended for "customers who do not plan to check a bag," starting in the first half of 2015. That's a nice way of saying that they'll starting charging for the first checked bag on their lowest fares:
Fare Families / Branded Fares — Beginning in the first half of 2015, customers will be able to choose between three branded fare bundle options. The first of these will be designed for customers who do not plan to check a bag, while the latter two will offer one and two free checked bags, respectively, along with other attractive benefits, including additional TrueBlue points and increased flexibility. This new merchandising platform will enable JetBlue to tailor its offering to individual customers' needs in a way that is simple and transparent.
I always find it interesting when airlines introduce a fare class for customers "who do not plan to check a bag." Is the price difference between the fare that doesn't include a free checked bag and the fare that includes a free checked bag less than the cost of checking a bag? If so, great. But it rarely is. Typically they bundle it with other "offerings" — maybe a free snack or drink, free flight changes, etc., to the point that it's substantially more expensive than the sum of the fare without a free checked bag plus the checked bag fee.
JetBlue will be adding more seats to their A320s
JetBlue will also be "refreshing" their A320 fleet starting in mid-2016, by increasing the number of seats from 150 to 165 seats:
Airbus A320 Cabin Refresh — JetBlue will build on the successful launch of its Airbus A321 fleet, which has been received with great customer acclaim, by outfitting its A320 aircraft with a similar refreshed cabin. The reconfigured cabin plan for the A320 will preserve JetBlue's product advantage and highly-rated customer experience while helping to generate higher returns. Using lighter, more comfortable seats, JetBlue will be able to increase the number seats on its planes while continuing to offer the most legroom in coach. Retrofits of the Airbus A320 fleet are expected to begin in mid-2016 and will also include larger seatback screens with more entertainment options and power ports accessible to all Customers.
"Using lighter, more comfortable seats?" You can have lighter seats OR you can have comfortable seats. You can't have both. That's like those cookies and brownies they sell in the "health food" aisle of the supermarket… or low-fat Cheez-Its… or a Krug cleanse. They're tasty, but they sure as hell aren't healthy!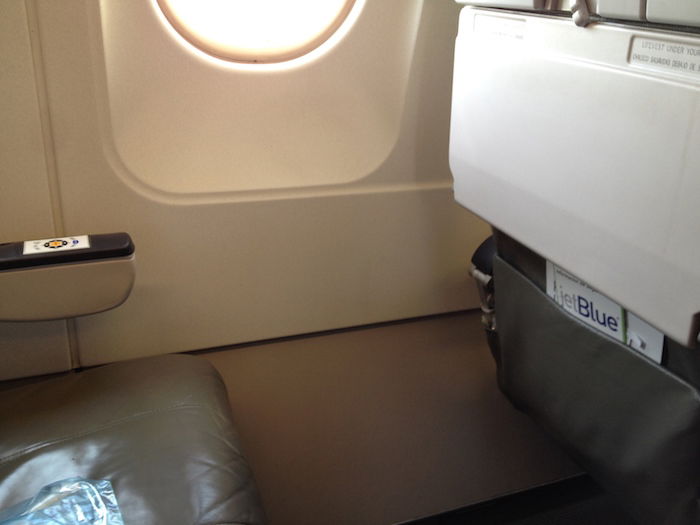 Bye bye legroom?
Apparently the seats will still have 33″ of pitch, which will still be industry leading. So I'm not sure if they're going to reduce the number of Even More Space seats or what. I guess we'll find out soon.
Regardless, that's not something we can really blame them for, in my opinion. The reason they offered exactly 150 seats is because you only need one flight attendant per 50 seats, so this way they only needed three flight attendants. By adding more seats they'll have to add an extra flight attendant as well.
Bottom line
Ultimately we don't yet have an exact timeline for the changes since they've only been announced to investors so far. While these changes are no doubt disappointing, they're also not surprising. Over time, all airlines seem to more or less become the same.
Airlines start with unique business models, then consolidate, then new players enter the market, then the economy tanks and they try to offer something "unique," and then they make record profits and try to squeeze every penny they can out of consumers.
The beautiful, vicious cycle of the airline industry… except Baltia Air Lines, that is. They have a really unique business model.;)