Japan Airlines has just unveiled the details of their new onboard products, which they'll be rolling out in January of 2013 as they take delivery of more Boeing 777-300ERs. The new onboard product will apparently debut on the Tokyo Narita to London Heathrow route, and will then be rolled out to other European and North American destinations.
You can find the dedicated website for their new product here (or if you can read Japanese you can find that site here, which is a bit more detailed).
Their new first class product seems to be just a mild improvement over their old product, which was already very good. I wrote a trip report about my experience in Japan Airlines first class from Tokyo Narita to New York JFK back in May, which can be found here.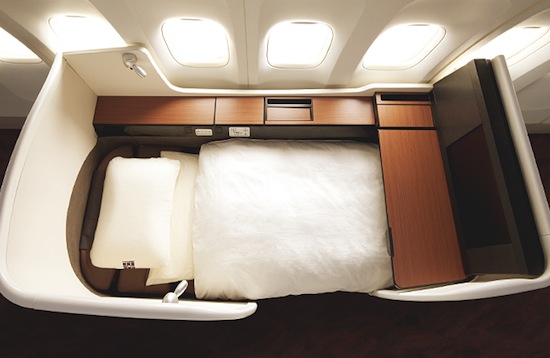 The huge improvement comes with their new business class product, which features fully flat beds in a private configuration, and allows all passengers direct aisle access. Interestingly both first and business class feature 23″ entertainment monitors, which is impressive. You can see a video of the new business class on the website dedicated to the new product.
They're also going to be revamping their catering in first and business class, which probably isn't really needed since they've always had great catering. The one thing that leaves me scratching my head is the name of their new catering program, JAL BEDD. As the press release states:
A dream team of four Japanese star chefs were brought together to design JAL's First and Business Class menus using only the freshest and finest-ingredients. Named JAL BEDD to represent the comforts of the full flat beds and also to stand for 'Dine', 'Delicious' and 'Dreams', this new top-class service in First and Business offers the unique experience of a satisfying repast and repose in-flight.
That doesn't make sense on so many levels that it's almost funny.
Anyway, this is a huge improvement. I think a lot of people were disappointed when Japan Airlines took delivery of their 787s and installed an angled flat business class product. It's not clear to me whether they'll be retrofitting the 787s at all or what the timeline would be, but I'm anxious to get on an aircraft with the new product.
Kudos, JAL!
(Tip of the hat to AAdvantage Geek)