While we don't yet know all of the details, Japan Airlines is offering a promotion that seems counterintuitive on the surface, as they'll be giving away 50,000 free roundtrip tickets to foreigners for travel next summer. Keep in mind that the Olympics will be in Tokyo in the summer of 2020, and the country is expected to see as many visitors as ever.

Japan Airlines Offering 50,000 Free Tickets
Starting in late February 2020, Japan Airlines will be offering free domestic roundtrip tickets to foreigners:
The promotion will be valid for travel between July 1 and September 30, 2020
The promotion is only valid to those who have residence outside Japan
You'll need to be a member of Japan Airlines Mileage Bank to participate
When you apply for the promotion, you'll be shown four possible destinations
Within three days you'll be told which destination you're going to
Flights will depart from and return to Tokyo Haneda or Osaka Itami/Kansai only
You can apply as a group of up to four people
The way that they describe the booking process doesn't exactly clear things up much:
You'll see four possible destinations. If you're happy with all of them, enter passenger information and apply.

If you search again, the destinations will change.
Make sure the passenger information entered matches the membership informationin JAL Mileage Bank.
You'll need the departure date and flight number of your flight to Japan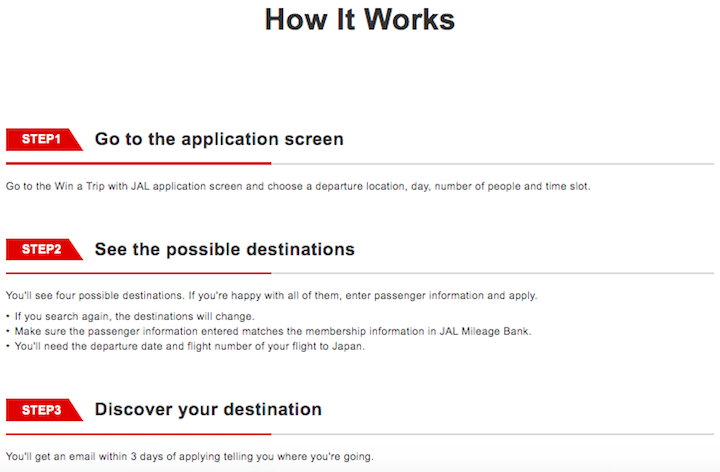 Why I Find This To Be An Odd Promo
This is of course a very generous offer. At the same time, I'm not sure I understand the logic or logistics of this promo.
Generally if you're going to offer something for free you'd think you'd want to do so during a quiet period. But that's not what Japan Airlines is doing — rather they're offering 50,000 free domestic tickets next summer, during what should be the busiest travel period Japan has ever seen.
Hotels in Japan are already really heavily booked for next summer, so it's not like this should logically encourage any additional tourism to Japan, and beyond that, the way the logistics work will make it hard for people to plan.
Essentially Japan Airlines will be deciding where in the country you go to, and while that might be a cute concept during a quiet period, it just doesn't seem ideal for what will be an extremely busy period.
Lastly, I would have assumed that they'd offer this in conjunction with booking your ticket to Japan on Japan Airlines. That would be something to encourage people to fly Japan Airlines. Meanwhile with how this promo works, you could fly All Nippon Airways to Japan, and then take a free flight within Japan on Japan Airlines.
Bottom Line
Japan Airlines is offering 50,000 free domestic tickets to foreigners next summer, which is a generous promotion.
It's not yet clear how exactly it will be decided who gets free tickets, though if you're going to Japan next summer it could be worth giving this promotion a try. I'll post about it again once it's actually live, or once we have more details.
Anyone else find this promo to be well intentioned and generous, but oddly timed?