In terms of the actual in-flight experience I'm convinced that Asiana is the best airline out there. I flew them a couple of years ago from Seoul to Frankfurt, and again this weekend on the same route. Like last time, my flight was more or less perfect. I'll have a full report in the next week (I'm serious this time, the trip report is more or less ready to go), but in the meantime here's a quick teaser.
The seats
Yes, the seat themselves are on the old side and by no means among the best out there, though they're still very comfy.
The food
This is one of the places that Asiana shines. I'm convinced their food is among the best in the sky. It's the only airline I've flown where they ask how you want your steak cooked. Now that's the sign of a good airline!
The service and amenities
The food on Asiana is excellent, though it's the service that really shines. The way I feel about Asiana service now is the way I used to feel about Singapore service, which I feel has slipped a bit over the past few years.
Another cool thing Asiana does is that they offer their first class passengers a choice of gifts towards the end of the flight. In this instance I selected an iPhone case.
Beyond that, their PJs and slippers must be among the most fashionable in the industry. 😉
I was one top hat short of looking like a teacup monkey out of a movie.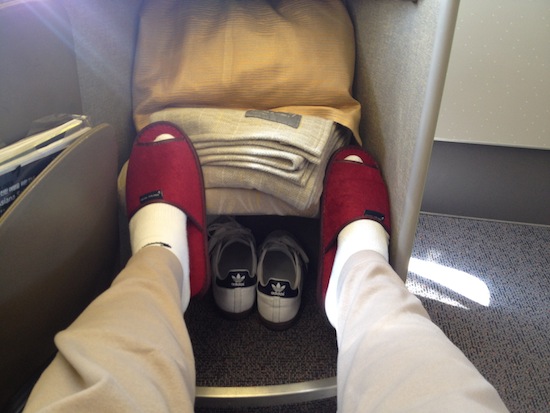 One other really unique thing Asiana does if you're flying first class is that they wrap your checked bag in plastic, and plaster it with a huge "FIRST CLASS" sticker. On one hand it's totally awesome since it ensures your bag arrives undamaged, but on the other hand you do have to dispose of the plastic in baggage claim, which can be a bit of a pain if your bag is heavy.
Anyone else a huge fan of Asiana? They release plenty of award space on their Los Angeles/Frankfurt to Seoul routes, so if you want to try them in first class it's not all that hard to do.