Over the past few years we've seen a countless number of airline award chart devaluation across various programs. Those of us who try to maximize our miles & points always try to redeem at the saver award level whenever possible, though the reality is that a vast majority of people aren't good at redeeming miles, and many awards are redeemed at the non-saver level.
While the cost of saver awards has gone up significantly, there has been an even more drastic increase in the cost of standard awards. It used to be that most airlines offered last seat availability on standard awards for roughly double the cost of saver awards. All things considered that's a pretty solid deal, given how much airlines could sometimes otherwise sell those seats for.
But over the years we've seen the cost of standard awards go up and up and up and up. Not only do many airlines not offer last seat availability on standard awards anymore, but in some cases the award costs are just insane. For example, could you imagine redeeming 375,000 AAdvantage miles for a one-way business class ticket from Los Angeles to Sydney? Ouch!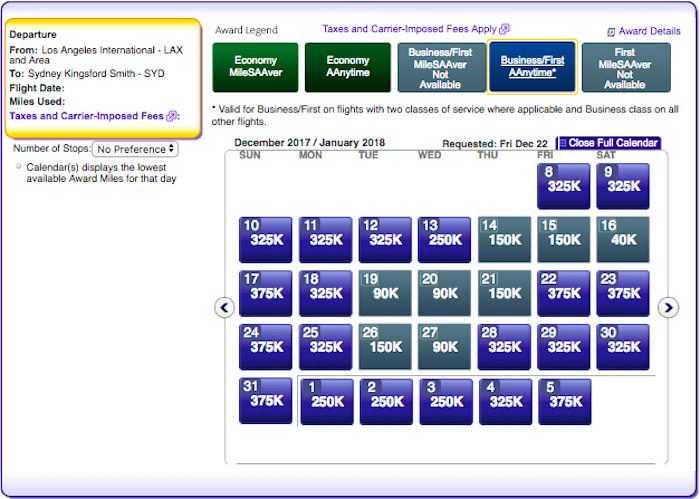 While that's about as many miles as American will charge for a one-way business class award, it's not the most offensive award cost, in my opinion. Reader Jeff emailed me to share the absurd award prices that American is trying to charge between San Francisco and Los Angeles on the Sunday after Thanksgiving.
Paid tickets start at $133 one-way, and go all the way up to $297, which is the cost of a refundable ticket that day. Meanwhile first class tickets cost between $233 and $397, which is the cost of a refundable ticket.
Are you ready to see how many miles American wants to charge for those flights? I hope you're sitting down.
That $133 one-way ticket would cost you 75,000 AAdvantage miles. When you factor in that you still have to pay $5.60 in taxes, that means you're redeeming 75,000 AAdvantage miles for a $127 ticket, getting you ~0.17 cents per mile. Usually I'd hope to get at least 1.5 cents of value per mile, but here you're getting about a tenth of that.
If you want to snag that $233 first class seat, that would set you back 100,000 AAdvantage miles. I guess in comparison it's almost a bargain.
I get this is a peak travel period, and I get that American could probably otherwise sell those seats. However, there has to be a balance between trying to provide members with value through AAdvantage and minimizing costs. This is especially true given how many members would love to redeem their miles to see family over the holidays. You know they'd have a positive impression of the program if their miles helped them make that happen.
As much as we rag on Delta SkyMiles, at least those miles could be redeem for one cent each towards the cost of a ticket, meaning you'd be paying a fraction of what American is charging.
Even if you don't want to redeem your Delta miles for one cent each towards these tickets, the SkyMiles award costs for that date are 22,500 miles in economy and 27,500 miles in first class.
Bottom line
While I'm not a fan of it, I get why airlines have kept increasing the limit on how much standard awards can cost. However, there's a difference between an airline charging a ton of miles when a ticket would otherwise cost thousands of dollars, and when an airline is charging a ton of miles for a ticket that would be quite inexpensive.
Not only is American's saver level award availability on their own flights limited, but their standard award pricing is downright punitive and illogical in some cases.
Can anyone find a worse use of AAdvantage miles than this?