Yesterday I wrote about Hyatt's Globalist fast track promotion, which is available to those with Hyatt's co-branded credit card. Hyatt will essentially let you earn Globalist status after just 20 nights during the last four months of the year (September 1 through December 30), when it usually requires 60 nights. In other words, you can earn Globalist status with a third of the usual number of required nights in a third of the usual qualification window.

Many found this promotion to be a huge slap in the face. For example, I'm at (only) 39 nights with Hyatt for the year, and I got this email yesterday. So basically Hyatt is saying "hey, forget those 39 nights you've stayed already, just do 20 more and we'll give you Globalist anyway."
Now, in fairness I should mention that those earning Globalist status through this promotion won't be receiving the perks you get for passing 60 nights or 100,000 base points, including the following:
A free Category 1-7 night, valid for 120 days from when it's issued
Four confirmed suite upgrade awards, each of which is valid for a year from when it's issued
Access to My Hyatt Concierge for reservations and personalized service
The ability to requalify for Globalist status in subsequent years after just 55 nights (you'd still need 60 nights or 100,000 base points)
Personally I think the biggest perks of Globalist status are unlimited suite upgrades, 4PM check-out, and free breakfast/lounge access, and those earning Globalist status through this promotion get those anyway.
My friend Matthew from Live and Let's Fly covered the promotion this morning, with the title "Hyatt's New Promo Is Desperate And Disappointing, But Fair." That title certainly hooked me. Matthew supports his argument that the promotion is fair based on a passage from the Bible (Chapter 20 of Matthew, which seems fitting):
And on receiving it they grumbled at the master of the house, saying, 'These last worked only one hour, and you have made them equal to us who have borne the burden of the day and the scorching heat.' But he replied to one of them, 'Friend, I am doing you no wrong. Did you not agree with me for a denarius? Take what belongs to you and go. I choose to give to this last worker as I give to you. Am I not allowed to do what I choose with what belongs to me? Or do you begrudge my generosity?
Matthew says he was initially disappointed by the promotion, but that Hyatt can do what they want because it's their program, and because they're still giving him what he worked towards (as is supported in the Bible passage):
My initial reaction is one of disappointment because I already worked hard to get up to 40 nights this year. But Hyatt did not renege on our agreement. From the start of the year Hyatt has promised me Globalist status in exchange for 60 nights and that is still the case.

Even though those earning identical status to me for 1/3 work seems unfair, it is not unfair for Hyatt to be generous. It is their program and they can award status as they best see fit.
I see where Matthew is coming from, but I'm not quite sure I see this the same way.
Let's step back a second. When Hyatt Gold Passport turned into World of Hyatt, they increased the number of nights required to earn top tier status, and also introduced new elite benefits, including unlimited suite upgrades, subject to availability. We were told "hey, it's going to be a more exclusive club, but it'll be worth it, because we're giving you more benefits."
What the above Bible passage doesn't address is the scarcity of what's being competed for here. A few laborers getting paid a bit extra won't substantially alter the economics of said ancient city. Everyone will still likely have the same buying power.
The issue here is that we were promised a program that's more exclusive, and one that's worth spending extra nights at Hyatt for. The single biggest new Globalist benefit is unlimited suite upgrades, and that's a scarce resource for which Globalist members are competing. The number of Globalist members absolutely impacts the benefits you get.
To put it into Biblical terms, to me this is like the "master" offering workers a certain percentage of a sum of money, and that percentage goes down when more people are included. Would the Bible passage make the same point if the "master" were paying the same total sum of money, but what each person earned individually decreased? I think not.
Don't get me wrong, at some hotels this won't make much of a difference. During recent stays at the Hyatt Regency Tashkent and the Hyatt Regency Dushanbe, I felt like we were the first Globalist members they had ever seen. However, stay at the Andaz 5th Avenue or Grand Hyatt San Francisco, and it's a very different story. Globalist members are lucky to get any sort of an upgrade, let alone a suite upgrade.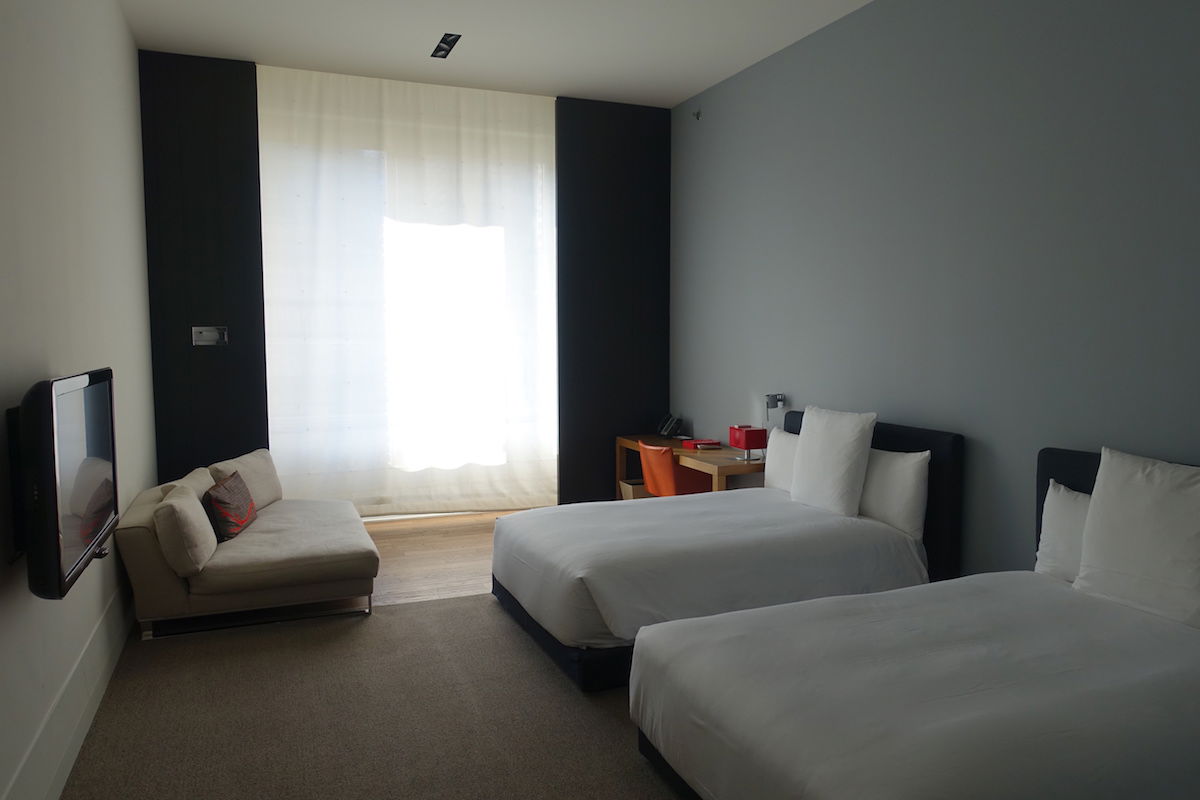 Good luck getting a Globalist suite upgrade at the Andaz 5th Avenue
Bottom line
Maybe it's just semantics, but I think Hyatt's promotion is unfair. To be clear, I think they're perfectly within their rights to offer such a promotion, and while I think it's unfair, I think life is unfair, so they're not totally out of line in doing so.
And I'm not even saying this from the perspective of my travels, necessarily. I'm really happy for anyone who is able to take advantage of this promotion, and would encourage people to do so if it makes sense.
But I also think the optics of this promotion are just so bad. Members have been frustrated by World of Hyatt, and this promotion further reinforces our beliefs, as clearly the program isn't performing as well as they had hoped (or else they wouldn't be offering this promotion).
I guess I just don't get what Hyatt is thinking. Is getting some extra 20 night Globalist members worth the frustration it causes to existing Globalist members, especially when a program is still new, and all along they've been promising a more "exclusive" program? It just looks very, very bad to say "hey, you're gonna have to stay more nights this year because we're creating a super exclusive club," and then say "just kidding, we'll give away this status to those who have stayed only a third of the nights required."
And let's not even talk about what a slap in the face this is to international members, who have to go out of their way to be loyal to Hyatt (given Hyatt's small footprint internationally), and also don't have access to their co-branded credit card.
What do you think — is Hyatt's Globalist promotion "fair?"