When it comes to hotel loyalty programs I "trust," Hyatt Gold Passport is at the top of that list. However, there have been a couple of situations lately that leave me scratching my head.
Most of the major hotel chains nowadays don't have blackout dates on free night redemptions. That means as long as a standard room is for sale, you can redeem points for it. In the past it really was that straightforward, though back in July I wrote about an interesting situation at the Park Hyatt New York, whereby they simply weren't selling standard rooms, and therefore you couldn't redeem points for them.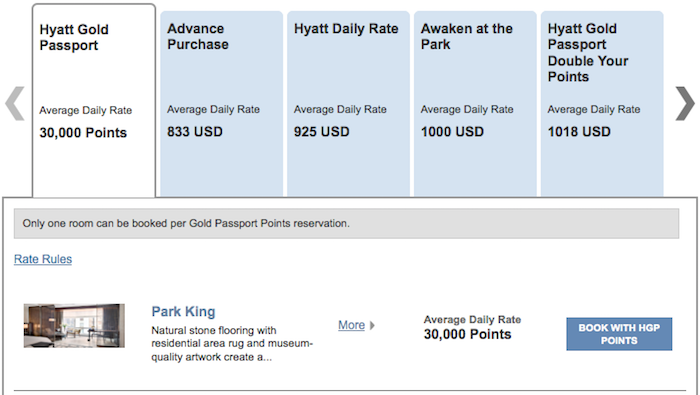 Technically they were acting within the rules, since all standard rooms available for sale were also available on points. 😉
I gave the Park Hyatt New York the benefit of the doubt when they first opened since only a limited number of rooms were operational. And the situation has gotten a little better. A year out they seem to make a couple of Park King rooms available for sale, but that's the extent of it. It seems like snagging a standard room award at the Park Hyatt New York is the equivalent of snagging a Qantas first class award seat between the US and Australia.
It looks like another Park Hyatt is playing similar games, and it's even more apparent. Take a look at award availability at the Park Hyatt Milan for next summer.
Through the night of April 24, 2015, the Park Hyatt Milan is selling Park King rooms (the standard room) virtually every night, and as you'd expect there's award availability almost every night.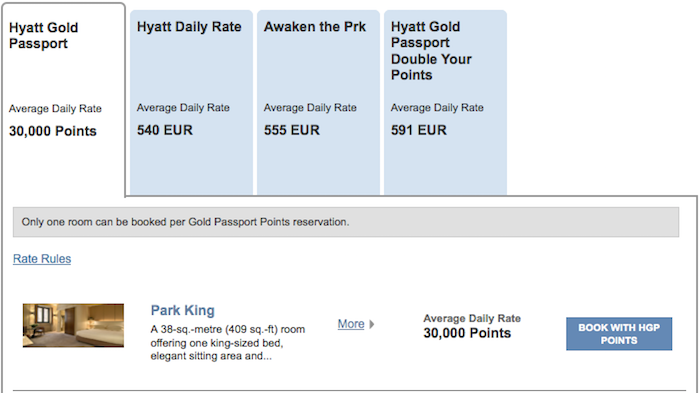 However, between April 25 and November 1, 2015, there's not a single date with a Park King room available for sale. Then after November 1, 2015, every night has a Park King room available for sale again.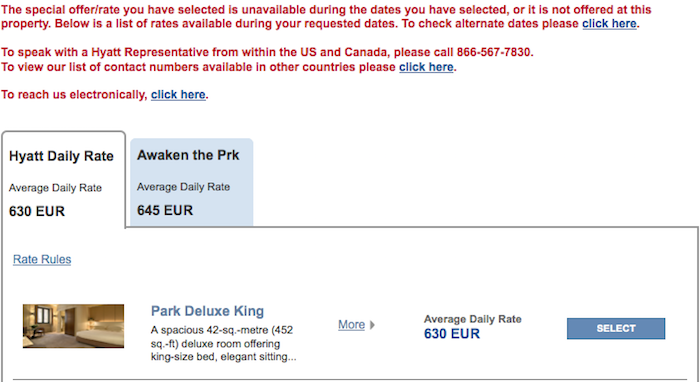 Just to be thorough, I also searched a dozen random dates over that time period at the Park Hyatt Paris and Park Hyatt Zurich, and without exception those hotels had standard room award availability. So the "problem" is isolated to the Park Hyatt Milan.
To me, this raises a few questions:
Did the Park Hyatt Milan really already sell their Park King rooms for every single date for a period of over six months?
If so, how many Park King rooms does the hotel have?
I'd be willing to bet they haven't sold all their Park King rooms, which raises the question of what they plan on doing with the rooms — are they holding back the inventory and only planning on selling it close to the arrival date, or…?
What incentive does the hotel have to hold back award inventory? Has the system for reimbursement somehow changed since I last learned about it, by which the hotel doesn't have any incentive to hold back award inventory, especially in peak season.

The elusive Park Hyatt Milan Park King Room
While technically the hotel and loyalty program are acting within the "letter of the law," I don't think they're acting within the spirit of the program. I'm not sure whether this is something that was agreed upon between the Park Hyatt Milan and Gold Passport, or if it's something the Park Hyatt is doing and Gold Passport isn't aware of.
Makes you wonder, though…
(Tip of the hat to James)