The backstory makes these viral pictures even better…
Mother & son enjoy seafood feast on Spirit Airlines
Pictures recently went viral of a mother and son enjoying quite a seafood feast on ultra low cost carrier Spirit Airlines. In the pictures, you can see two massive aluminum trays of seafood, Cheez-Its, baby wipes, and some alcoholic drinks (presumably purchased onboard, since you can't consume alcohol you brought onboard).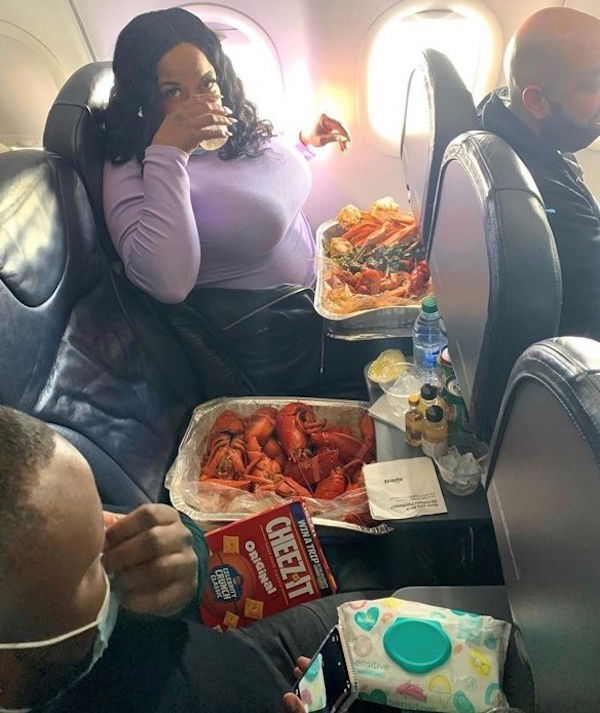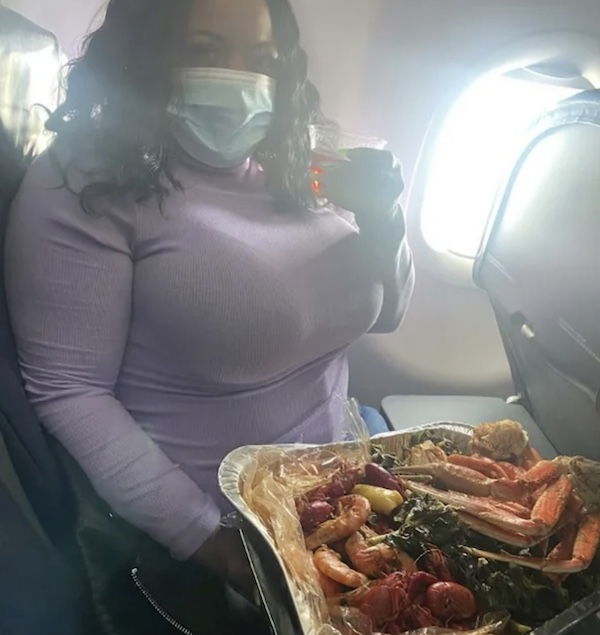 When I first saw these pictures I wondered if they were real, because I've never seen anything like this before. And if the pictures were real, my assumption was that this was a one-time publicity stunt, and was done just for the pictures.
Well, as it turns out, that's not the case…
What's the backstory to these pictures?
A news station did an interview with the mother and son duo who had been captured in these pictures, and the story is pretty awesome. The two live in Brooklyn, and were flying to Las Vegas.
Were these pictures real? Yes, absolutely. Was this a publicity stunt? Nope, apparently not. As they explain:
"Breaking bread in the air was something normal, it was just regular, cause we always do it, we actually do it bigger than that"
As far as the reaction of other passengers and the crew, "they was smiling and a lot of positivity, people was running up to us and taking our photos, we felt like stars"
The mother explained that she had been flying this way since the age of eight, saying "I never flew without my seafood, every time I fly I bring seafood, I never had a seafood-less flight"
Apparently it's not just airplanes where they bring seafood — "I would bring seafood into water parks for my daughter's birthday"
Some people online left negative comments about how this wasn't classy, to which they responded "we take pride in being classy, and it was more of a classy thing than anything, because I wasn't even in first class, but I turned coach into first class" (I can assure you that what they were eating is better than what most airlines serve in domestic first class!)
You can watch the interview below for yourself — these two are good vibes.
I do have some logistical questions. For example, they were flying Spirit Airlines, which charges for carry-ons. How exactly did they carry this on, and were they paying for the privilege of carrying this meal with them? Do aluminum trays count as a personal item or a carry-on? Also, did they eat all of this, or share with fellow passengers? Sharing is caring!
Does this cross the line of airplane etiquette?
The TSA doesn't have rules prohibiting bringing food past security, and airlines generally don't have policies against bringing your own food onboard. So absolutely no rules were broken here.
Were airplane etiquette rules broken, though? That depends who you ask. Generally I think it's a bit inconsiderate to bring food with a strong odor on a plane, simply because others may not share your enthusiasm for what you're choosing to eat. For example, personally I'd bring onboard a cold turkey sandwich before I bring onboard a hot pizza or a hamburger.
That being said, I have to hand it to these two, and I'll make an etiquette exception for them — if you bring on two aluminum trays with seafood, Cheez-Its, and baby wipes, then as far as I'm concerned you're awesome, and any etiquette faux-pas should be forgiven. 😉
Bottom line
There are some viral pictures of a mother and son enjoying a seafood feast on a flight. As it turns out, this is indeed a true story, and it's not the first time this has happened. Apparently this is how the family always travels, and more power to them…