Marriott Bonvoy has rolled out an interesting feature in its app that I'm not sure what to make of…
Share your Marriott Bonvoy achievements
Marriott Bonvoy has rolled out a "Share Your Achievements" feature in the app. When you log into your account in the Marriott Bonvoy app, click the "share" button at the top right (with the up arrow).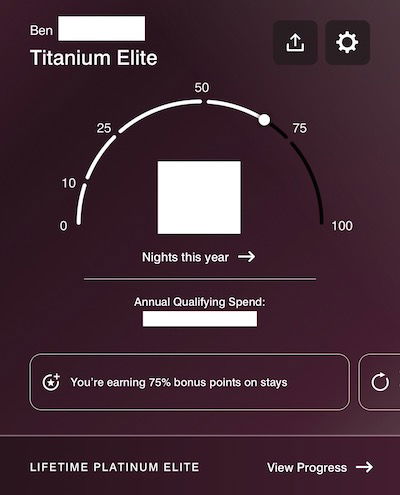 That will bring you to a page that essentially creates a digital card showing your elite status, your total points, how many nights you've stayed this year, how many years you've had status, and how many total elite nights you've racked up over the course of your account's lifetime.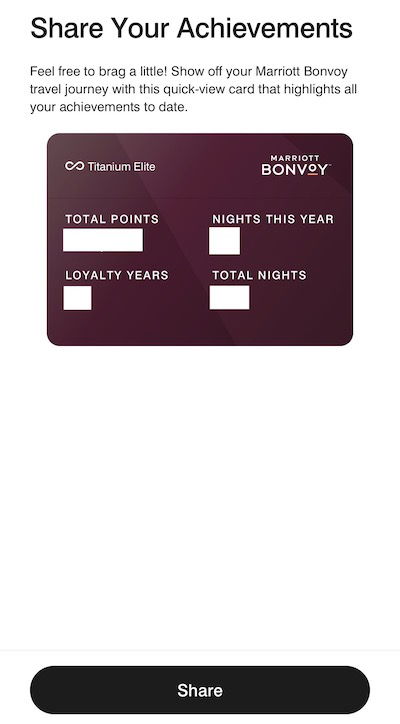 There's then a "Share" button so that you can message people your "stats." If you try to text someone, it will send the digital card, plus a message saying "Check out my Marriott Bonvoy achievements!"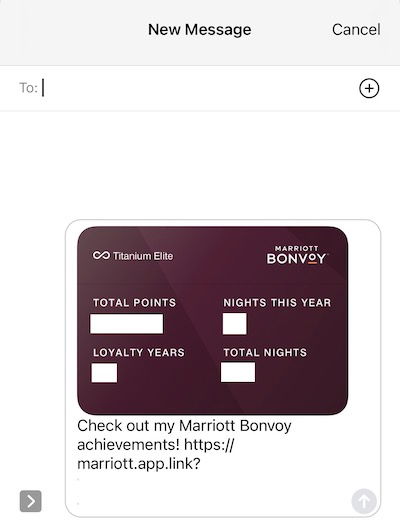 This is kind of hilarious and brilliant
Here's the thing — at its core, I find this to be useful and cool. It's nice to have a single page where you can see the most important lifetime stats about your account. Meanwhile World of Hyatt's app and website don't even show you how many points you've earned toward lifetime status.
What I find interesting here is that this doesn't seem to be about just personally having an easy place to reference your stats, but rather it's quite literally about sharing your "achievements" with others.
I'm trying to think of any circumstance under which I would find it normal or socially acceptable to send someone a digital card that contains my Marriott stats, telling someone to "check out my Marriott Bonvoy achievements."
But then I remembered that for better or worse, airline and hotel elite status has very much created a bit of a "measuring" contest between people, and bragging has been normalized. Elite status isn't just about perks, it's also about showing off your perks. Just look at everything from airline elite bag tags, to invitation only elite members being invited to board ahead of first class, to loyal customers of a brand being named after precious metals.
I can't count the number of times I've overheard people on planes, in airport lounges, or in hotel club lounges, essentially trying to one-up one another. "I'm always on the road, I fly American Airlines 100,000 miles per year." "Oh, that's nice, but I fly American 200,000 miles per year."
Oddly travel elite status is one of the only areas where this kind of bragging seems to be acceptable. I mean, you don't really hear people in casual conversation saying "well my house costs X amount" or "my net worth is X amount." I guess in a way it's a badge of honor for road warriors. And heck, this very concept was even featured in "Up in the Air."
Bottom line
The Marriott Bonvoy mobile app now has a feature that encourages you to share your Marriott Bonvoy "achievements" with others. While it's cool to have these stats in one place for personal reflection, personally I find the concept of sharing this to be strange. But that's just me…
What do you make of this Marriott Bonvoy feature? Would you ever share your "stats" with others?