If there's a mileage hell, it has a Priority AAccess carpet with my name on it. On Friday the 13th no less. So let me "repent."
I… I… I… I drove somewhere this weekend. Like, in a car. I usually hate driving, which is why I avoid vacationing in Florida. I'd rather drive to the airport and fly somewhere than just drive somewhere.
This is a map I like to see while napping in a wide seat and not while driving:
On the plus side, I did have the world's best co-pilot, Mr. Aich Ovee (it's a long story, don't ask):
While my final destination is the new St. Regis Bal Harbour courtesy of the Starwood American Express (you know what that means — I'll be giving away 60,000 SPG points next week!), I decided to spend a couple of nights at the Westin Diplomat on the way down.
Gary is a fan of the hotel, as they have excellent elite recognition. As he writes:
But this hotel offers the very best Platinum elite treatment of any property, anywhere.

They have something like 86 suites in the upgrade pool, about three-quarters of which are "corner suites" — a bedroom and separate living room with small dining area and large bathroom. These suites have a wraparound balcony looking straight out at the Atlantic ocean, and to the side the ability to see the Intracoastal Waterway as well.

With this many suites, it's the 'default' room for Platinums. The hotel's reputation for giving Platinums suites is so strong that they've been known to send out emails to Platinums during high demand periods (like the week between Christmas and New Years) just to give them advance warning that they might not get a suite. When you're that consistent, you do need to set expectations appropriately when you're likely to deviate.
Of course as my luck would have it they're out of suites this weekend, but I did nonetheless get a very nice Grand Deluxe room with a balcony overlooking the Atlantic Ocean.
And while I haven't yet seen the club offerings, physically it's one of the most beautiful club lounges I've ever seen.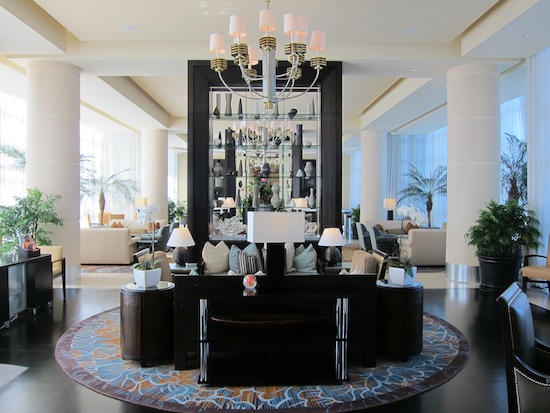 Mileage Gods, forgive me. I promise my next trip will be by plane! Though driving isn't nearly as bad as I thought either…