I use Uber on an almost daily basis, and am always looking for ways to maximize it. This includes maximizing my return on credit card spend with Uber, and also taking advantage of their partnerships.
Uber & Starwood Preferred Guest partnership
Earlier in the year Starwood & Uber announced a really awesome new partnership, whereby SPG members can earn Starpoints when riding with Uber.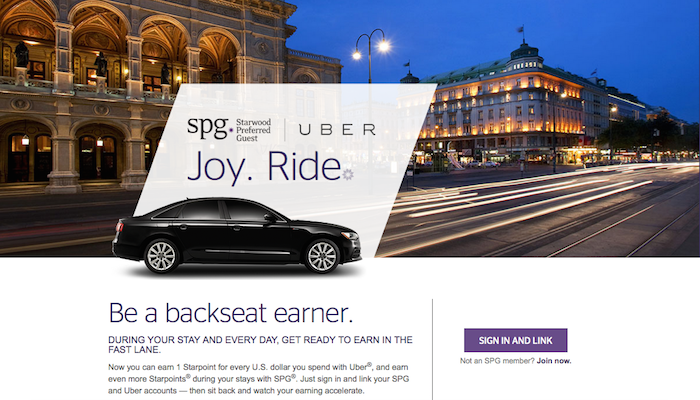 Through this partnership, Starwood Preferred Guest members earn:
One Starpoint per dollar spent on all Uber rides
Bonus Starpoints when using Uber in conjunction with a hotel stay, as follows:

Preferred members earn two Starpoints per dollar spent
Gold/Platinum members earn three Starpoints per dollar spent
Platinum members with 75 nights earn four Starpoints per dollar spent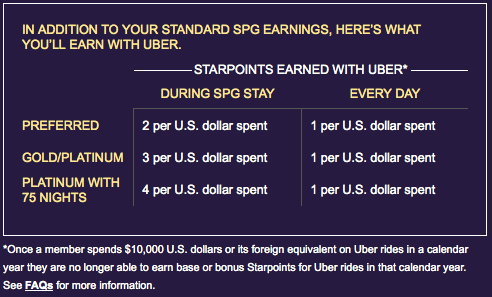 There are two (minor) "catches:"
You can only earn Starpoints for your first $10,000 of spend with Uber per calendar year
You must have stayed at an SPG property once so far in the calendar year in order for this promotion to be "activated" (the exception is that for January 1-31, a stay in the prior calendar year is fine)
In other words, through this partnership you could earn up to 40,000 Starpoints per year, assuming you're a 75 night Platinum member and all your rides coincide with Starwood stays (in reality most people will max out closer to 10,000 Starpoints).
Uber & Hilton HHonors partnership
In September Hilton & Uber announced a partnership, which caught me off guard at first, since I assumed that Starwood had some sort of an exclusivity agreement with Uber.
As it turned out, though, the partnership between Hilton & Uber wasn't much of a partnership at all, and just included the following two (fairly worthless) features:
Simplify their stay with the Uber 'Ride Reminder': A first for the travel industry, the 'Ride Reminder' allows Hilton guests around the globe to set an Uber Ride Reminder with a single tap. Say goodbye to long taxi lines ­- when it's time to head to the hotel, the 'Ride Reminder' will send a push notification or text, and the hotel's address is automatically set in the Uber app, so guests can simply be on their way. Additionally, all Hilton guests who sign up for Uber will receive $20 off their first ride.
Discover the most popular restaurants and nightlife spots with 'Local Scene': Later this month in 20 major U.S. cities, Hilton and Uber will launch a feature within the Hilton HHonors mobile app that provides members with a list detailing the 'Local Scene', top venues most frequented by Uber riders in each city. With these guides, HHonors members will be able to use the app to gain exclusive insights from other Uber riders on where to go or what to explore in the city they're visiting.
Uber & IHG announce a new partnership
Goodness, at this point it looks like just about every hotel chain is launching a partnership with Uber, as IHG & Uber announced a new partnership today.
What does this new collaboration between IHG & Uber consist of?
Anyone who is traveling within the US and signs up as a new Uber rider can earn 2,000 IHG Rewards Club points and $20 off their first ride, which is better than the standard sign-up bonus
Travelers will be able to request Uber rides through the IHG app, whereby the hotel's address will be pre-populated into the app
In early 2016, travelers will be able to set Uber ride reminders
Personally I don't find the ability to request Uber rides through the app or the ride reminders to be especially useful, so the only part of this partnership which adds value is the better-than-usual first ride bonus, in my opinion.
Bottom line
While Hilton & IHG both have partnerships of sorts with Uber, they pale in comparison to the Starwood & Uber relationship. The Hilton relationship adds no value, in my opinion, while this IHG relationship at least offers a better than usual first ride bonus, which is better than nothing.
With the upcoming merger between Marriott and Starwood, here's to hoping that the Uber partnership sticks around.
Do you see any value in the IHG & Uber collaboration, aside from the slightly improved first ride bonus?