IHG made a rather strange promise to members of its paid loyalty program last week, and I'm not sure what exactly to make of it.
IHG promised members free Spirit Airlines flights
Last week IHG launched a great promotion for those who join the paid InterContinental Ambassador program. For those of you not familiar with Ambassador, a membership costs $200 per year, and you receive perks when staying at InterContinental hotels.
In the email to members promoting this special sign-up offer, there was one perk that caught people off guard. The email to members promised "free flights on Spirit Airlines."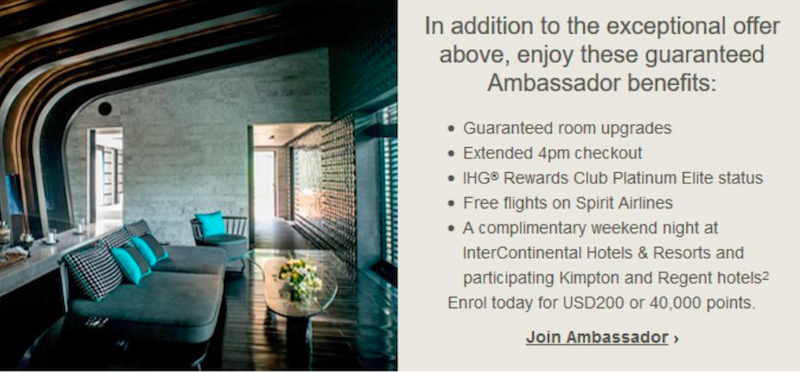 Several readers asked me about this, and I had no clue what to make of it. When asked about it on Twitter, IHG customer service gave the following nonsensical explanation:
First you'll need to sign up for the Ambassador program, Marivel. Once you do that, you'll be able to link your Spirit Airlines Alliance account to your Ambassador account. From there, you'll be able to transfer points from your IHG account to your Alliance account or vice versa!
Now, that doesn't exactly sound to me like "free" Spirit Airlines flights (and that's not even accounting for the fact that Spirit Airlines award tickets sometimes cost more cash than revenue tickets).
As noted by Frequent Miler, IHG has sent out an apology email regarding this, making it clear that this was an error, and that IHG and Spirit Airlines don't have a partnership.
Unfortunately, the email contained an error in the programme benefits we outlined. 'Free flights on Spirit Airlines' was listed, however, we do not have a partnership with Spirit, and free flights are not one of the many advantages you can enjoy as an Ambassador member.

We are incredibly sorry this incorrect information was shared and any confusion it may have caused. We are looking into how this happened – as this is not the standard of member communications we hold ourselves to and you expect.
What exactly happened here?
I find this to be fascinating. I haven't been able to get a straight answer as to how this happened, other than it having been an error.
Generally speaking when stuff like this is published (whether in an email, on a website, or wherever), it's accurate but just premature. Someone accidentally made a webpage go live early, or something.
However, in this particular instance I don't feel like that's the case:
Even if a Spirit Airlines partnership were imminent, flights would never be marketed as being "free," since there are always taxes and fees
A partnership between InterContinental and Spirit Airlines doesn't exactly seem like a great fit, since one is trying to be a luxury brand, while the other one isn't
In many ways I have the same conclusion as Frequent Miler — was someone just having a bit of fun, wrote that as a placeholder, and then forgot to remove it? Because it's just about the only plausible explanation I can come up with.
Bottom line
I'm sorry to say that signing up for an InterContinental Ambassador membership won't get you free Spirit Airlines flights, despite what was promised. It has been acknowledged that this was an error, though beyond that there's no explanation of how this happened. Fascinating…
What do you make of this mention of free Spirit Airlines flights — was a new benefit just published prematurely, was someone just having a bit of fun, or…?