For the most couple of years, most of IHG's global hotel promotions have been customized. Everyone gets some type of offer, but different members get targeted for different versions of the offer. The logic is that hotel loyal programs want to generate incremental business, so they'd rather try to get you to increase the business you'd otherwise give them, rather than just reward you for stays you'd make anyway.
The past several such promotions have been called "Accelerate," and IHG is now back with their latest version of the offer. IHG has just announced the details of their latest Accelerate offer, valid for stays between September 6 and December 15, 2016.
You can now go to this page to see your IHG Accelerate offer, and register for it.
My IHG Accelerate offer is for a total of up to 79,300 IHG Rewards Club bonus points.
My tasks include the following:
September Bonus Offer — 5,000 bonus points (stay once in September)
Stay Once Get 3,000 — 3,000 bonus points (stay once during the promotion period)
Stay More, Earn More — 10,000 bonus points (stay five nights during the promotion period)
Discover Our Brands — 20,800 bonus points (stay at three brands during the promotion period)
Authentic Experiences — 16,000 bonus points (stay at two InterContinental properties during the promotion period)
Stay for Less and Earn — 1,000 bonus points (book a stay using Points and Cash)
Spend on your IHG® Rewards Club Select Credit Card — 1,500 bonus points (pay for one stay with your IHG credit card)
Your Achievement Bonus — 22,000 bonus points (for completing five of the six offers)
Earlier in the year I had an incredible Accelerate offer, where I could earn 55,000 bonus points after a single stay. I stayed one night at the Holiday Inn Helsinki Airport, which earned me more than enough points for a free night at any IHG property in the world. That worked for me!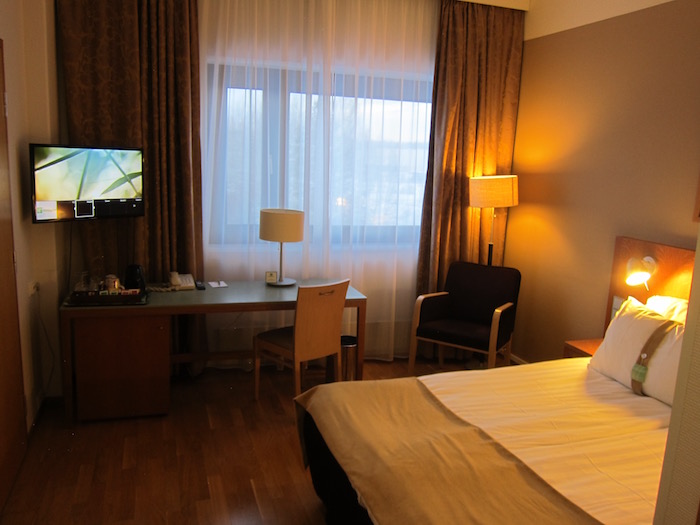 Holiday Inn Helsinki Airport — it was worth it for the points!
As a Hyatt and Starwood loyalist, this promotion isn't quite as compelling. If I happen to have a stay at any IHG property anyway in September then I'd earn 8,000 bonus points (3,000 bonus points, plus the 5,000 bonus points for staying in September), but other than that this just isn't worth it.
If I stayed a total of five nights at three different brands and two InterContinental properties I could earn 78,300 IHG bonus points. I just wouldn't earn the 1,000 bonus points for the Points and Cash booking, since that's not a qualifying stay for the purposes of the promotion otherwise. I guess 15,600 bonus points per night is a nice bonus, but this also requires a bit of effort, since I'd have to make at least four separate stays spread across three brands and two InterContinental hotels.
Bottom line
I understand why IHG Rewards Club has these Accelerate offers, since they actually give members an incentive to give IHG incremental business. They're able to figure out how many stays you'd usually make, and then give you a goal based on that.
The last promotion was compelling enough for me to make a stay at an IHG property, but I don't think this one will be. I might make a stay in September for 8,000 bonus points if an IHG property happens to be convenient, but beyond that I won't go out of my way to complete the offer.
What does your Accelerate offer look like, and do you plan on taking advantage of it?